Pata hai jub koi mur ke bicharta hai tu itni takleef nahi hoti lekin jub koi jeetey ji bichar jata hai tu buhat takleef hoti hai aur us se bhi ziada takleef tub hoti hai jub aik drama fazool mei TRPs ke liye stretch kiya jaye aur dekhne wala apna sur pakr ke beth jaye!!!
This episode like all the previous few was full of lengthy scenes with conversations that were over-stretched and developments that added very little to the story. It isn't that the writer failed to comprehend that viewers have been shown most of what was shown often enough to get the message across but the real reason is that like all the other dramas, this one too must cross 18 episodes or so. When you have watched 14 or so episodes of a drama that has always managed to keep your interest alive, you can't just stop watching it because you're curious to find out how things will unravel and how it will end. Our producers know that only too well therefore every drama is stretched at this point. Most of the times the stories just get ruined in the process and the repetitive stretched scenes are inevitable.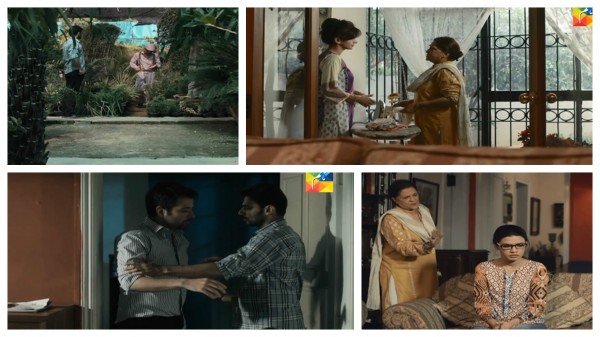 For the past few episode, every episode of this drama serial has followed a certain pattern, here is how it goes.
* In every episode we see Shahwez saving the day sometimes more than once and there is one scene in which we are shown how desperately he is trying to get out of aunty Zubeida's house but he is helpless!
* There are at least two or more scenes of Ayesha's mother in which she yet again in some way expresses her love for Shahwez and this scene is usually followed by a lecture on the weaknesses in our social norms which most often seems out of place.
* We see Farah shouting at either Adnan or Ayesha in every episode for the same reason. Whatever she says is highly repetitive but every time she gets plenty of screen time as if we have no idea what is going through her mind. Her mother tries to make her understand she cannot intervene so much but she tells her off every time.
*There is always some screen time given to Ayesha in which we see her struggling with her situation and now apparently we will see Adnan getting drunk in every episode too! We saw Adnan's true feelings for Sangat in the last episode and I guess we will be watching him showering the same affection on his daughter in the next episode too but only when he has some alcohol in his system!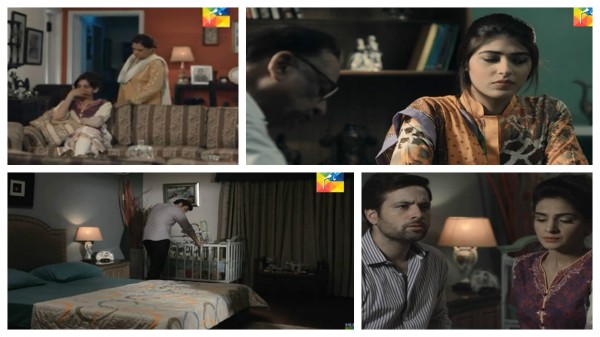 All these happenings of course will eventually lead to something but by the time they do all the viewers would have lost interest in this drama. The only person who truly deserves screen time and who makes me feel for her character is Ayesha. Rest of the characters have been turned into caricatures because of the repetition. We see them going through and saying the same things over and over again therefore nothing that they say or do holds the viewers' attention for long.
Salma's character has to be the most disappointing and least likeable character in the play apart from Shahwez of course. The way she covered up for Shahwez yet again was just plain sad. She actually thought it was okay for her to put the blame on Ayesha! The way the "game" Ayesha played with Adnan to make him realize how he would feel if she left Sangat somewhere was very misleading. Ayesha was shown mourning the loss of her child although she was in the house.
The preview of the next episode showed that there will be even more problems between Ayesha because for some odd reason Adnan feels that his wife should trust him blindly! Who really is the victim here, Adnan or Ayesha? Adnan feels like he is the victim and Ayesha feels like she is duty-bound to do everything she can to make everything alright!
Did you watch this latest installment of Sangat? Do share your thoughts about it.
Fatima Awan