I might sound like a broken record but I must say that this episode just like all the other episodes of Sangat was completely owned by Saba Qamar. Saba Qamar has managed to breath life into a very difficult character and she does that so effortlessly. I am really enjoying watching Saba Qamar play a role which brings out the best in her. I have always been able to relate to Ayesha's character right from the start. Although Ayesha's 'advisors' do not have anything new to offer but Ayesha's character has been etched-out very nicely. I liked the way Ayesha reacted to what Adnan did to her. Everything that happened went to show that a husband cannot justify such a behaviour and it is inexcusable. There was no violence as such but Ayesha felt violated yet again and this time by her own husband. The fact that Ayesha did not just accept Adnan's apology although it seemed quite genuine made me like her character even more. She felt like she was forced to do something she did not want to because her husband did not trust her word. I must also add that Adnan's guilt pangs shortly after he dragged Ayesha to the Pir was also something we don't see in our dramas every day. Most often we see men who think they are justified in doing something like this for some reason or the other. Adnan loves his wife and did not want to do all this to her but he gave into all the pressure. Adnan did not judge Ayesha for lying to him when she came back from the psychiatrist but confessed that he lied to his mother too which basically implied that he felt like he had no right to judge his wife when he himself was telling lies to cover up for what he had done.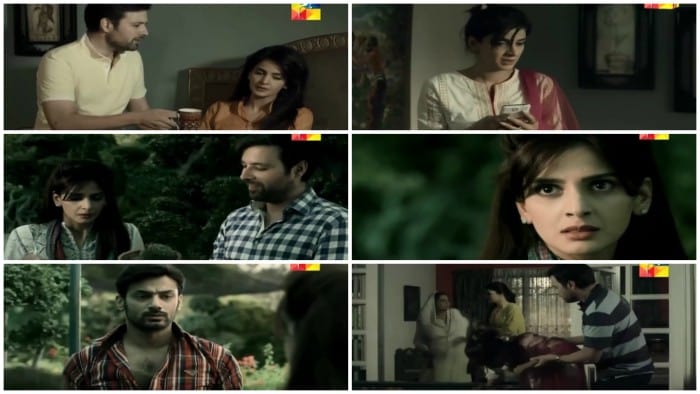 The writer and director have covered the husband and wife ties flawlessly. Adnan is someone who loves his wife but he does not understand why his wife needs so much time to heal therefore he is resorting to desperate measures. Adnan wants everything to be 'normal' again and Ayesha on the other hand expects her husband to give her more time. She thinks that Adnan is being unfair because he is not willing to give her enough time to heal. Adnan does not have a clue what is it that is hurting his wife so much therefore he can do very little to heal her and being patient isn't always that easy!!
I must appreciate the role of the Pir in the entire situation. It isn't very often that we see such figures playing such a positive role in dramas. The Pir obviously figured out what was wrong with Ayesha but he knew that keeping her secret was the only way to help her. Asking her husband to stand by his wife's side was a very wise advice. I also love the way the nand bhabi relationship is being shown in this drama. It was heartening to see Farah pleading Ayesha's case and her conversation with her mother especially was very touching.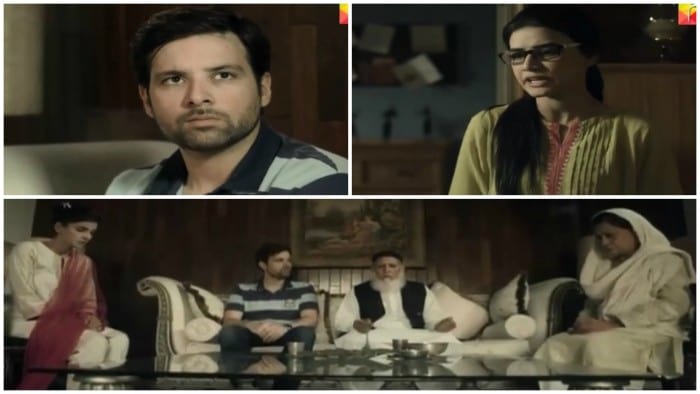 While this drama is showing us new perspectives in some areas in others we also see the same old line of thinking. The psychiatrist's suggestions to Ayesha for example are the sort of advices which any woman can give to Ayesha. Ayesha's mother's attitude is shocking to the say the least. Is this woman even human? Someone harasses her and then snatches her mobile and it does not effect her at all. She thinks he was just a naughty kid!! We found out more about the character of the person who is responsible for ruining Ayesha's life. Shahwez lost his mother when he was very young and guessing from his reaction when he entered Ayesha's house he feels guilty about what he has done. His guilt of course won't make up for the damage he has done but I am waiting to find out more about his character. What was the motive behind planning something like this??
The preview of the next episode showed that Ayesha is still not willing to forgive her husband and start a family with him. Shahwez will get closer to Ayesha's mother and he will realize how much damage he has done to Ayesha.
Ayesha (Saba Qamar) remains the highlight of this drama. The character and the acting is absolutely brilliant. I must give credit to the writer and director for taking the story forward in a very fine manner till now.
How many of you watched this episode? Do share your thoughts about it.
Fatima Awan