This was another episode of Sangat which in a very apt manner emphasized on how much pressure the family puts on a rape victim to forget everything and move on because that is the only way to ensure that everything stays 'normal'. Ayesha's mother's expectations from her daughter and the way she is unwilling to accept that Ayesha needs her emotional support more than the constant advices to think of everyone else around her go to show that she is not ready to understand Ayesha at all; it is almost as if that is not even an option. Everything that happened to Ayesha is supposed to be treated like a bump in the road after hitting which you do not get injured but you continue with your
journey pretending like nothing ever happened!! Ideally all rape victims would want to move on just like that but to expect something like this would lead to watching characters like Rameen on screen. I want Ayesha to survive this tragedy and I want her to live once again the way she used to before but I also find it easier to relate to her current situation because she needs more time and emotional support to overcome this tragedy.
Adnan's character has been etched-out brilliantly; it is refreshing to see a 'normal' spouse on screen who loses his patience every now and then but he loves his wife and understands her. I wish I could say the same about the actor playing the character; unfortunately Mikaal Zulfiqar's monotone dialogue delivery is not helping!! If it wasn't for Mikaal Zulfiqar and Saba Qamar's on screen chemistry the relationship between them wouldn't have clicked with me at all. There is definitely a very strong bond between Adnan and Ayesha which is why it is easier to believe why Ayesha had so much faith that she could share her secret with her husband. Even when Adnan talked about how things would've been if something like that had happened to Ayesha, he talked only about how he would have been devastated by the tragedy and Ayesha has not been able to tell him because she does not want him to go through all that pain. Until now Ayesha has been trying to save everyone else around her from emotional damage and in that process she is badly damaged herself now.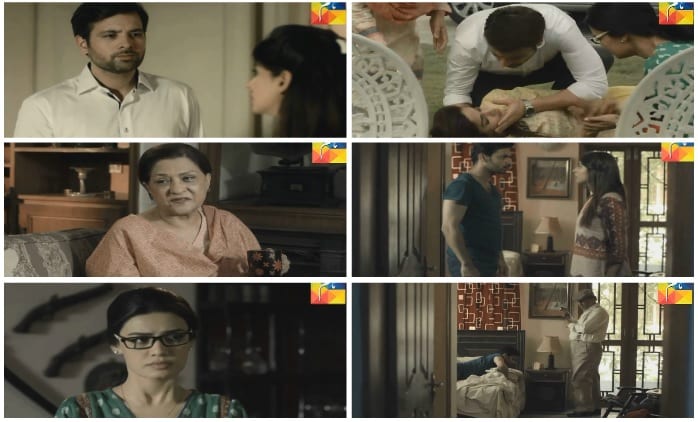 We found out more about Shavez's character today, he spends his days watching Ayesha's pictures in his phone – which means he is till obsessed with her. His father does not trust him and finds it hard to believe that someone like him would go out of his way to help someone the way he is helping Professor Zubeida. Shavez's constant questions about Ayesha and his sudden interest in helping her mother obviously means that he wants to know more about Ayesha and now after hearing the news of her pregnancy he is wondering if the child is his. Ayesha is also unsure if this really is 'her Sangat'. I really liked the way Ayesha's state of mind was portrayed on screen but I found it hard to relate to the news being spread around like that. Ayesha has one more person to look after now; one more person she is expected to save!! Shavez has an admirer who he does not like but someone who can tell that there is something different about him. His confidence suggested that he isn't exactly ashamed of what he has done; he is afraid that someone might find out but at the same time he is finding it very difficult to stay away from Ayesha's mother because that is the only way he can find out more about her. We still don't know how and when Shavez met Ayesha and why did he plan someone so horrific.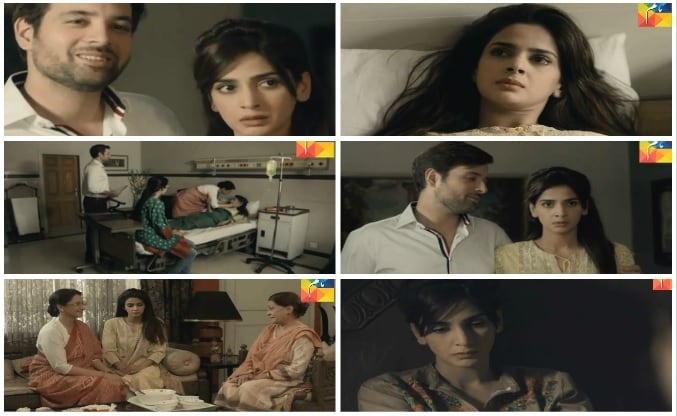 I must appreciate the writer and director for not sensationalizing the scenario by showing another chance meeting between Ayesha and Shavez at this point. Also, the flashback scenes have been minimal which is good. Saba Qamar's acting was flawless as usual but her fake nails, perfectly ironed crisp kurta and eye make-up stood out like a sore thumb. Zahid Ahmed has been very convincing so far and I am waiting to find out more about his character. Samina Ahmed is very persuasive as the mother who puts her son's happiness before anything or anyone else! Kiran Haq is amazing as Farah and she should top the list of one of the best sister-in-laws in the history of Pakistani dramas! Mikaal Zulfiqar's acting is mediocre; he appears bored and disinterested.
How many of you watched tonight's episode of Sangat? Do share your thoughts about it.
Fatima Awan