Another episode, another misunderstanding! That pretty much sums it up! The good thing about this latest episode was that it gave a glimmer of hope that this drama might be ending very soon. We found out today that Ayesha threw Sangat in the bin! Wasn't Eidhi ka jhoola a better option? I completely understand Ayesha's state of mind but it would have been good to see this woman mustering up the courage to give everything up and move out of the house. Right from the start we have seen Ayesha protecting other people around her, for once we need to see her looking after her own self. She should turn to her mother for support. Adnan's reaction is realistic but it is not pleasant to watch. It is disturbing watching him turn to alcohol for comfort. While the man plays the victim and wants to escape the situation, the real victim is left to look out for him, for herself and for her daughter!
The story is going around in circles and honestly speaking at this point I don't even care how it ends! This episode focused mainly on how the recent developments have effected Ayesha's thought process and her relationship with Adnan. Sangat's disappearance and what happened afterwards was quite predictable. Hopefully this would be the last time that Sangat's disappearance is used to add some more outbursts and twists in the story. Zubeida aunty's concern for Shahwez and her complete lack of interest in her own son in law came across as strange as usual but definitely not surprising!! When she called Ayesha to inquire about Adnan, I was quite sure it wasn't Adnan she was worried about! Ayesha's confrontation with Shahwez in which she tells him he was aik thappar ki maar could have been far more powerful if Shahwez didn't appear to be dead scared of Ayesha! It is almost as if the writer and the director on bent on focusing on Shahwez's "saza" just as much as that of Ayesha's! While I do not feel an ounce of sympathy for Shahwez, I have always felt everything Ayesha has ever gone through. The only saving grace of this drama has to be Saba Qamar's superb acting which has been top notch right from the first episode.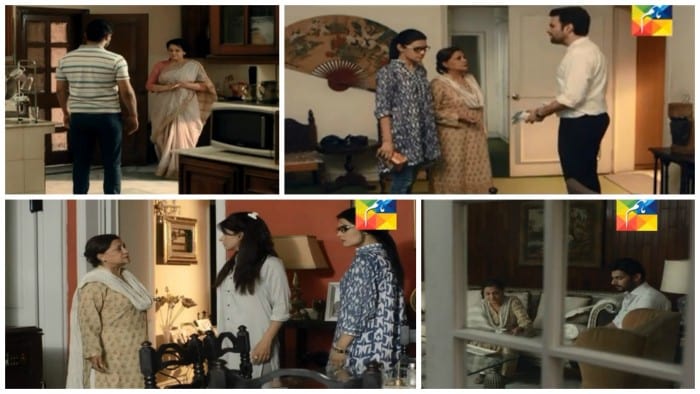 There was a time when I had hope that we would see Shahwez getting punished but tonight's episode and the preview of the next one clearly showed that this punishment is not going to be one which many of us have been hoping for. Staying in Zubeida aunty's house in Ayesha's room is going to be Shahwez's punishment which really does not resonate with me!! Shahwez tried yet again to leave aunty Zubeida's house but it is like a curse which won't leave him! I find it very difficult to relate to his situation, if this man could go ahead and ruin someone's life single handedly, he can most certainly break a few more hearts to earn Ayesha's forgiveness!
Shahwez's meeting with Ayesha's mother in law went to show how much aunties love this guy and they somehow think he is the perfect person to lecture! I found that scene entirely senseless! Shahwez has to be around for some reason or the other every time something of great consequence happens in Ayesha's life which seems like a little too much of a coincidence!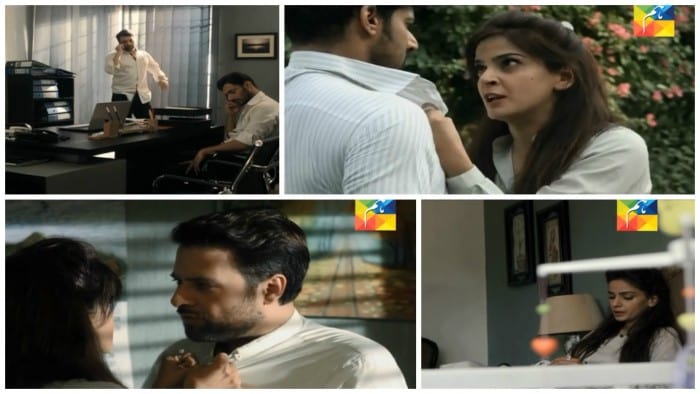 The drama has reached a point where you find yourself wishing the next episode would be the last one! We have seen enough of everything – the confrontations, the emotional turmoil and the ups and downs, time to wrap it up guys!
Did you watch this latest installment of Sangat? Do share your thoughts about it.
Fatima Awan