I started watching this drama with very few expectations and the primary reason for tuning into SDBN was Ahsan Khan since he has truly impressed me with his acting in drama serial Udaari. I must say though that even with these expectations tonight's episode was a complete let down especially in terms of acting. Tonight's episodes was filled with emotional scenes yet they failed to leave an impact because those actors who seemed fine in a normal setting could not live up to the demands of these scenes. Even with a very gifted director leading this team, tonight's episode was filled with mediocre performances and instances which weren't easy to connect to.
Shehla decided to go to Tahira's house to talk to her – a development which had innumerable coincidences to its credit. The guards in both the houses failed to do their duty. Shehla managed to slip out of her house and slipped into Tahira's house without being spotted. After that everything that Shehla did was a desperate act to ensure that this marriage should not take place and it was only because of her visit to Tahira's house that this issue was brought before the jirga. The girl who was introduced to us in the first two episodes was very different from the girl who was shown tonight. Shehla was always very conscious about what was expected from her but after learning that she was adopted and she could never marry Haider she did something which was completely against her nature – I get that – but Shehla's attitude when she went to meet Tahira was strange. Shehla was extremely confident and very sure that this was the right move. The jirga scene later on went to show that this was actually a very serious matter. If Shehla was really raised by these parents in that house then she should have been well acquainted with the consequences of her actions therefore it makes you wonder why she didn't just pick up the phone to talk to Tahira!! This development in the story which was the determining factor in this track was covered unconvincingly. The actress playing Tahira was expressionless throughout and her monotone dialogue delivery made it impossible for me to feel anything for her. Naveen Waqar's acting was 'confusing'!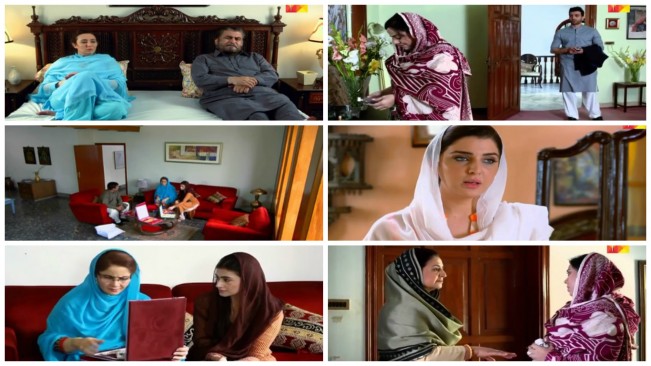 The opposite personalities of Shah Sahab and his wife were highlighted once again tonight. Bibi Jaan always appeared to be the more practical one but in this episode the constant remarks about Shehla's background made it look like she had something against Shehla and she did not love her like her own daughter. Her conversation with Shah Sahab also hinted that she did not want to bring Shehla home but was talked into doing so by Shah Sahab. Shehla's father's reaction on the other hand was too cool. He was worried and he understood why Shehla would do something like this but even then he didn't look shocked enough when the maid announced that Shehla was missing. Shah Sahab's character is easy to understand but his initial reaction was impossible to relate to.
There was only one scene of Mansoor in tonight's episode and that scene lacked creativity too. Last time around too Mansoor's mother was seen warning the maid about his habits when she was using his perfume and this time around too Mansoor walked in when she was doing just that. Apparently Mansoor is ziddi ghussay wala – no surprises there! Bibi Jaan thinks if Shehla gets married she will move on and her husband-to-be's mother thinks that once he gets married, he will learn to share and won't get upset so easily. This particular episode went completely against the rule of 'show, don't tell'. Mansoor's 'bad habits' (personality flaws?) are being highlighted in the wrong way, if his actions alone were used to send the message across it would have been far better than using both actions and telling the viewers what these flaws were.
The shadi ki tiyaria at Tahira's house were completely out of place because until now no one even told Haider about the engagement but apparently Tahira not only knows but the shadi is expected sometime soon! Wasn't Haider planning to go abroad for studying and Shah Sahab said he didn't think this was the appropriate time to talk to him about the engagement? He only found out about the engagement because of the recent developments in Shah Sahab's house. Tahira also remembered the times when she visited them which went to show that these people were in touch all these years howcome they are blaming Haider now because they should know that he didn't know about the engagement – yes I am very confused!!
The last scene of this episode was the only powerful scene in this episode; it portrayed perfectly what kind of a situation Haider was facing, it left him with very little choice. It was good to see the leads pleading their cases and not giving up. It was also refreshing watching a father like Shah Sahab taking a stand for something which would normally be against his principles because he loves both Haider and Shehla but the scene at the mazar in the preview of the next episode had done-to-death written all over it. This is mostly because of bad timing because very recently we saw Mohid and Anmol's visit to the mazar.
Ahsan Khan was the only actor in this episode who performed brilliantly other than that, the acting by all the other actors was Over The Top, below average or confusing! The developments in Haider and Tahira's track in particular were very confusing – in fact they made very little sense!
How many of you watched tonight's episode? Do share your thoughts about it.