Ohkay so, the production of Cereal Productions, writing & direction of Iqbal Hussain; Seeta Bagri hit our TV screens last night on TV One & can I just say, I am impressed. The moment you'll start watching the episode, you'll feel like you're watching a Bollywood film & I am most certainly not complaining because I loved every bit of filminess of the episode.
The episode began with a narration telling us about the small fraction of Hindu community that chose Pakistan as their home at the time of partition. The main concern of those people was the fact that if they'll settle in India, they will be judged on the basis of their caste but just because they felt they'd be free of all those boundaries & labels in Pakistan, they chose it as their home. Then, immediately after the narration, we were introduced to one of the families of Hindu community, settled in Karachi & oh well, that introduction was extravagant, vibrant & cheerful. Even though this drama is making the viewers familiar with the small community that resides in Pakistan, I loved the fact that the writer & the director didn't show them as any less or any different to the rest of te Pakistanis. They were happy, they had good lives & they seemed emotionally settled otherwise I had a doubt in my mind that may be they will show us the set of problems & social pressures they face on the basis of their religion but that didn't seem to be the case, at least in the very first episode. I am sure things will get a little complicated in the future but for starter, the director did leave such an impression that even if he will shed a light on certain issues, he will most certainly tackle everything intelligently.
We were introduced to a family of Badrinath (Qavi Khan) & his daughter Seeta (Sarwat Gillani) who belong to Bagri tribe. Badrinath did well for his small family & gave his daughter a humble yet comfortable lifestyle. Badrinath's tenants are two orphan siblings Ratan Lal (Syed Jibran) & Mala Rani (Shameen Khan). Ratan & Seeta love each other & their love isn't hidden from Mala who wholeheartedly supports her brother & Seeta. Badrinath suffers from epilepsy but he still tries to keep himself active because he knows he has a daughter to take care of & he has to get her married too. Even though Ratan loves Seeta a lot, he is suffering from financial crisis but at least Seeta supports him morally & motivates him to complete his education so that he can settle down & propose their marriage in front of Seeta's father. Ratan works as a carpenter & has a huge debt to pay off. Mala Rani is young & peppy, but she also feels she should do something in order to support her brother but has no idea where to start from. Seeta believes in empowering herself from education, that is why she keeps on reminding both Ratan & Mala about the importance of education too.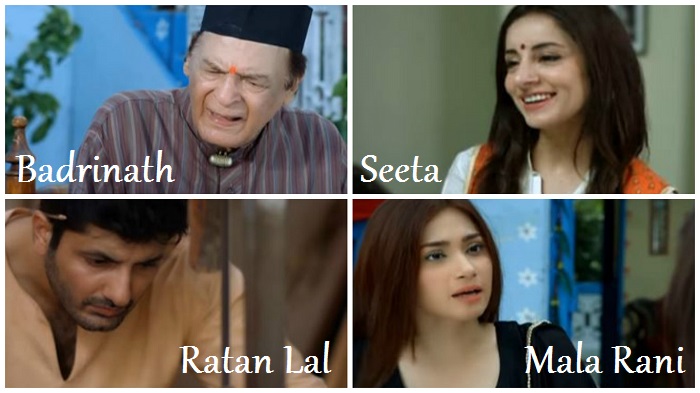 We were also introduced to Nadnini Daas (Bushra Ansari), a businesswoman who owns a small business of bangles in Hyderabad. Nadini is single & she is a hopeless romantic but her instinct tells her that she should move to Karachi because her love awaits her there. Saeen (Shabbir Jaan); an iron-smith loves Nandini to an extent of being obsessed with her. Saeen wants to get married to Nandini but Nadnini keeps on rejecting his proposal because according to her, she doesn't love him & she will only get married to the one she will actually fall in love with.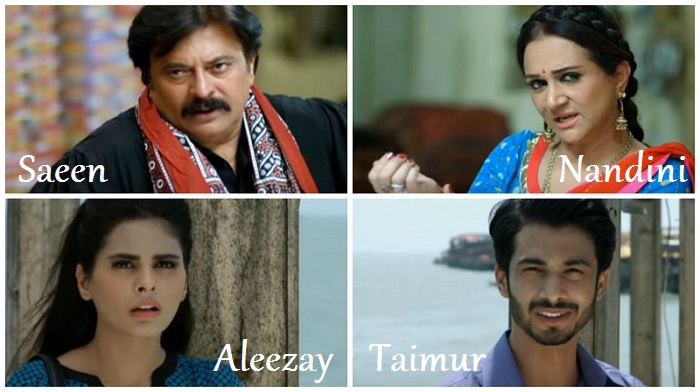 Badrinath's friend suggests a proposal for Seeta upon hearing how Badri is concerned about her. Just when Badri tells Ratan that he is considering marrying Seeta off, Ratan gets upset but even though Badri couldn't see it, his friend understands that may be both Seeta & Ratan are interested in each other. Even though Ratan is a tenant, he, Mala, Badrinath & Seeta share strong ties with each other & they actually live like a close knit family. Seeta & Mala share a beautiful bond with each other & they are best of friends who support each other emotionally too. Ratan feels burdened because of all the favors Badri & Seeta have done for him & his younger sister till date but Badri always tries to encourage him because he can see how hardworking Ratan is.
Nandini Daas moves to Karachi & she has a hard time escaping from Hyderabad because Saeen tails her & he openly declares that he will follow her wherever she'd go. Nandini & Ratan come across each other too because Ratan goes to Hyderabad to get a furniture order. I am sure this won't be the first & the last time they both will meet because this small interaction will actually turn out to be a beginning of their story!
Looks like Aleezay Ahmed & Taimur Zaki; two university students will come across the Hindu community due to their volunteer work for an NGO. Aleezay feels passionately about bringing a change in the society & just because Taimur happens to be her friend, he hops on board with the idea. I am sure they will play an important role in the future episodes where may be through their NGO, they will bring some sort of change in the Hindu community.
Overall, the first episode was brilliant & I thoroughly enjoyed watching it. I will say that in the initial moments I felt that the characters were acting a bit too dramatically but then as the episode progressed, everything settled down & it was only Mala & Seeta's interaction that had the entire Bollywoodish feel to it because they both are like that, where they bring out the child in each other & they are just being themselves when they are with each other. I actually liked watching their interactions because they made my mood cheerful. I will say that every single actor, from Qavi Khan, Shabbir Jaan, Bushra Ansari, Sarwat Gillani, Shameen Khan, Syed Jibran, all of them did a wonderful wonderful job. I don't know what is it but every single time Syed Jibran succeeds in owning his character right from the beginning & it happened this time around too. From his entry in the song to his very first conversation with Seeta, he gave it all & looked perfect as Ratan Lal. Syed Jibran is such a powerful actor & I can't wait to see how he will elaborate Ratan's story on screen. Sarwat Gillani looked absolutely stunning & after a long long time, I felt that Sarwat acted effortlessly, it looks like her dialogue delivery has improved a lot & she didn't seem hesitant in delivering dialogues which actually used to be a weakest point of her acting. From being peppy with her best friend Mala, to throwing tantrums in front of her love interest Ratan, to being an overly concerned daughter to Badri, Sarwat portrayed all the roles of Seeta to perfection. All the other actors fitted their roles perfectly, Shameen Khan was effortless as Mala & then all the experienced actors like Qavi Khan, Shabbir Jaan & Bushra Ansari made their presence felt in the very first episode. I had a great time watching the first episode of Seeta Bagri, the direction for sure was phenomenal & to-the-point, it was dramatic & filmy when needed, but also very thorough in the scenes that required such detailing. The OST was quite different & good to listen to as well. I will give extra points to the set designers for adding so much of colors in the background, everything looked lovely. I can't wait to see the next episode already, please share your thoughts about this colorful & impressive first episode of Seeta Bagri!
Keep Supporting,
Cheers,
Zahra Mirza.