Ohkay, now I was totally unaware of this serial. I even never came across any of its promos except that count down on ARY when it was about to start. At that time,  I have no plan or mind of watching it and reviewing it. Then two days ago, I came across its first episode while searching for Framosh (Turkish movie aired on Urdu one) at dramasonline. I didnot find that movie but I found this serial. Aimlessly, I clicked on its link and started watching it.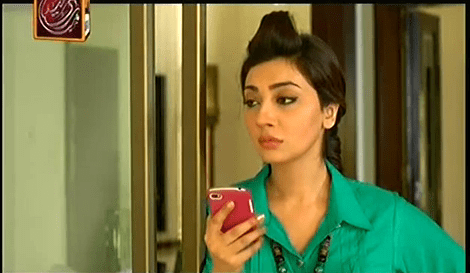 Right from its first scene, I found this serial really engaging. Sehrish (Aisha Khan) is a completely eastern packaged house wife who adores her husband, enjoys cooking for her husband and  loves to spend time with him. This time it was their wedding anniversary for which she was preparing some special meal and baking cake for her husband Ehteshaam aka Shaam (Adeel Hussain), who asked her that he won't be coming to home early as he has a lot of work to do in office.And right after that,he left his office and went to a girl's house.
At first glance, I thought he is betraying his wife as they really made us believe that. And I must appreciate direction skills of Yasir Nawaz at this point because he portrayed it so perfectly that there was not a glimpse of doubt on believing that Shaam is actually having an extra-marital affair with his office colleague, Sheena.
Shaam's friend and his wife, Maham, are among those people of our society who love to gossip and believe on every second hand information that they get every time about anyone in their lives.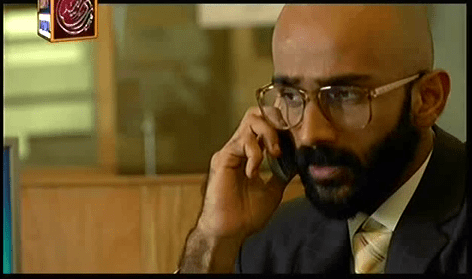 And then came the moment when we came to know that Shaam went to get his wife's gift from Sheena whose sister is a jewelry designer. Shaam and Sehrish had a wonderful time together and they celebrated their wedding anniversary , the way they wanted to celebrate it. Every moment that was captured was too nice to handle. I really like their onscreen chemistry.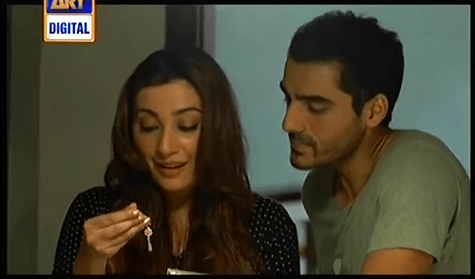 Dark side of Shaam and Sehrish couple is that it's been seven long years since they are married and they don't have a kid.  Sehrish desperation to  have her own kid was shown at its peak when she met Sunny, Maham's son, and we saw her completely reluctant to give him back to his mother while having dinner party as celebration of their wedding anniversary.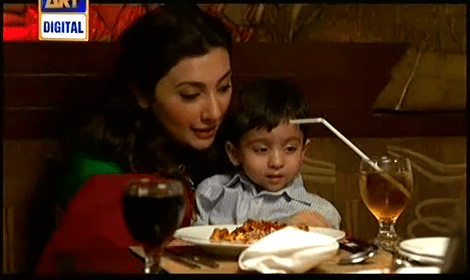 Sehrish asked her husband to have his complete check up and subconsciously told Maham that Shaam will visit doctor and then same silly chinese-whisper game begun.. :D .. From maham to her husband and from her husband to Shaam. Shaam got upset and didnot visit doctor. Sehrish felt sorry for what she has done and gave a strong apology to shaam.. or shaam pighal gaya.. :)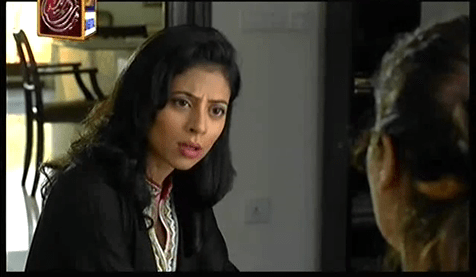 Last part of the show was about Sehrish meeting a cute kid who threw his ball to Sehrish's house while playing.  Sehrish had enough of chit chat with him and as soon as she said good bye to him, he had an accident.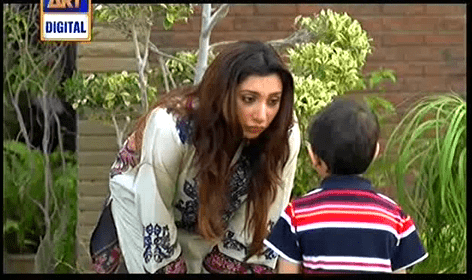 What will happen after that ? Will Sehrish curse herself for that kid's accident?
For all that and many more, keep on reading.
Stay Blessed,
Rabia Basharat.