The turn of events in tonight's episode, the side of Saad's character which was revealed and the misunderstanding which lead to dada giving his approval was interesting but many of the scenes tonight weren't as powerful as one would have expected them to be. The story has taken a somewhat unpredictable turn and Saad continues to be the one who is suffering the most, although he tried his best to make everyone understand that he wanted to marry Hani but in the end he was the one who was responsible for getting the final approval from dada. Saad's actions made perfect sense and showed another side of his character which made his character more human. Saad is young and at this moment quite desperate as well therefore when his friend gave him the advice that instead of giving up he should try to fight this battle, he decided to do just that. Since Saad was so sure that Hani loved him therefore the discovery that she is in love with someone she just met came as a rude shock therefore Saad's latest moves can be termed as impulsive and desperate. I have to say that Uzair Jaswal's acting tonight however wasn't as impressive as it was in the previous episodes. There were a few meaningful dialogues in this episode which fit in so well with the current situation yet they didn't have the same impact because of the way they were delivered and also because the background score didn't contribute to these scenes in any way.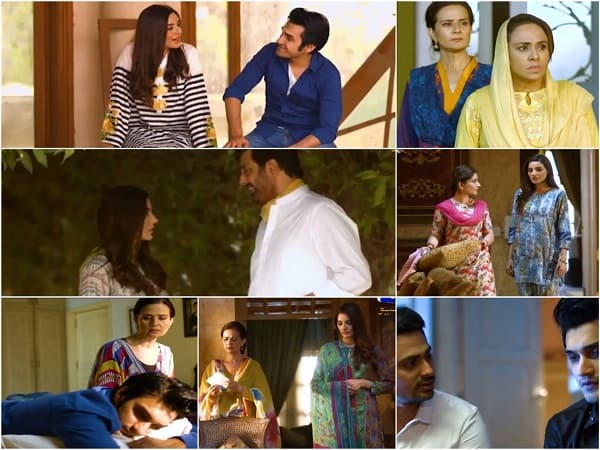 After this episode, it was difficult to relate to the fact that Hani had no clue that Saad was in love with her mainly because of Saad's reaction when he found out why Hani had asked for the bangles. Also, the way Saad looked at Hani today and some of the dialogues clearly suggested that he felt something more than just friendship. Saad made his feelings for Hani a little too obvious in this episode yet Hani thought that he was terribly upset because she didn't tell him about Salar earlier. Also, Salar's character is turning out to be a little too negative, it has nothing going for it at all therefore one can't help but wonder why did Hani fall for him and she never questions his strange behaviour. In tonight's episode when he told Hani that he had no relatives and then went on to say that he had a mother, I was expecting Hani to think about everything he had said or at least question him but it went completely unnoticed. Salar's character lacks charm and is actually scary therefore it is difficult to relate to Hani's feelings for him unless the man of Hani's dreams was a sadist with absolutely no feelings. There was a great deal of focus on Hani's character in tonight's episode therefore Sadia Khan's average performance stood out like a sore thumb. Her dialogue delivery and expressions are misleading and unimpressive.
Saad's reaction and his desperation was shown convincingly in this episode. So far, Saad is the only reason why I tune into this show every week, he keeps your interest in this drama in general and his track in particular alive. His scene with dada and watching Irfan Khoosat play this role was the highlight of this episode since it turned everything around. Overall however, this episode could have been so much better if some of the actors performed more convincingly and Saad and Hani's scenes in particular were executed more effectively. This episode also didn't have the kind of flow which the previous episodes had.
The preview of the next episode showed Saad meeting Salar and later on deciding that he was not going to give up just yet! Looking forward to finding out how far Saad will go to have Hani in his life and will Hani find out that Saad loves her any time soon? I sure do hope so.