Writer: Faiza Iftikhar
Director: Syed Ali Raza (Usama)
Producer: Babar Javed
Schedule: Every Saturday 8pm Geo
The first episode of Shayyad belonged to Saad, the character, and also all those actors starting from the child star to Uzair Jaswal who breathed life into a character which wins you over completely almost instantly. The introduction to the characters was also unconventional, the first few minutes of the episode quickly wrapped up the kind of relationship Hani and Saad shared and the rest of the episode focused on different dynamics within the house while keeping Hani and Saad in the picture as the central subjects. This first episode was fast paced, engaging and emotional. While the supporting characters weren't too appealing, I felt an instant connection with Saad in particular; his love for Hani is somewhat similar to Saba's love for Irtiza but the huge difference here is that for a change the female character isn't the one who is hopelessly in love. Also, for a change the male character is the dreamer and the female lead Umm-e-Hani played by Sadia Khan appears to be more practical so far.
Saad and Hani's scenes were directed brilliantly and were the highlight of this episode. The on-screen chemistry between Uzair Jaswal and Sadia Khan made their scenes together even more appealing. Both these actors owned their characters and the interactions between them showed how differently these two visualized their relationship with each other. Hani's dialogues after Saad left clearly showed that apart from Saad, she never made any other friends yet she was strong enough to let him go and stayed composed after he left. Hani lost her parents at a very young age but even then she was not afraid of losing another person who was really close to her because that was the only way Saad could have a better future. Hani's Khala who sent her son so that he could get to know Hani better has apparently never put in any extra effort to stay in touch with her therefore I am wondering why all of a sudden she wants Hani to be her bahu.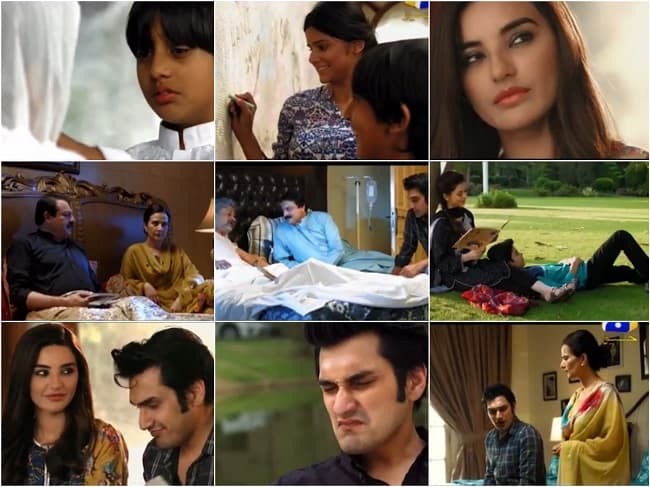 Apart from the typical phupo, all the other family members were shown as positive characters who loved Hani. Munazzah Arif in particular added the soft touch to her character which gave it a more elegant feel. Saad's interest in the wada bazar and his grandfather's advice was hilarious. It also showed another side of Saad's personality. This episode showed just how madly in love and even obsessed Saad was with Hani. I am definitely waiting to find out more about Hani's character because so far only the practical aspect of her personality was highlighted in this episode. Surely a girl who lost her parents and has a small social circle would have more to her personality. Sadia Khan's styling and make-up was right on point in this episode, she looked beautiful in every single scene. It still remains to be seen if she will be able to do justice to the more emotionally overpowering scenes in the upcoming episodes.
Some of the dialogues and poetry in this episode were beautifully penned down. It was one of those rare first episodes which makes you root for the lead right from the get-go although it is quite evident that Hani and Saad's relationship is going to be a complicated one. Am I the only one who feels for Saad already after watching the preview of the next episode? Shayyad seems like a must-watch for all the hopeless romantics out there!
How many of you watched the first episode of Shayyad? Do share your thoughts about it.