This was one of the most emotionally charged and brilliant episodes of Shayyad. It had quite a few scenes which were written and executed superbly and with this episode the story took a brand new turn. Hani's secret is out and the way she was "welcomed" by Saad's mother said a great deal about why she decided to keep everything to herself for all these years. The scenes which covered few hours of Salar and Hani's married life were right on point since they couldn't have been more well structured. The phone conversation showed how panicked Hani was, her decision to leave without informing anyone, the journey back home and whatever Salar did once she arrived home revealed just how mentally disturbed and violent this man was. The next scene was one of my favorite scenes from this episode since everyone involved made it extremely powerful and therefore effective. While Salar did whatever he could to make Hani cry, Hani refused to shed a tear since she wanted to keep the promise she made to Saad. This one scene explained clearly the relationship Hani shared with both these men. It also yet again showed the difference between Salar and Saad. This scene was written and executed beautifully. The way the flashback scenes have been used in these recent episodes has been quite impressive since it takes a lot of hard work to use such scenes in an impactful manner. Sadia Khan and Nauman Ijaz's performances were equally impressive in this episode.
There were also some scenes in this episode which showed that Hani valued Saad's love even more today than she did so many years back. One of the flashback scenes also suggested that Hani too loved Saad but never in the same way in which he loved her. Saad's mother was the only one who was terribly bothered when Hani came back home with Saad because she knew that if Hani doesn't go back to Salar, her son will never go ahead with this marriage. Mahpara's reaction to this entire incident had to be the most unexpected part of this episode since for the first time she did not judge Hani but she supported her. The preview of the next episode also suggested that she will continue supporting Hani.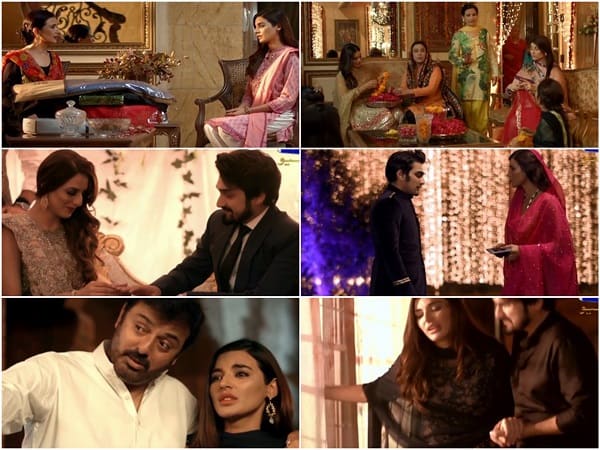 Tania and Saad's scene together was also very meaningful since it showed just how naive Tania was and how much Saad had learned over the years. Tania has no idea what is going on and after her conversation with Hani in the previous episode, she is more convinced than ever that Saad has moved on. There are times when you also feel like she is in denial since Saad's facial expressions and body language clearly suggest that he doesn't feel anything for her. Now that Hani is back, things will change completely and I am waiting to find out how Tania will react once she finds out that Hani is the girl Saad was in love with. Once she finds out that Saad loves Hani just as much now as he did so many years back, the situation will become even more intense and interesting. It also remains to be seen how Salar will react to this latest development because a controlling and violent man like him can be capable of doing anything at all.
Overall, this episode was poignant and thrilling. It was the kind of episode which keeps you at the edge of your seat and it surely gave me tons to look forward to. Shayyad is a must watch for all the die-hard romantics out there! It will keep on giving you a reason to tune into it every week and you will find yourself completely involved in this unusual love story. This drama has been well-paced and interesting so far.
How many of you watched tonight's episode? Don't forget to share your thoughts about it.