This was the kind of episode which keeps you glued to your television screen right from the get-go. There were some major character developments in this episode and a plot twist which changed everything. Tonight's episode was full of emotional scenes and the kind of positivity which puts a smile on your face. The opening scene of this episode was powerful and after a long time the flashback scenes were used effectively. This scene was brilliantly written, acted out and directed. The change in Salar's personality and his decision to set Hani free was convincing because in the previous episode he narrated the reasons for these shortcomings in his personality and for his violent nature in detail and ultimately he decided to set Hani free because he could see that she wasn't scared of him any more.
It was however difficult to understand why he forgave his mother since she hadn't changed in any way and the fact is that there wasn't much she could do to change the way she reacted to different situations in the past. Nauman Ijaz's performance tonight was exceptional and Sadia Khan also gave a steady performance. However, Sadia Khan's failure to compromise on her styling and make-up definitely proves to be a distraction. The fact that Hani was wearing clothes different from the ones she was "rescued" in only three days after Salar left her couldn't possibly go unnoticed. Such small distractions effect the continuity of the chain of events and make you wonder about aspects which are not even important!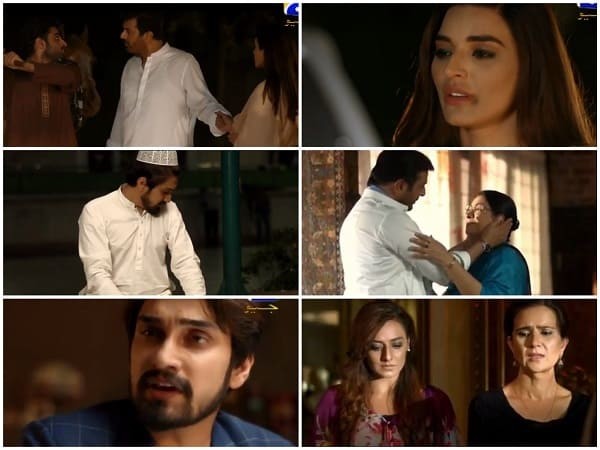 I love the way the power of dua has been shown in this drama throughout. Salma's entry in this episode came as a complete surprise. The way she helped Hani and the manner in which her husband supported her was really touching. No one can understand the plight of a person who is desperately in love more than Salma therefore she will eventually help Saad find Hani. Until last week, it was difficult to predict how these two will finally get their happy ending but after tonight's episode there are absolutely no hurdles in Saad and Hani's way. In the previous episode Tania wanted to leave because she felt she wasn't needed any more but she also changed her decision tonight. Tania's support for Saad didn't come as a surprise since her character has always been positive.
The background score was also used effectively tonight, with the exception of the scene in which Salar was talking to his mother. In rest of the scenes it fit in perfectly and added to the overall impact these scenes had. Once again Saad is hopelessly wishing that he will get his Hani back and this time around Hani too has realized her true feelings for Saad therefore the situation is completely different. Uzair Jaswal and Sadia Khan look great together on-screen, the chemistry that these two share along with the way their story has been written makes their love story one of my favorites. Just like every other episode of this play, this one too had some of the most beautiful dialogues and even the poetry in the background was spell-binding.
I will be watching this episode a few times again before the next one airs. Looking forward to a fantastic ending to a beautiful love story which had my undivided attention throughout.
How many of you watched this episode? Don't forget to share your thoughts about it.