Dragging it to hell beautifully explains the situation with Khamoshi. It is (maybe was) a good script which had the potential to hook people to the screens. But quantity is winning over quality lately and we saw another episode which is just not easy to understand. This episode has so many cringy scenes that the ones with Iqra Aziz crying over Atif seemed bearable. Arsala has proved to be a bad influence on Shahram as the boy has totally turned into a Khamosh Larka in every front of his life and has lost his backbone which he used to have in the initial episodes. The pretend and guess got too dragged today as now Arsala was getting an engagement ring over telling Bee Jaan the truth because apparently, Bee Jaan who puts up with all the tantrums of her own family is so faint of heart that she will not be able to tolerate little Arsala not getting married.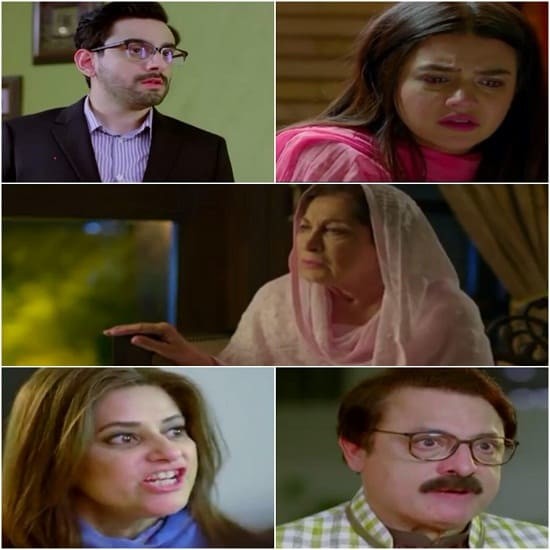 The sudden entry and reactions of Nasreen and company showed that either they have very very (very to the infinity) low IQs or they are suffering from some kind of obsessive disorder and need sudden treatment. She started yelling at Arsala, she insulted Shahram as well as Bee Jaan. She blamed Shahram to be a shallow person who has fallen for Arsala ka husn. Basit who seemed like a reasonable person in the start also played along and was stupidly rude towards a boy who had just paid for their luxury vacation. As for Zubiya she has the same Sara syndrome, Sara from Humsafar suffered from. Her bohat jald humara rishta hone wala tha was both absurd as well as surprising. Shahram's reaction towards this crazy family was strange. He transformed into Arsala who just tolerates everything and doesn't answer back.
Naima is still consistent with her problems as well as her mother who just has forgotten that she has two other kids too. Forget about Arsala, she doesn't even care about Guddu. Sabir is still whining over what he has done to Arsala's life and is also asking for forgiveness.
This drama had a decent script, good lead couple, an excellent negative Naima, in short, it had the potential to stand out but the makers have made it another Alif Allah Aur Insaan where you start wishing it to end. Ending today's review with the hope that the show will end before Arsala ki Khamoshi is transformed into Bee Jaan ki Khamoshi!