Written by: Faiza Iftikhar
Directed by: Mohsin Ali
Produced by: Wajahat Rauf & Shazia Wajahat
Schedule: Every Saturday 9pm
Let me start by saying the no one writes love stories better than Faiza Iftikhar because her characters always have depth and variations, they are easy to connect to and are most often either likeable or unforgettable, the story is always free of clichés and is gripping as well as unpredictable. My number one reason for tuning into this show was that it has been written by Faiza Iftikhar, number two was that Sami Khan is playing the lead and number three was the production house. Sami Khan has given the viewers some of the most outstanding performances this year, he has been constantly experimenting and has been making his presence felt in every project he has worked in. Even when some of the dramas he was a part of this year didn't have much to offer, Sami Khan continued to impress. His portrayals are always faultless and completely different from one another. Madiha Imam and Sami Khan make the perfect on-screen couple as well therefore especially after watching this episode I have high hopes that this will turn out to be another unforgettable love story.
This first episode opened with Naina (Madiha Imam) rushing out of the house to meet her boyfriend. The first conversation between Naina and her mother revealed a great deal about the family dynamics in the house. While Naina's mother doesn't like controlling her, her father is completely opposite. The introduction to Zaid's (Sami Khan) character couldn't have been more interesting since the entire scene suggested that Naina was Zaid's girlfriend but the fact that she was actually going to meet Arham (Furqan Qureshi) came as a pleasant surprise since otherwise this entire situation wouldn't have been easy to relate to. The bus scene was brilliantly directed and was really amusing. Zaid and Naina are cousins but there are some serious differences between the two families because of which they have to keep their feelings for each other secret and there are little chances that their parents will ever give them their blessings.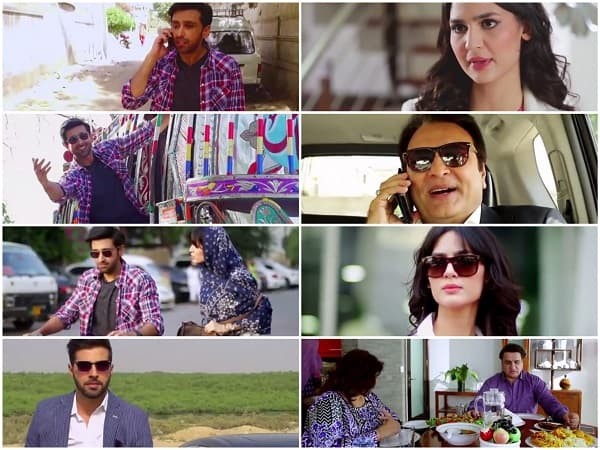 Tonight's episode also covered the family ties in Arham and Zaid's house. The fathers in all the households are more strict than the mothers. Zaid has big dreams and was shown complaining about the state of affairs in his house. Zaid is outspoken and anything but perfect which makes his character even more interesting.
This episode was entertaining, the pace and editing was perfect and the performances of the leading cast gave it the edge it needed. Madiha Imam looked beautiful and she completely owned her character. Furqan Qureshi fit in perfectly in Arham's role and Sami Khan made sure that he translated Zaid's crude personality accurately on screen. Sami Khan was definitely the star of the show tonight. The situations and the dialogues were right on point and they were executed superbly too because of this, the episode overall had a good flow. This first episode was also lighthearted although it seems like things will get serious as the story progresses.
How many of you watched the first episode of Woh Mera Dil Tha? Do share your thoughts about it.