I have to admit that sitting through this episode was tough because I wanted to skip everything else and move to the part where Hani and Saad were finally together! This last episode of Shayyad was emotional just like this drama as a whole and it was good to see Sadia Khan sporting a look which went well with Hani's situation and her acting too was right on point tonight. In this episode however, the background score at times was so loud that the dialogues were barely audible. Also, the last scene of this episode would have been even better if Saad thanked Tania before she left. The scene covering how Saad finally met Hani and the meeting itself was covered perfectly. The way Tania stood by Saad all these years was truly endearing and the best part of this last episode.
A love story which was poignant, inspiring and meaningful, Shayyad was one of those very few dramas in recent times which didn't drag at all. Although few of the episodes didn't work for me because of the choppy editing but overall I highly recommend this drama to all those viewers out there who would want to watch a different love story which has a filmy feel but at the same time is really convincing.
This wasn't the first time that Faiza Iftikhar gave her viewers an unforgettable male protagonist. Saad wasn't perfect but he was passionate about the woman he loved and he had quite a few personality traits which made his character appealing. In fact his flaws made him a compelling protagonist who always kept you guessing.  Saad's role was played brilliantly by Uzair Jaswal. The character growth was also covered convincingly and this aspect of the story was especially important since the story started from the time when Saad was only a teenager. Although the odds were always against Saad but he was never shown as someone who was a victim of circumstances. Saad's character and Uzair Jaswal's solid performance throughout was the highlight of this drama.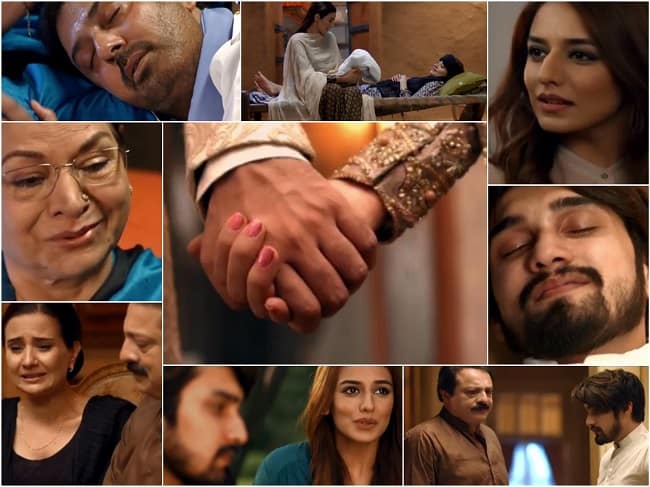 Hani's character itself didn't have the same appeal as Saad's character but it was Hani who decided which turn Saad's track will take by rejecting his love for her and ultimately by getting married. Saad was however never turned into a bechara, the viewers weren't "forced" to feel for him but it was something which came naturally. The on-screen chemistry between Sadia Khan and Uzair Jaswal along with the beautiful manner in which their track was penned down made this love story relatable. This drama also had some of the most beautiful dialogues to its credit.
The background score and the beautiful poetry was used effectively in most of the episodes and the director Syed Ali Raza (Usama) gave this drama the right treatment. Except for a few episodes, the flashback scenes, especially the ones covering Saad and Hani's childhood were translated on screen superbly. The supporting characters and their tracks were just as interesting as that of the leading characters. Tania's progressive character was like a breath of fresh air and even Mahpara's track held my interest completely in the last few weeks. Nauman Ijaz was phenomenal as Salar and even though he didn't get a lot of screen time but every scene covering Salar's track was written and executed faultlessly. Mahpara's happy ending and Salar and Hani's love story showed that you can fall in love at any age and if you truly love someone then age most certainly is only just a number!!
Shayyad is one of the very few plays which ended at the right time which is why it is going to be missed and remembered for all the right reasons. The ending couldn't have been more gratifying but the preview of this last episode gave this ending away which wasn't fair with the viewers. Unlike many other writers, Faiza Iftikhar didn't wait until the last episode to wrap up all the tracks but only left the main track to be wrapped up in the last episode which is always a great idea.
I would like to thank all those talented and creative individuals who worked hard to make this drama a success. A special thanks to all those wonderful viewers who read the reviews every week and gave their feedback. It wouldn't have been the same without you guys. Shayyad will be missed but thankfully we have Woh Mera Dil Tha to look forward to every Saturday now!
Do share your thoughts about this last episode, I would love to hear from you.