Ohkay so, these episodes of Shehnai came with a lot of twists & turns which were tackled brilliantly. There is so much happening in each episode that it makes you look forward to what is going to happen & how things will unravel. Shehnai indeed is a brilliant & intelligent piece of writing, because, despite the fun & comic relief it brings, it also reinforces the importance of family values & relationships, which brings warmth to your heart.
The Twists & Turns
Samreen is definitely not coming slow. The fact that Meerab might find someone else other than her is what is a problem for her. It is a done deal that if Meerab wasn't someone to get manipulated this easily, Samreen would never ever have gotten the edge to do so. She enjoys seeing him in this awkward situation & has absolutely no remorse or shame in feeling that way.
I really wish that the moment Samreen misbehaved with Beena, she had at least told Meerab the truth that he was failing to see. So far Meerab does feel that Bakht has an ulterior motive because of which she doens't want to call off this wedding but if his sister had told him the truth, it would've made things easier for him. Meerab is happy getting manipulated & it isn't going to change anytime soon unless something major happens & he is served with an eye-opener!
As much as all the negative characters are enjoyable in their own way, I find Tooba quite annoying. She is shown as your typical unhappy pot-stirring Pupho but still, she makes Qafi Bhaiya & Maliha look ideal in front of her. It was obvious that she was never going to approve of Saima & Ahsan's relationship & because of that she got a lot of screen-time which I didn't enjoy. Saiqa & Saima had to leave because of the insults they were made to face & sadly, the relationship of Saima & Ahsan came to an end, at least for now. Beenish & Rafay are in hot waters too because Qafi Bhaiyya doesn't approve of Rafay & they both know they can't do much about it. Beenish at least has it in her to fight for what she wants but Ahsan was too obedient & humble that he decided the best thing to do was just leave silently without saying a word, which sadly didn't even get noticed by his parents until Beenish said!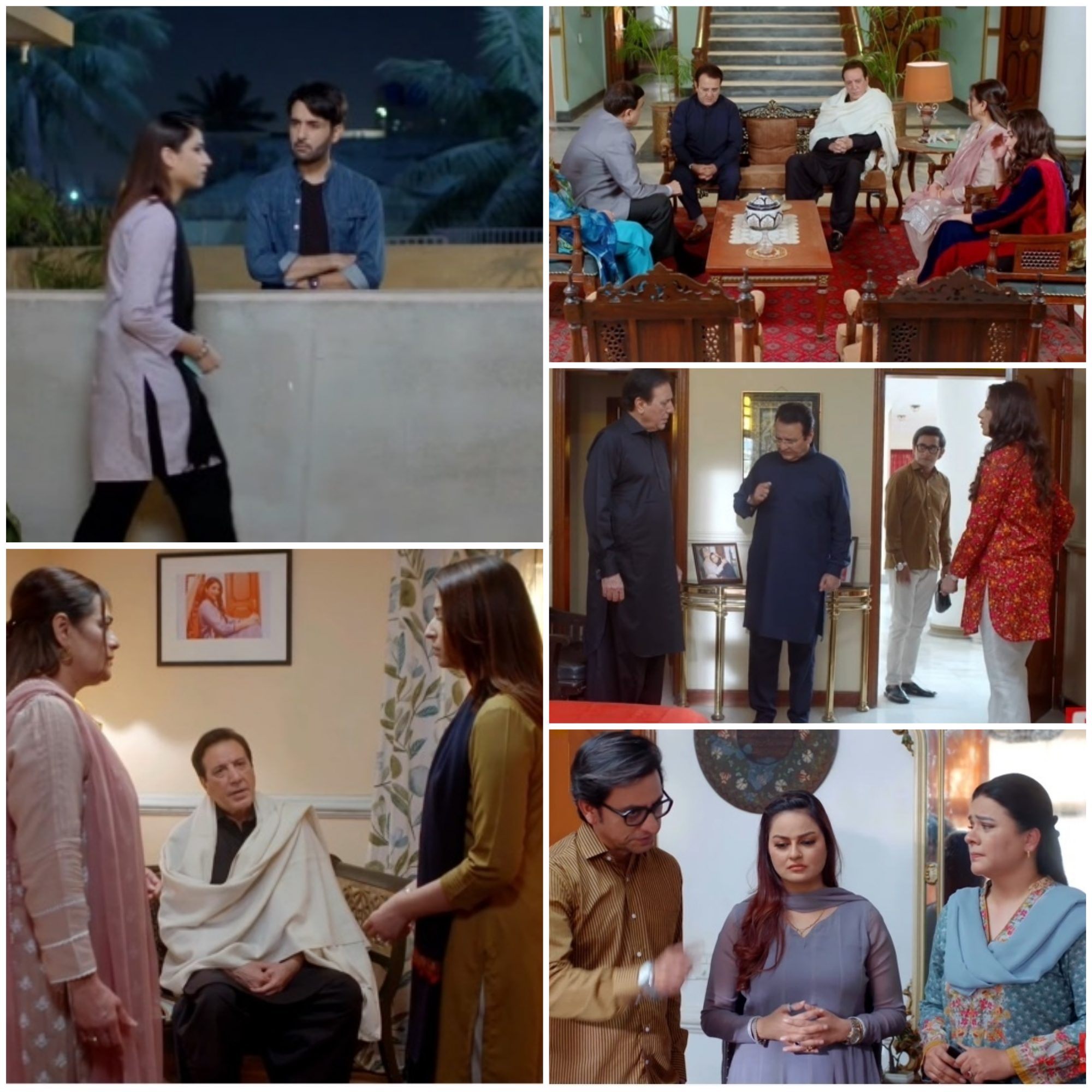 Bakht is very much in love with Meerab but sadly, she is unable to do anything to save her marriage because no matter what happens, Meerab always finds a way to doubt her feelings & misjudge her. It is sad that Meerab is unable to see things for what they are & believes each & everything that Samreen says. This is exactly why I feel a conversation between him & Beena was necessary for him to at least have a change in perspective somewhat.
So, Samreen finally told everything to Absar & Azhar. It was nice to see Beena guiding Bakht through this mess & advising her about what she should do to save this marriage. She failed to acknowledge anything that Samreen said hoping that this mess would settle itself when Meerab would be asked to give an explanation. It was because of this hope she felt like talking to Meerab but unfortunately, the response she got from him was not in her favor.
Exceeding Expectations
The preview of the next episode was quite interesting & it seems a lot more drama is going to unfold in the upcoming episodes where Meerab will eventually take a stand but he will be in the wrong. Shehnai has turned out to be quite engaging & exciting than expected & each & every situation is tackled brilliantly. It is definitely one drama that I look forward to every week. All the characters are so realistic yet refreshing & the family politics have been tackled in a very interesting manner too. Can't wait to find out what happens next. Please share your thoughts about this episode of Shehnai.
Keep Supporting,
Cheers,
Zahra Mirza.