Ohkay so, this was yet another fun & very very interesting episode of Shehnai. The drama makers deserve all the praises & appreciation for not only coming up with such a brilliant script but also executing it in such a manner that even after so many episodes, it is still quite engaging & has so much to offer. All these characters have so much realism to them that you can't help but connect to them on a personal level. Be it the elders who have their own struggles or the characters from the younger lot, they all are an integral part of the story with so much contribution in making it complete & wholesome!
The New Twist
Although I find everything quite relatable in Shehnai, the one thing that struck on a personal level was Maliha's decision of retail therapy. I found it so amusing & cute that just because she felt down, she decided to uplift her mood by going for shopping. It is funny that she decides to mind her own business & draw a line with Qafi Bhaiyya, but he succeeds in crossing that line & brings her on the same page as him. For now, Azhar's threats seem to be working but not sure how long Maliha will be able to ignore Qafi Bhaiyya's insinuations. I am glad that for now that matter is pretty much sorted & the focus has once again shifted away from the messy situation created by Qifayat & Maliha.
Saima & Saiqa were very much in Karachi but chose not to tell Bakht's family. I really like the duo of Saima & Saiqa because they are not only the voice of reason but are very rational & think things through. Saiqa knew that her sister Ambreen already had so much on her plate so instead of adding more to it, she decided to keep a low profile trying not to add more to the problems faced by her. Bakht found Saima & eventually, Ambreen found Saiqa & they made peace with it. Although Ambreen was sincere in her apology to Tooba & she gracefully accepted it but that definitely doesn't mean it is going to prevent her from creating issues in the future. The fact that both Ahsan & Saima are very much in touch is definitely not going to be well received by both Saiqa & Tooba but it seems they the two are very much involved & want to be together.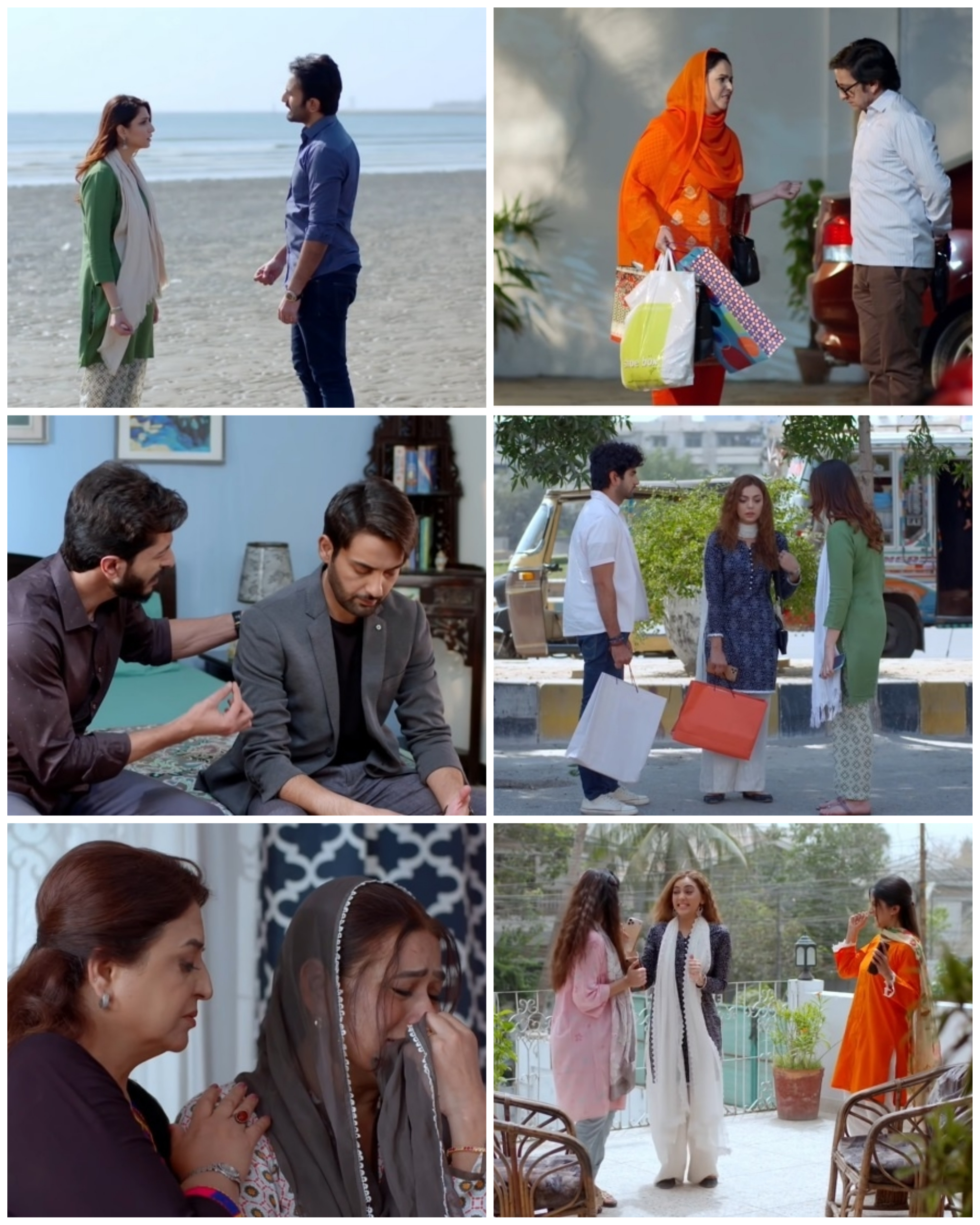 So, Hunain made an entry into Bakht's life again, that too when Bakht is vulnerable & she has made up her mind that she is not going to give Meerab a chance. She may be ready for the marriage but she is quite clear in her stance that she is not into him the way she was before. Bakht definitely has a justified reason to feel that way because despite her warnings, Meerab overlooked what Samreen was doing & he also caused a lot of heartache to Bakht's father & for her that is a big deal. So, while Bakht is dealing with all of this, for Hunain to make an entry and share sob stories with her is definitely going to affect her on a deeper level.
Bakht couldn't take her mind off Hunain & wanted more answers. Although the preview of the next episode gave it away that Hunain was not sincere but the way the actor shared his story did make it obvious that he was once again playing with Bakht's emotions, knowing the kind of person she was. Hunain cleverly put the entire blame on Meerab whereas he clearly was not into Bakht & did not intend to marry her in the first place. I really find this new twist quite interesting because Bakht is pretty much falling in the same pit that she eagerly wanted to pull Meerab out of. Meerab is at that stage where he has a lot of clarity & has absolutely no distractions therefore he can focus on this relationship but now Bakht is going to get swayed & this time around, it will be Meerab who will try to save Bakht from ruining her life once again.
A Winner
Shehnai definitely is an intelligent piece of writing & the fact that it has such a feel-good & peppy vibe to it makes it a very interesting watch. I actually wait for Shehnai every week & the entire team deserves full credit for the success of this drama. It is fun, the characters are so interesting to explore, the emotions have been conveyed with so much clarity & the overall story is different but still feels real – all in all, Shehnai is a winner & I can't wait to see the rest of the episodes. Please share your thoughts about this episode of Shehnai.
Keep Supporting,
Cheers,
Zahra Mirza.