Ohkay so, Shehnai is full of twists & turns & who would've thought that just when the story is almost nearing its end, the writer has still kept so much in store for the audience. Just when you think things are finally getting sorted & Bakht & Meerab are going to find what they are looking for, life gives them something completely different. It is interesting how the entire situation has flipped that with Samreen out of the picture now, Hunain is back & he is not just back, he is right there in Bakht's house. Who would've thought?
Bakht Is Getting Manipulated
Hunain is continuing with his manipulative ways but once again Meerab is clueless as to how he can help Bakht. One thing is quite clear, in the equation shared by Meerab & Bakht, it has always been Bakht who has been the decision-maker, Meerab has just tagged along & facilitated Bakht in whatever she wished to do. It was Bakht herself who got to see Hunain's reality because Meerab chose not to say anything, therefore in the current scenario, Bakht is choosing not to believe anything coming from Meerab because she didn't hear the truth from him before either. I would've liked it a bit more if Meerab wasn't just as clueless at this stage of the story as he was when it began. He is nice & kind-hearted & I as a viewer appreciate all these personality traits but at times it ends up being a bit too much to see him not being taken seriously especially by Bakht.
Bakht is still heartbroken because she became emotionally invested in Meerab & after she pleaded in front of him, he turned a blind eye. Everything that Bakht is doing is also because she is hurt & hasn't fully recovered from the heartbreak. Hunain has obviously figured out everything because he heard it from Qifayat, therefore he knows how vulnerable Bakht is & how easily he can manipulate her. All the things he said to her were exactly what he knew Bakht wanted to hear, so even he knows it won't be too long before she will finally start thinking on those lines.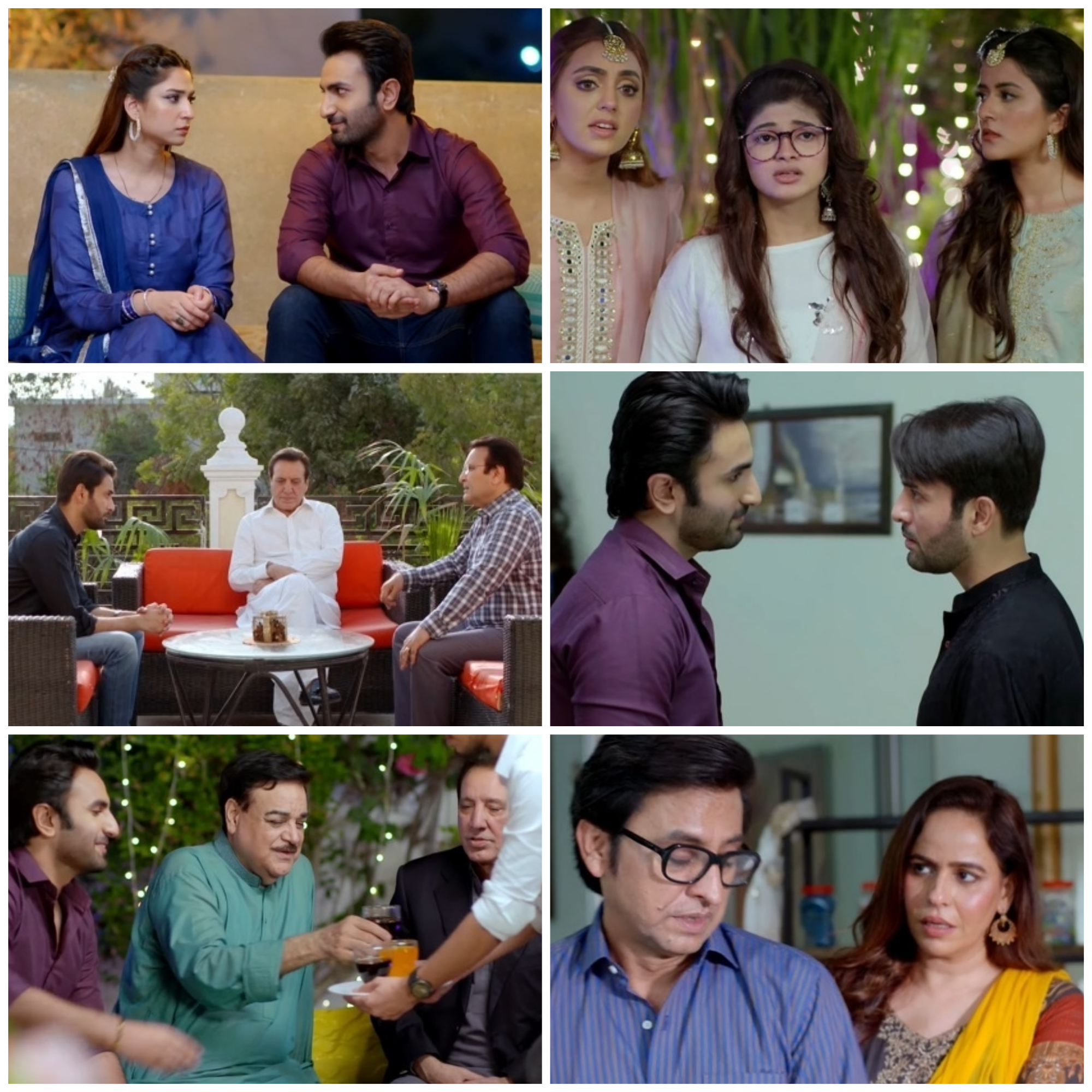 Meerab has come clean in front of Absar & Zafar. Although Zafar found it hard to trust Meerab again, Absar had no other option than to accept the apology & just brush everything under the carpet because like he said, he can not take it anymore & the burden of getting Bakht married is just so much that he wants to believe Meerab for once.
The whole scenario of Hunain showing up at Bakht's house & becoming a part of her wedding festivities was yet another curveball no one saw coming. Even Qifayat who thought he had everything sorted & under control was shocked when he found Hunain there because this was definitely not a part of this plan. Qifayat actually underestimated Hunain because he has turned out to be meaner than him as for him, life has presented another golden opportunity in the form of Bakht so he is trying his best to make the most of it. Just after hearing his fake sob story, Bakht gave him a hefty amount, therefore Hunain being the opportunist he is has all the reasons to kick Qifayat out of the picture & take charge of the situation, hoping he will reap a lot of rewards himself. Maliha has once again started to get quite interested & invested in this situation, at least she is being a silent spectator & that's alright as far as she is not making plans with Qifayat, hoping to create troubles for the family.
Saima & Ahsan, Rafay & Beenish's tracks are also quite interesting to watch. Their reactions & expectations related to their relationships have been told in such a fun manner. I like how the writer has kept it all very civil, realistic & positive. For any girl & boy, it is perfect to have that special someone to like & adore. These feelings have been shown in such a nice manner in Shehnai that it actually makes you want to root for them because they have all the right in the world to be with the one they like. A few episodes ago, Munni promised to help them, I wish that track has developed a bit with her trying her best to help them all because that would've been quite interesting too.
Perfect Entertainer
This episode of Shehnai was definitely engaging & quite happening. They have made the most of a chaotic shadi wala ghar by adding more chaos to their personal lives. All the actors definitely deserve a lot of appreciation for portraying these characters beautifully. Shehnai is definitely a fun watch & one such drama that shouldn't be missed. It is a perfect package & what entertainment should be like. Please share your thoughts about this episode of Shehnai.
Keep Supporting,
Cheers,
Zahra Mirza.