Ohkay so, the main motive behind this episode was to establish who Hunain takes after. This was yet another engaging twist in the story which unfolded brilliantly. I will however say that I am getting a bit annoyed by Bakht & her stubbornness. It is understandable that she is not into Meerab & this marriage, but for her to hold him responsible for everything, blaming him & accusing him of being a liar is a bit too much. Also, I thought by this time, Meerab would've at least figured out how he wanted to expose Hunain but so far, Hunain has been outbidding Meerab.
Bakht Is Acting Dumb
The entire focus of this episode was on Hunain & how he was scoring brownie points one after another in front of Absar. Absar seems a bit too impressed & pleased with Hunain as well. Apart from this, there wasn't much different or new in this episode. I think now's the time that Shehnai should start wrapping up, or if not, they start airing double episodes so that the story makes some progress & Bakht finds out the truth about Hunain.
I could definitely see a spark between Hunain's father & Munni, but the moment the fraudulent duo will be exposed, this equation will end then & there. Meerab tried his luck & he thought he finally found one person who would help him expose Hunain but unfortunately, his father turned against Meerab as well. It is amusing that both the father & the son have now joined hands & have entered the picture to make the most of this golden opportunity. At this point, I will definitely feel for Absar when he will find out the truth because he has been nothing but kind & generous to not only his family but strangers as well. However, I fail to feel anything for Bakht because I don't think what Meerab did was more grave or deceptive than what Hunain did to her.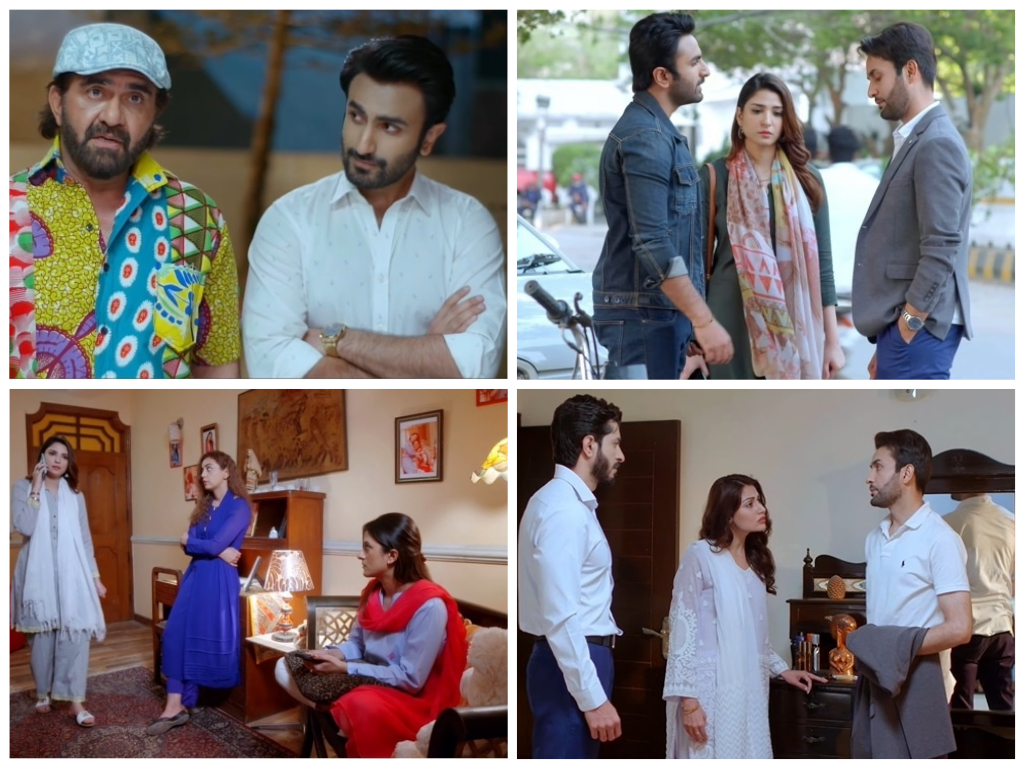 Right from the beginning, Meerab was clear that he was not interested in Bakht. He had also told her that he was going to let Absar & everyone know as he awaited the right time, therefore Meerab was always in the clear. However, it seems at this stage, Bakht has magnified this whole incident to such an extent that she just can not see Meerab as an honest person anymore. She thinks he has been deceptive since day one & Hunain is suddenly a victim. No wonder why Bakht ended up getting fooled before & it is happening again too.
I liked that there was some progress in Saima-Ahsan & Beenish-Rafay tracks too. Meerab has decided to speak to his father as well as Absar & Ambreen decided to speak to Saiqa about Ahsan & his job. I will definitely say that these supporting tracks have been dealt with beautifully & just by adding that element of respect to it, the writer has made it even more special. There is absolutely nothing wrong in liking someone & people do face resistance from their families but the overall treatment of these relationships has been very realistic which is the best part.
Time To Wrap It Up
I really wish things start wrapping up now because the story despite being fun & interesting is now looking a bit stretched. Bakht should seriously stop doing this to her father who has always treated her with love & respect & most importantly, has made her realize that she is his priority. If she doesn't want to get married to Meerab, she should just let him know but to go ahead with this marriage, hoping things will turn around in her favor is a bit too selfish of her now. Let's see what happens next. Oh, I must say, Hunain's father & his overall dressing & personality was such a vibe. Please share your thoughts about this episode of Shehnai.
Keep Supporting,
Cheers,
Zahra Mirza.