Ohkay so, what sets Shehnai apart as a drama for me is how the writer has added so many layers in the story. It is not just your comedy play that you can watch to have a few giggles here & there, instead, there is so much happening in every scene, every track, every character's life that it makes it quite a multi-faceted story. With each passing episode, Shehnai is turning out to be a very interesting play that gives me a lot more reasons every week to wait for the next episode. Honestly speaking, I was hoping that this episode would continue & I will straight away find out what is going to happen after Bakht left but that is exactly when the episode ended & I was just not ready. Shehnai is a very intelligently written drama, although the family dynamics & politics are nothing new but, the way it is being told makes it a brilliant watch.
Planning & Plotting
This episode mostly revolved around the supporting characters & what they were planning to do. Ever since the beginning, I have always felt that Qifayat & Maliha were siblings but at times where they become too formal & speak to each other with honorifics, it just goes to show that they both are not biologically related but because they have the same agenda, they don't mind having a word or two every now & then. Then I thought it wouldn't have made much of a difference if Maliha & Qifayat actually were siblings because it would've made things a lot more interesting with both of them having enough reasons to back each other up because they are very similar in so many ways. It is always fun to notice how the rest of the family members may take a break but these two are always on the lookout for the right opportunity to persuade others. Maliha is quite sorted & she has been telling Azhar what she wants, Tooba likes to underestimate her husband Qifayat but she fails to see that even he is very much on the same page as her & wants what she has failed to realize so far. Tooba is actually quite content with the fact that her brothers bear the financial responsibility of her family but Qifayat has a bigger picture in mind.
I really liked getting an insight into Rafay's character. I mean, if he would've been a part of any other drama, his character would've looked negative but in Shehnai, he comes across as quite amusing & cute. He was trying to be chummy with Saima but when she showed him his right place, he decided to move on from the heart-break & befriend Beenish. Beenish also kind of liked the interaction with Rafay so it was nice how the writer used the opportunity to create this triangle. Rafay is very much single & he is ready to mingle, this is all that can be said about his character.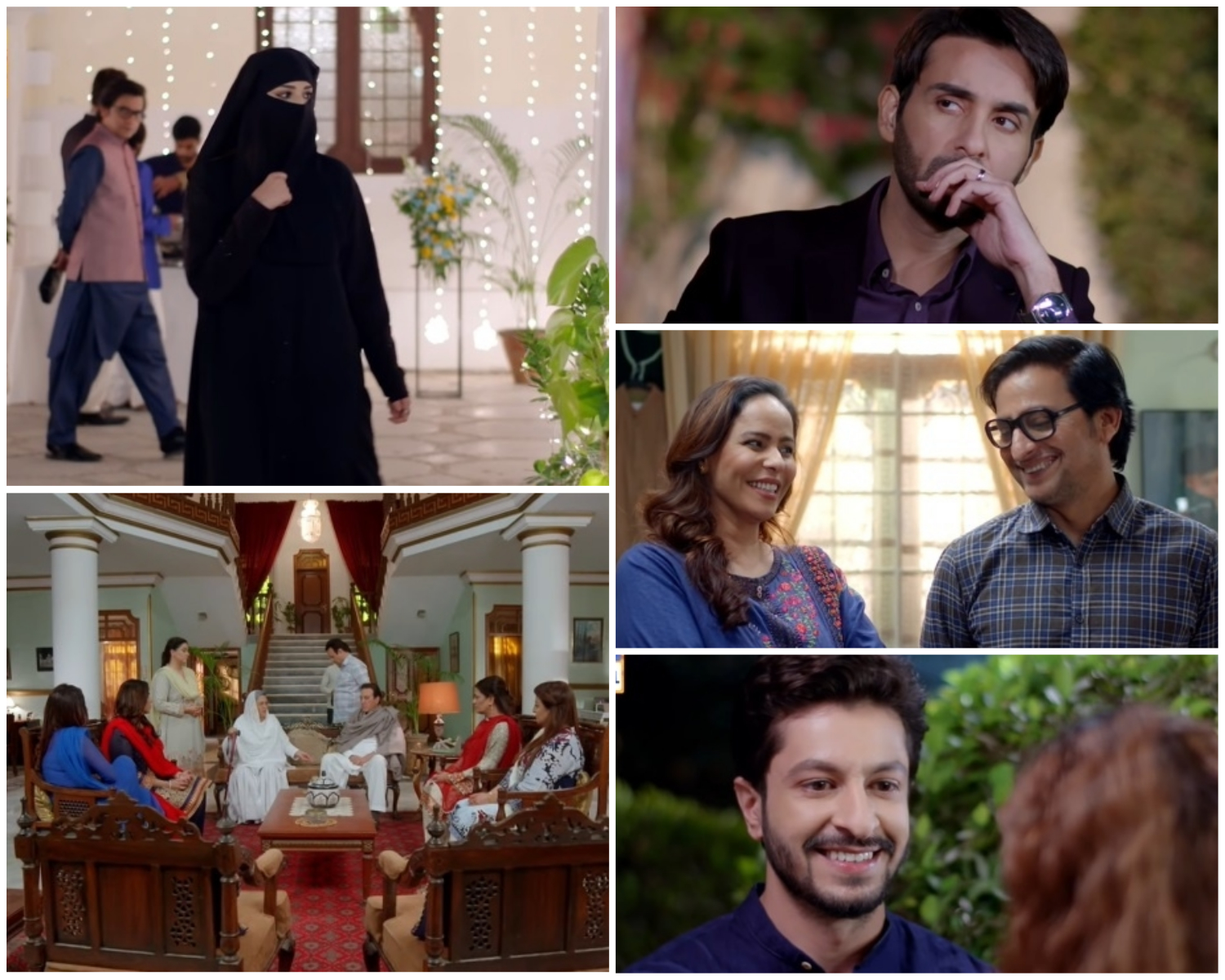 Another interesting bit was related to Ahsan, I don't know why the way the actor Umar Alam has played this character makes me feel for him a lot. Ahsan seems to be the kind of person who wants things to be normal, but because both his parents are so scheming in their own way, he definitely comes across as a neglected child who is not really happy with the way his parents behave. I also like how in Tooba's entire family, he is the sane & the sensitive one. Props to the writer for giving so much personality to each & every character, it is quite a rarity that in a drama with such a huge cast & so many characters, each & every character gets to stand out & that surely is the case with Shehnai, which definitely does wonders for the pace of the drama. Iffat is cute & she is also quite committed, the only thing is she hasn't really been busted for the secret that she's been keeping, but that will happen quite soon too.
As much as I like how Bakht is so sensitive when it comes to her father & as much as I liked the conversation Absar had with her in the previous episode, I was pretty disappointed with the things her mother Ambreen said to her. It was as if Ambreen was completely turning a blind eye to Bakht & was invalidating her feelings by pressurizing her using the tactic of emotional blackmail. It is obvious that both Ambreen & Absar want the same thing from Bakht, that is to get married to the guy they picked for her but they both are so different in their approach when it comes to dealing with Bakht. I will also say I like how with each passing episode, it is being established what a nice family Meerab belongs to. Be it him, his parents, his sister, or even his cousin, they all are very kind-hearted & nice people, just a nice vibe that I as a viewer get from that family.
So, now coming to Bakht, she definitely is quite naive & has been unable to understand that Hunain isn't right for her. She has been doubting Meerab & thinks he wants her to do the heavy lifting so that he can get married to Samreen. It is interesting to note how Bakht's judgment about people is just so off. It is good to be opinionated but to have such poor observation of people goes to show that she lacks the basic understanding & experience of making the right judgment about people that she interacts with. I know it wasn't deliberate but I liked the color coordination of both Meerab & Bakht when they had a meeting at the terrace. Meerab has definitely not said anything to his parents yet because after finding out the truth about Hunain, he is kind of in a fix whether it is the right time to do so or not because he knows that if he backs out, Bakht will go to Hunain & face a heart-break, which he doesn't want. Meerab's character is really nice because he is not only sensitive but he is quite selfless at that.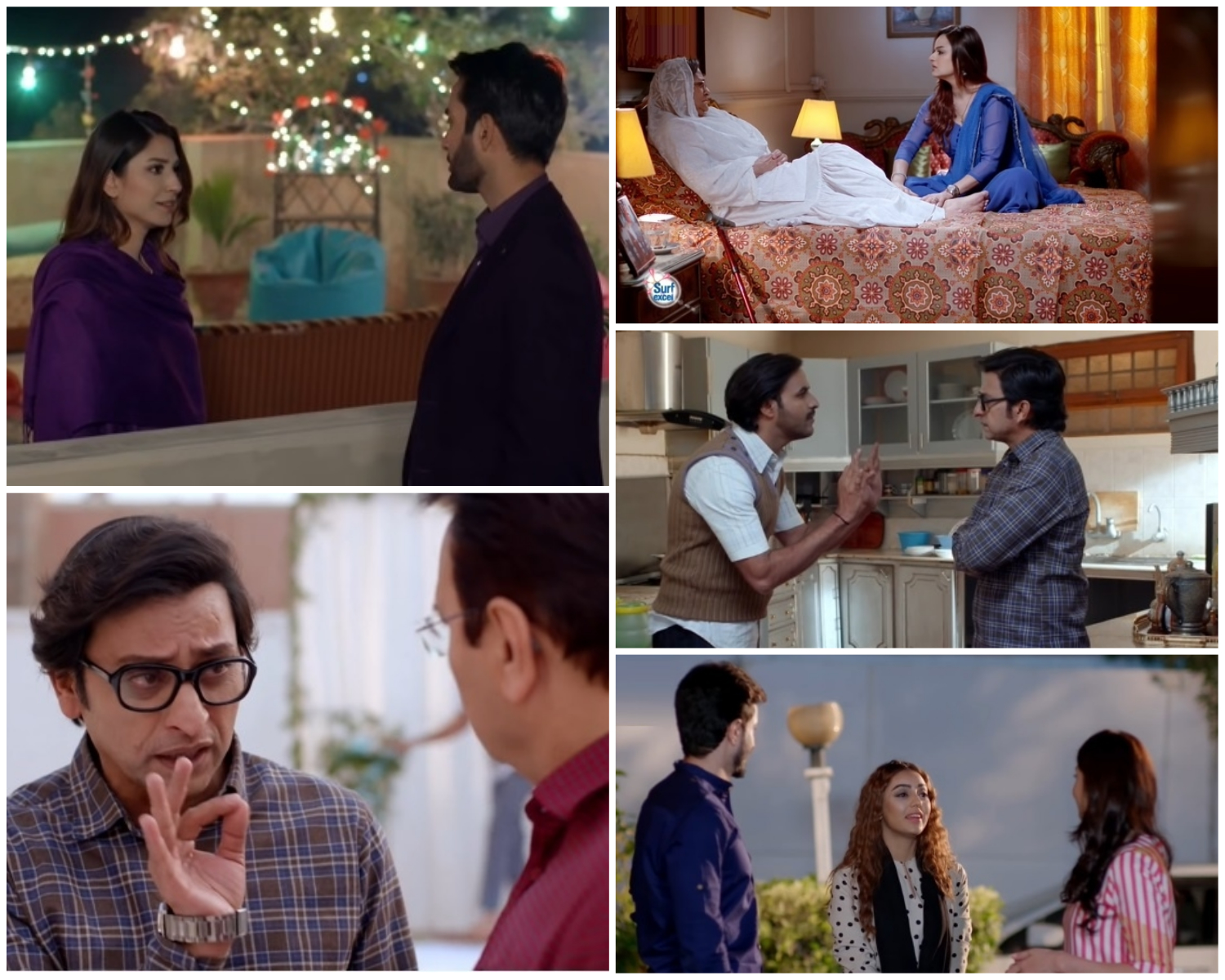 I really liked the conversation Qifayat had with Azhar. It is always amusing to see how Qifayat thinks he is making valid points but everyone else around him fails to take him seriously. Azhar bluntly called him Bee Jamalo but Qifayat didn't seem to mind because he knows he has to ignore such comments in order to get to his goal. However, as much as Azhar is trying to ignore these thoughts, both Maliha & Qifayat's constant nagging seems to be kind of working because he does seem a bit lost thinking about the things they say to him. In this episode, one thing was made clear that Munni is just not this cunning & manipulative. Plus she doesn't wish ill towards her family, this is exactly why when they used her to spread the rumor, she felt guilty & knew she did something wrong.
So, Bakht ran away & a few were waiting for this to happen. I must also commend the writer for showing a father like Absar who had so much trust in his daughter that he felt it was an insult to call & question Bakht in front of the entire family. Although it is sad that Bakht put a dent in the trust he had but then this was her journey to take to just realize how wrong she was & how she was taking such a loving family for granted. I would like to see how Absar will find it in his heart to forgive Bakht because what she has done is definitely going to come as a shock to him. I also like that although it was simply mentioned in a single dialogue but the writer raised a red flag that if a guy continues to ask the girl for financial help citing different excuses, he is not trustworthy. Iffat clearly told Saima that Hunain was using Bakht like that & she was not even realizing that he was not the right person. I am glad that although the competition hasn't begun yet, Meerab already far ahead in the race because he ticks all the boxes of being a suitable guy for Bakht.
Thoroughly Enjoyable Performances
This episode was quite interesting with a few scenes that made me laugh. I am liking the equation that Rafay is trying to establish with one girl after another. Arsalan Faisal has played his part well. Maryam Noor continues to impress & so does Umar Alam. The rest of the cast is also contributing a lot to the success of the show & has made it a complete package. I must say the actor who played the role of Shams; Qifayat's spy, his expressions were spot-on too. He actually looked suspicious & someone who was taking his job very seriously. The direction is really nice, I loved the timing of the scene where both Tooba & Maliha walked away & closed the doors simultaneously, also when Qifayat zipped up his fanny pack in one scene, the sound of it was continued in the next. These little moments make Shehnai a very fun drama to watch. Ramsha Khan & Affan Waheed look great together & the perplexing situation they both are faced with is quite interesting to watch. I must say Javeria Abbasi looked stunning in this episode. I am definitely waiting for the next episode of Shehnai, please share your thoughts about this episode.
Keep Supporting,
Cheers,
Zahra Mirza.