Ohkay so, these were fun & interesting episodes of Shehnai. It focused all on the aftermath & showed how a family comes together in times like these. The writer's take on the importance of family ties & everyone's reactions related to it was really sweet & I thoroughly enjoyed watching it. Shehnai is turning out to be a rollercoaster ride & with so many twists & turns, you really can't predict what to expect & how the characters are going to react.
An Eventful Wedding
The first episode started off by putting Qifayat in a tough spot. It is interesting how everyone knows that they don't really respect Qifayat & this is something that even he himself is aware of but because he is the way he is, he has kept himself free from such worries where he would be mindful of how others think about him. I actually thought Qifayat would at least try to change himself but I am glad he didn't because he brings this spark in the story & also because nature doesn't really change so I am glad the writer kept it realistic by showing that he will continue to be the way he is.
Everyone was shaken to the core & in this entire fiasco, everyone had a realization that they were wrong in thinking that they all should live separately. I loved the way Absar yet again showed his caliber as the head of the family & proved that he genuinely loved his family as much as he loved his daughter. It is definitely because of Absar that they all are together & get their fair share of everything. Everyone else was definitely worried when Qifayat was told to leave, especially Saima, Rafay, Beenish & Ahsan. I loved watching their reactions because they wanted to undo everything that happened but felt helpless. These relationships are definitely budding & they all are enjoying the attention they're getting from each other.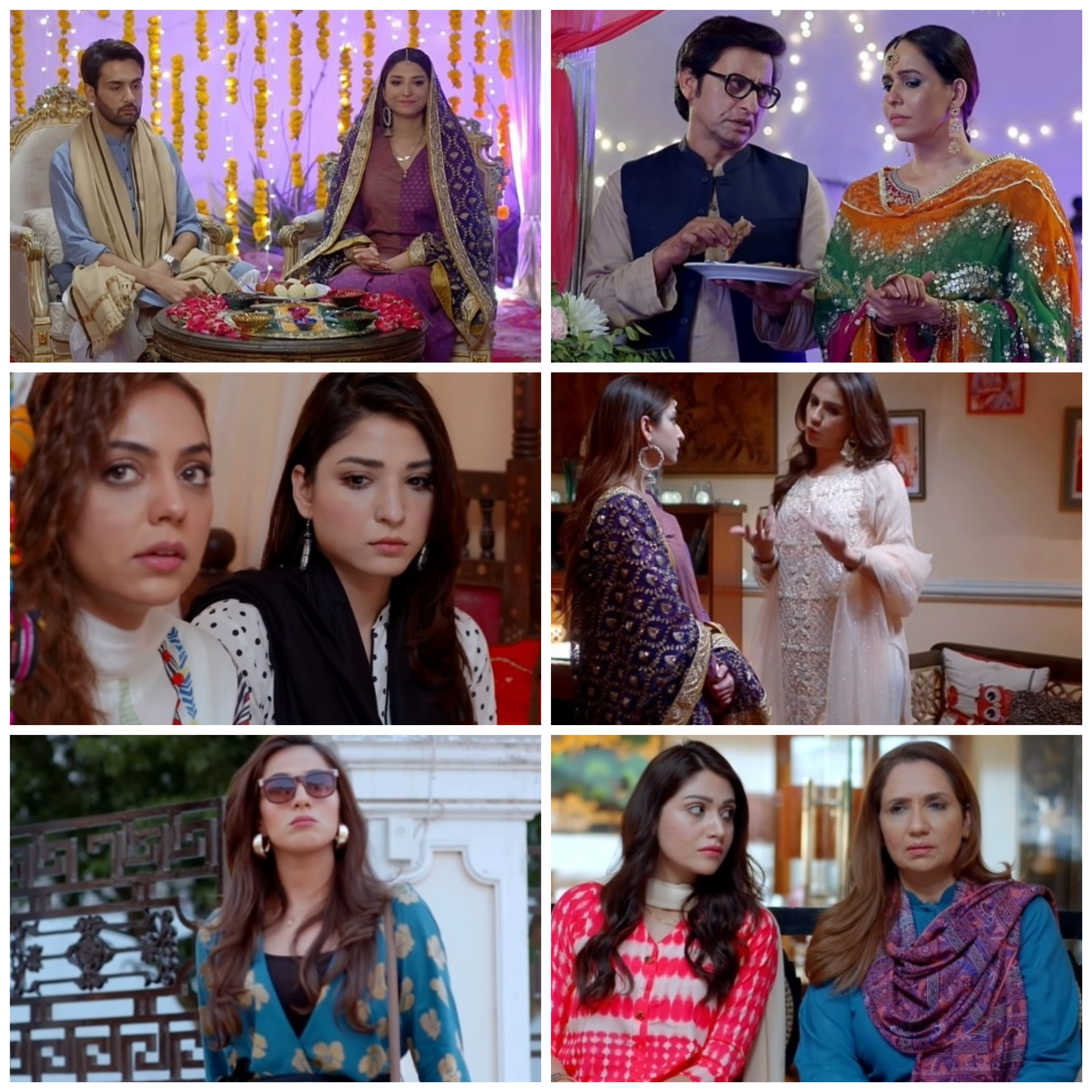 I absolutely loved the conversation Saiqa had with Bakht. Without blaming or shaming her, she just showed Bakht the right path, she guided her & let her know where she went wrong. It had to be Bakht's Khala, not her Pupho, not her Chachi, not even her mother but her Khala to politely show her the bigger picture. The scene between Saiqa & Saima was really nice too. I loved seeing that Saiqa was the voice of reason & on top of that, she was not invalidating anyone's feelings but just trying to guide the best way she could.
So, finally, after getting to know Meerab's perspective, Bakht has definitely started to have feelings for him. She actually has seen what a nice person he is, how considerate he was & how he risked everything to make sure that she wasn't going to get herself in trouble – after seeing how Hunain was cheating her all this while, it definitely was easy for Bakht to move on because she herself heard everything from Hunain. Just when Bakht was in denial that everything might go on smoothly & this marriage might take place, she was served with an eye-opener that Meerab was already involved with someone else & that she stood no chance. With Samreen's entry into the picture, things became a lot more complicated, not only for Bakht, for Meerab too.
It was amusing how everyone reacted to Samreen's entry at Meerab's place. The youngsters were just winging it because they knew anything could happen & the elders were just busy speculating why Samreen showed up. Samreen definitely is a tough cookie & she already started the competition with Bakht. All the things that Samreen said, it clearly showed that Bakht was hurt by it all because somehow she was kind of hoping that she would get married to Meerab especially if this is what would please her family, but it wasn't meant to be, as of now!
Meerab was once again feeling helpless because, in all honesty, he knows the havoc Samreen is capable of creating. The only person amused & pleased with this entire situation was Qifayat. I am glad that the writer has brought such a realistic picture of what usually happens in desi weddings where everyone is together for the face-saving but deep down they all have their own agendas & are always unhappy with one thing or the other. Qifayat continued to tease both Meerab & Bakht but because of his shamelessness, he failed to even realize how sick of him they all were.
Thoroughly Enjoyable Episodes
These episodes of Shehnai were thoroughly enjoyable. It is interesting how within the setting of a wedding, they have made the story so multi-faceted where each & every character is living their own story & have one thing or the other going on in their lives. Ramsha Khan & Affan Waheed are the stars of the show but the supporting cast is super impressive too, especially Maryam Noor, Saleem Mairaj, Arsalan Faisal & Umar Alam. Maham Amir has given a very convincing performance as Samreen, her expressions are a million bucks & she really looks cute giving all those looks to Meerab. The story has so much to offer that I find myself waiting for Shehnai the entire week. I am glad they are now airing two episodes per week, which makes it a lot more fun. Please share your thoughts about this episode of Shehnai.
Keep Supporting,
Cheers,
Zahra Mirza.