Ohkay so, the last three episodes of Shehnai were such a roller-coaster ride. This is one drama where wit, comedy, drama & twists & turns are done right. Shehnai is the kind of drama that you can watch daily & not get bored of it because so much is happening & there are so many strong characters with their convincing tracks that you actually look forward to which chapter is going to unfold in their lives.
Believable & Realistic Portrayal of Relationships
It all started because Saima decided to send Meerab & Bakht's picture to Samreen before deleting it from Qifayat's phone. Saima decided to play the cupid because she too sensed that Bakht wanted to get married to Meerab & started having feelings for him. Qifayat lost the golden opportunity but the fact remained that Samreen actually got to see the picture & decided to guilt-trip Meerab about it.
I am thoroughly enjoying the stories of the supporting characters too. There is Beenish & Rafay, really looking forward to being together but right now, Qifayat is not too impressed with him. On the other hand, there is Saima & Ahsan who also don't stand a chance because of their parents, although they both have also discussed how they want to pursue this relationship & are keen on making it work. I really must commend the writer for making these relationships, as well as the characters, look so realistic & rational.
At the beginning of it all, it might've looked a bit too sudden & emotional that all four of them fell in love but the way they discussed the matters concerning their future, their jobs, their careers, their parents' permission in Beenish's case, it seemed like although these guys fell in love a bit too quickly but were actually dealing with all of it with utmost maturity. Saima knows that her mother has a lot of expectations from her therefore she let Ahsan know that he had to be mindful of that too. Rafay & Qifayat are not on good terms & their reactions & expressions while talking to each other were quite amusing. Qifayat thinks he is entitled to have a low opinion of Rafay but he didn't know that Rafay too didn't think so highly of him. All in all, it is commendable that the writer has dealt with all these characters & their tracks so beautifully that none of it seems forced & actually makes quite a lot of sense. It won't be wrong to say that it is just as interesting as the love triangle of Meerab, Bakht & Samreen.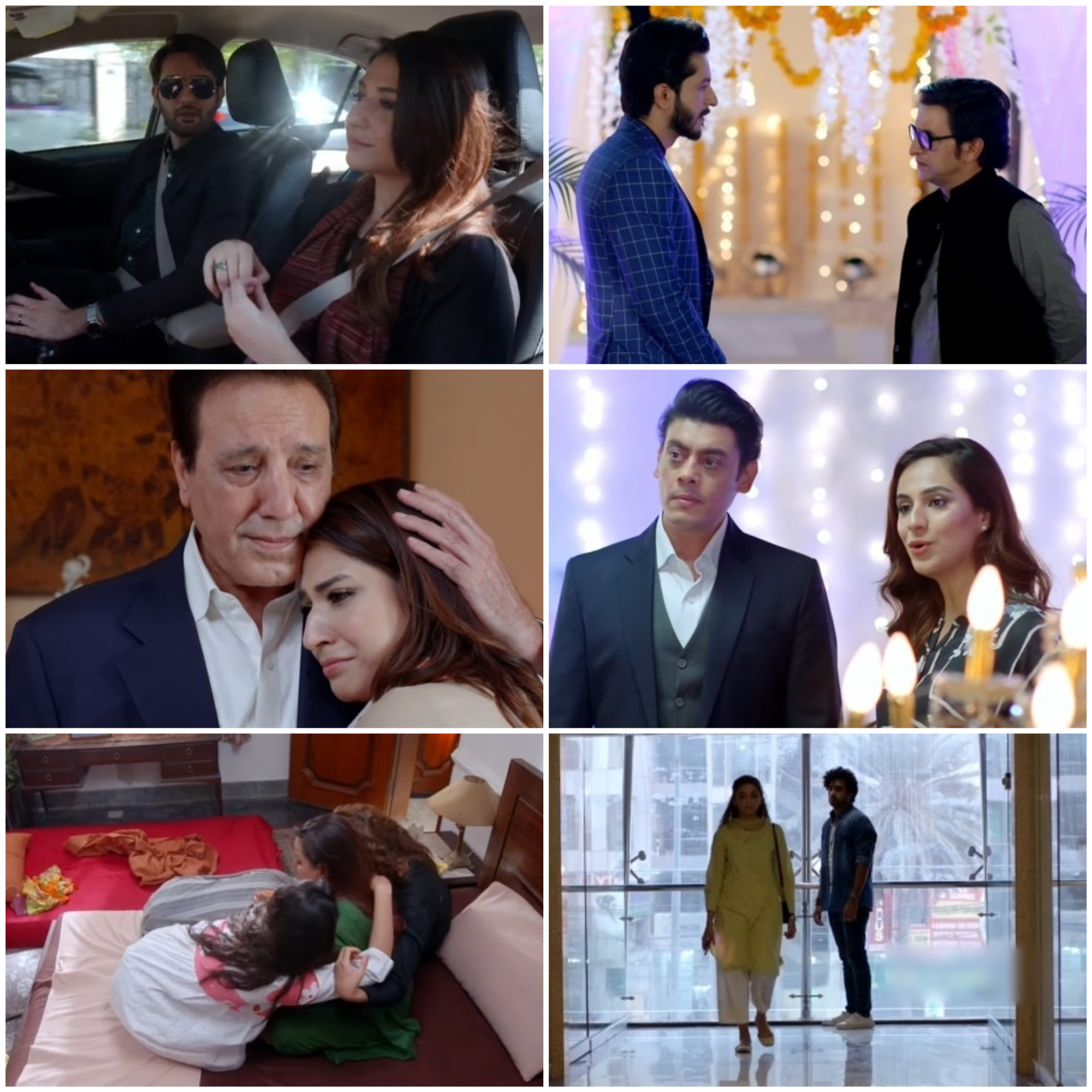 So, Bakht finally found out that Samreen was not only engaged but she was pretty happy with Saleh too. Saleh in general seems like a very decent person who treats Samreen the way she expects to be treated. Samreen is problematic & she is doing all of this to derive sadistic pleasure out of it. Seeing Meerab in agony makes her happy & that alone is enough reason to wish that she leaves him alone as soon as possible. However, I will say that despite knowing how Samreen is two-timing Meerab & is just fooling around, I still do not detest her character. Maham Amir has played it so convincingly where amidst all of this, I actually want to know & understand why Samreen is the way she is. Yet another character that has been portrayed & written by the writer with so much clarity & the best part is, she has shown to have shades & has a lot of personality to her.
I found the scene where Munni came to extend her support to Saima, Beenish & Iffat really cute. It was such a nice addition to this entire bit because these guys definitely deserved someone's support & now Munni was going to play that role. I am so glad that the character of Munni has not been wasted as a divorcee pupho in the house, in fact, she is going to become everyone's best friend & which is going to be even better. It is interesting to note how the writer has maintained a balance because where we see characters like Qifayat & Maliha only thinking negatively, we have characters like Saiqa & Munni who want nothing but the best for everyone.
I must say, the director of Khuda Aur Mohabbat 3 should've watched Shehnai to know how slowly the feelings between the characters are developed to make them convincing & believable. Bakht fell for Meerab after she saw how selflessly he was there to support her & risked everything just to ensure she was safe. Bakht has found one reason after another to fall in love with Meerab & now when she has seen how Samreen is deceiving him, more so. Similarly, Meerab is still very much invested in Samreen & fails to believe anything that Bakht says about her, but at times he too seems irritated with Samreen. He has not realized yet but he too has developed a soft corner for Bakht in his heart because when Samreen speaks against Bakht, Meerab doesn't entertain that either. All of this is just so believable & nice to see, this makes it quite special.
A Perfect Light-hearted Entertainment
These three episodes of Shehnai were an absolute treat to watch. The writer Radain Shah deserves all the appreciation for bringing something so refreshing & fun for us to see. All the actors have fitted the roles perfectly & the characters are even better. It is so nice that Shehnai has turned out to be such a good drama, a perfect light-hearted entertainment, with a few very profound messages in it. Please share your thoughts about Shehnai.
Keep Supporting,
Cheers,
Zahra Mirza.