Writer: Hoor Shamaeel
Director: Syed Ahmed Kamran
Producers: Hassan Zia – Danish Taimoor
Schedule: Every Wednesday 8pm on Urdu1
This first episode of Shehrnaz belonged to Ayeza Khan and Sajid Hassan. It was heart-warming to see the relationship between these two characters. Also, although there was nothing outstanding about this first episode but it can safely be concluded that it was free of clichés. The relationship between all the characters was not the sort of relationship which we typically see in many dramas. Even in Sherry's house although the dynamics were such that there could have been a lot of problems between all the people sharing the house especially given Hina's mother's (Nida Mumtaz) circumstances but that was not the case. All the characters got plenty of screen time and this was a fast paced introductory episode.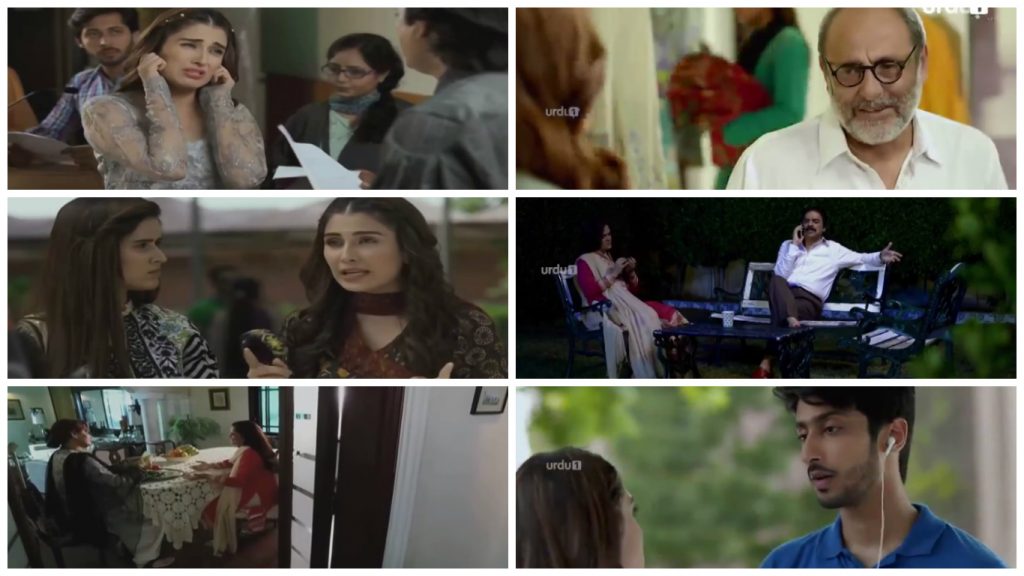 Shehnaz (Ayeza Khan) was shown as a girl who likes to dream big, she has a lot of faith in herself and she also has talent. The fact that her overflowing confidence was supported by a strong personality definitely helped. Also, the viewers got to find out more about her personality directly from her actions instead of hearing other people talk about her. Her father (Sajid Hassan) supports her dreams wholeheartedly. This was the most refreshing part of this first episode. The way the relationship between Shehrnaz and her father was shown was a treat to watch. Shehrnaz feels that her father does not get the appreciation he deserves and one day when she will be rich and famous, she will help him open his own outlet. Shehnaz does not tell her friends about her background, lies about having a car and a driver but at the same time she finds it difficult to keep the truth to herself for very long. She is not very proud of her name either because it is not the sort of name which a "heroine" would have therefore she insists that her friends should call her Shehrnaz. Shehrnaz's father Naseeb Gul is a tailor who stitches clothes for a leading designer who does not give him the credit he deserves. It is great watching Sajid Hassan in this role. He is a versatile actor who always gives his best performance every time. Ayeza Khan portrayed Shehrnaz's confidence, her energy and her overall personality flawlessly on screen. It is also good to see her in this new look. Shehrnaz definitely seems like the sort of heroine who will give Ayeza Khan a new introduction if the character is taken forward intelligently.
Sherry's (Farhan Malhi) track did not appear to be very appealing or different in this first episode but the promos of the drama clearly show that he will have a big role to play in the story. Mehmood Akhtar is gradually becoming one of my favorite supporting actors. He brings out the best in all his characters whether they are positive or negative. Overall, this first episode gave me reason to tune into Shehrnaz next week primarily because of Shehrnaz herself! It is always great to watch a strong leading lady in dramas and it is even better when such a character is played by an actress who does not usually play such roles.
How many of you watched this episode? Do share your thoughts about it.