This episode yet again focused on Shehrnaz's heartbreak and this particular track had been-there-seen-that written all over it. The story now is clearly no longer about Shehrnaz's dreams or career but about her love life which is confusing as well as colorful! I am not denying the fact that there are many girls out there like Shehrnaz who fall for the wrong men not once or twice but many times and every time they feel like it is the end of the world for them when the relationship ends but there is absolutely nothing intersting about watching such a heroine going through break ups one after another! Also, the writer has not told Shehrnaz's story with utmost honesty therefore it confuses the viewers. This so-called platonic relationship is difficult to relate to especially because KK has been well-established as a producer who has affairs with actresses very often. Shehrnaz explained to her friend that she did not feel guilty because she was in love and was hoping that this involvement with KK will make her forget her past. Shehrnaz was once shown as a wise girl who did not get "distracted" easily but now there is hardly any mention of her career and the scenes covering her love life are monotonous. Ayeza Khan managed to pull of and made the most of a character like Elma's but here she has absolutely nothing to work with because not only is the script weak but the director hasn't put in a lot of effort to add some novelty to the scenes. The performances by some of the supporting actors are below average as well.
Sherry's track was always dull but it is even more monotonous now because the scenes covering his track in tonight's episode were exactly the same as the last one. Even if he goes back to Shehrnaz at some point it will have absolutely no impact because their story was never effective to start with. This entire track has been handled poorly right from the start.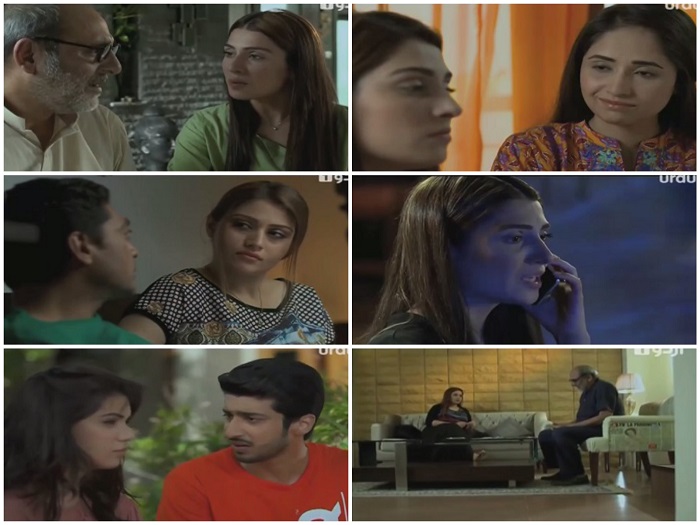 Shehrnaz's father and her relationship with him was one of the finest parts of this drama but that track also ended with this episode. Honestly speaking the only character I truly felt for in this episode was that of Naseeb Gul. Other than that none of the other tracks are holding my interest for now. Shehrnaz's dependence on KK will increase with her father's death and now that his wife is involved in this entire scenario too there will probably be a lot more sobbing until someone new enters Shehrnaz's life!
There was a time when I was extremely interested in Shehrnaz's story because I felt like this drama was going to be about her efforts to make it big in the industry but that particular aspect of her life was covered in 2 episodes and now the entire focus is on her love life. Overall, this episode was pretty average just like the last one and if this drama continues to be this dull, I will probably stop watching it.
How many of you watched this latest episode? Do share your thoughts about it.