This drama makes me laugh now especially those scenes in which Shehrnaz thinks about the men she fell in love with, is still in love with (maybe! I am confused!) and will continue to be in love with even when she falls in love once again! Yes! she will fall in love again because our dil phenk haseena will continue falling in love until her knight in the shining armor comes and rescues her (from herself of course!). We have seen many love stories but this is one of a kind, the heroine has fallen in love with every man she has interacted with closely so far and gets hurt like it is going out of fashion. And let's not forget the important fact that Miss Shehrnaz and the director of this play takes these heartbreaks very seriously because it gives them both an opportunity to make the most of the OST and kill (yes kill) some screen time! Also, the fact that Shehrnaz is so popular that most of the people around her don't even recognize her is just plain hilarious! First Sherry had no idea that she was a famous film star and model and now Nofil asked her who she was and what was her name. The reply Shehrnaz gave him was even more funny "just Google my name!" LOL!!!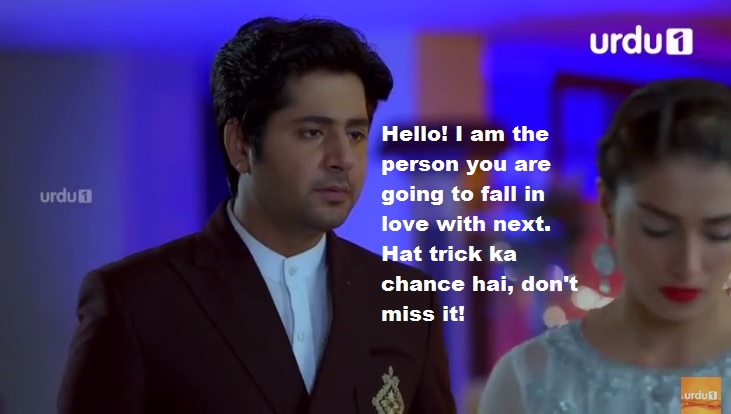 This drama has gone completely downhill but I must say that it provides some much-needed comic relief. All the tracks in the story show lack of creativity and the story is all over the place. The first few episodes were used to entice the viewers and to make them believe that this drama was going to be about Shehrnaz's journey to stardom but that so-called journey was covered in 3 episodes and now it has turned into another sob story. It would have been better if the producers relied less on Ayeza Khan's star power and focused more on the content of the script right till the end. Shehrnaz's track has been all about her love life from the past few episodes and Sherry's track covered how difficult it was for him to convince Sara to attend this wedding before and now both of them were seen continuously fighting about Shehrnaz. Sherry's character is repulsive and one can only wonder why not just one but two women fell for him!
Every week I tune into this show hoping that the story will start making sense at some point but it is getting worse with every passing episode, you can't help but laugh at some of the scenarios in this drama which are just plain lame! Like the bride and the groom getting up and walking all the way to welcome madam Shehrnaz. Shehrnaz's transformation from an ambitious college girl to a desperate "star" is that of regression and not growth which makes it another one of those dramas in which a young, intelligent and confident girl turns into a dimwit instead of getting even more mature and sensible with time.
How many of you watched this episode? Do share your thoughts about it.