There are some dramas which are unpredictable in a good way and then there are others like Shehrnaz which take you completely by surprise because of the unwanted twists which do not work for the viewers at all. Sherry and Shehrnaz's marriage is one such twist in the story. Sherry's character has to be the most shoddy character in this play but somehow he is going to play a central role in Shehrnaz's life once again! Noful's character was introduced two weeks back but now he is completely out of the picture. We know that he is interested in getting married to Shehrnaz but now he did not make an appearance in this episode. Shehrnaz's thought process didn't make a lot of sense except that she was desperate and lonely! I am sure I am not the only one who has a tough time believing that Sherry or KK were special in any way because whatever we have seen so far clearly shows that Shehrnaz will fall for anyone and marry anyone at all too because she is lonely!! Also, Shehrnaz's top actresses status is extremely difficult to relate to mainly because of the way her journey was covered and also the production values. She is seen working with the same people over and over again therefore it feels like she isn't the top celebrity.
KK's track also took a new turn in this episode and I have to say that this twist was definitely handled better than Shehrnaz's track although the timeline was somewhat confusing. Why was KK flirting with this girl in the previous episode if she was expecting? It would have been so much better if we saw these chance meetings but KK didn't approach her in the previous episode. Also KK's confusion in the hospital wasn't in line with his character at all, someone like him would instantly call his assistant or someone else for help instead of staying in the hospital and cancelling all his appointments!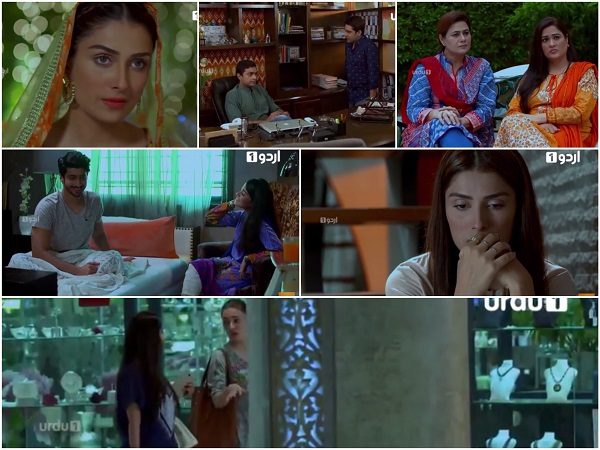 At this point, this drama banks heavily on Ayeza Khan's good looks and innocence. The effort which went into making her look good and different definitely paid off but then this is not a modeling shoot! She looked exceptionally pretty in a lot of scenes but that does not make up for the ill-conceived storyline and all the foolish decisions which Shehrnaz has been making ever since she got famous. Surely there are girls who are naive, lonely and desperate but they do not make the best heroines! Shehrnaz was supposed to be her own hero but now she is constantly searching for someone to save her, this is the most off-putting factor.
The preview of the next episode suggested that Shehrnaz will get a reality check a little too soon – no surprises there! Right now KK's track is more interesting than that of Shehrnaz.
How many of you watched this latest installment? Do share your thoughts about it.