So far Shehrnaz is turning out to be a pretty decent drama which definitely has more highs than lows. Ayeza Khan and Sajid Hassan yet again stole the show completely in tonight's episode. Ayeza Khan is entirely into her character making it very easy for the viewers to connect to Shehrnaz. She has translated Shehrnaz's (over)confidence, her energy and enthusiasm impeccably on screen. While her confidence is endearing but it does seem like she might have to compromise on a lot more than she is willing to compromise on. I am still wondering why the designer's tantrums are being given so much screen time but I have a feeling that she will have a bigger role to play in the story. Sherry's intentions were revealed in tonight's episode as well. He might have put the ring on Shehrnaz's finger but he is still the free bird he was before. Shehrnaz and Sherry's relationship never grew on me therefore Ayeza Khan will have to try extra hard to make me feel for her character if this relationship comes to an end. The preview of the next episode suggested that Sherry has a new love interest and he will probably back out of the commitment he made to Shehrnaz. Watching Shehrnaz getting infuriated over getting the offer for a side role went to show that she was naive and wasn't willing to start her career with a small role. She only wants to be a heroine, nothing more and nothing less.
KK's offer did not come as a surprise at all because it was something which was revealed in the promo of this episode. Shehrnaz's reaction however was truly gratifying and in line with her character. Once again Ayeza Khan breathed life into this particular scene; the viewers could feel just how upset Shehrnaz was to hear what KK had to offer. KK has taken Shehrnaz up like a challenge, he wants to win her over at any cost because he has never met another woman like Shehrnaz in her entire career. Aly Khan was also very convincing as KK; he is someone who is used to getting his way and he thinks he can finally win Shehrnaz over with flowers and gifts. Sherry's family was completely missing from tonight's episode, I just hope that the director and the writer keep them in the loop as well. Although Sherry isn't my favorite character in the show but covering his relationship with his family is just as important as covering his college life. One of the reasons why this character isn't the least bit appealing is that the viewers have only been shown one aspect of his personality.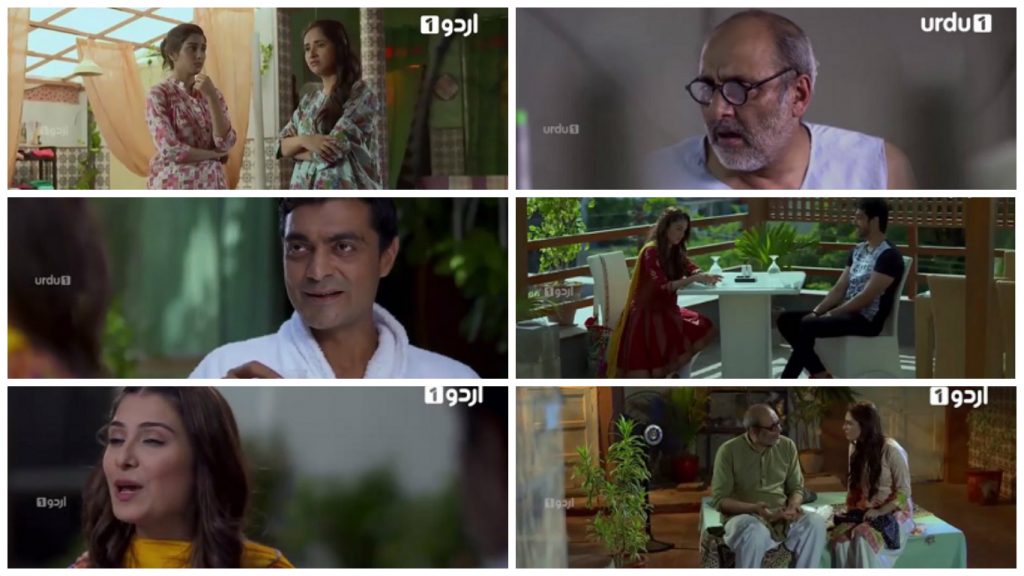 Shehrnaz on the other hand is a well-defined character played faultlessly by Ayeza Khan; her expressions, body language, her get-up and her dialogue delivery make you look forward to her scenes. Also, not only is Shehrnaz's relationship with her father an integral part of this drama but her father's character too has been shown on screen in such a way that you are just as interested in his story as that of Shehrnaz's and there are times when you feel actually more for him than you do for Shehrnaz. Sajid Hassan obviously put in a great deal of effort to make this character different from every other character he has played till date and the director too has created the perfect setting for bringing his and Shehrnaz's character to life. You can totally see him as a struggling tailor in those clothes and working endlessly in the stitching unit. Shehrnaz and her father's home too is a cozy place which Shehrnaz might not want to live in for the rest of her life but both of them share some great moments there. The scene between Shehrnaz and KK was shot really well too.
Overall, this was another interesting episode of Shehrnaz which made me wonder what is going to happen in Shehrnaz's life next and whether she will ultimately become part of the set-up she was seen questioning in tonight's episode or does the team has something different in store for us?
How many of you watched this latest episode? Do share your thoughts about it.