At last, the whole 'Shikwa' journey has come to an end. After so many tantrums, cheekh pukaar, rona dhona, thappar  and hospital kay chakkar, it took them 27 episodes in total, to finally convey their message: Muhabbat ka taluq dil say hota hai, umar say nahe! The message itself is thought-provoking but incessant dragging and some unconvincing elements made it  ambiguous. This is clearly not the way to wrap up a show. They wasted sooo many episodes in Firdaus Aapa, Sidra-Shariq and Zeba Jii and the ending that was supposed to be lucid and logical became rushed and irrational.
Mehar's daughter, Maria (Noor Khan) is a girl who would simply be labeled as ''boring'' by other people of her age. This was evident in the conversation between Maria and Ali, where Ali, like any normal teenager said that he enjoys action and comedy movies whereas Maria expressed her interest in more serious, historical movies. Also, she openly confessed that she likes sober and mature people and immature guys like Ali are simply NOT her 'type'. I liked the way how Ali took her rejection and realized that there's no use running after her if she is not interested. She is head over heels in love with her Media Sciences professor, Sir Feroz (Faisal Rehman). Hayee a moment of silence for all those viewers who were not expecting things to get any worse. See, I warned you all to be prepared for anything team Shikwa throws at us. I think it was a mistake on the director's part to introduce this track all of a sudden that too in the second last episode. From her brief encounter with her professor, I could glean that Sir Feroz never gave her any misleading signals and he discerned the line between a teacher and student. But Maria finds some hidden 'charm' in him and she remained persistent, even after he told her about his divorce. Doesn't Maria remind you of serial, 'Malaal's Maahi (Sarwat Gillani)? Mahi too confessed that she likes serious and mature, Al-Pacino or Robert De Niro sort of guys. AND that's why she fell for Danish (again played by Faisal Rehman):P. But 'Malaal' was an entirely different league of course and we can by no means compare it to Shikwa! Hey, don't you think Faisal Rehman could have been a much better Saqib? He has the aura, the personality and best of all, he makes his presence felt. Also, he has a good fan following and I am sure many more people would have watched Shikwa after seeing him play the lead against Sonia Hussain because a considerable part of the audience had a hard time digesting Waseem Abass in the role of a gentle, romantic husband since we have always seen him playing the cold-hearted, betiyon say bayzaar abba. He doesn't actually have the hero sorta aura the audience is always looking for.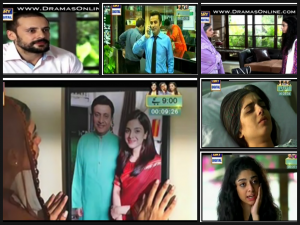 Many readers were raving about Noor Khan's impressive acting skills and indeed, she is a talented new-comer and I hope to see more of her in future. And one thing I found really pleasant was the bond Mehar and her daughter share with Adeel (Tipu Sharif). Adeel is the one who stood by Mehar all these years and looked after Saqib's business. It was refreshing to see a bhanji confiding in her mamu. Haha, I was surprised to see Tipu Sharif playing the role of that once seedha saada, mobile phone ki zid karta hua, Mehar Baji wala Adeel.
'Mera maazi phir say meray saamne aakar khara hogaya hai.' This pretty much sums up Mehar's state of mind after she learns about Maria's interest in her professor. Mehar was forced to marry someone twice her age and her daughter, on the other hand, is herself choosing a middle-aged man over a guy her age. Kia yeh khula tazaad nahe hai? ;) Mehar, from her personal experience, knows how this age difference affects marital life. As much as she appreciates Saqib for his decency and integrity and loves him for who he was, she knows it all too well that as time passes by, the difference in age becomes more prominent and obvious than ever, and by referring it to her own case, she mentioned how she wasn't able to understand the worth of Saqib's genuineness and when she finally did fall in love with him, life got even harder as Saqib's frailty grew by the passing day. Saqib passed away; leaving Mehar all alone with the huge responsibility of Maria's brought up. Therefore, Mehar's opposition to Maria's hasty decision was quite justified as she didn't want her daughter to go through the same circumstances. Maria's outburst reminded me of Mehar's outbursts but I don't completely agree with her. Look, I agree that Mehar, all her life, was indulged in self-pity but to say that she doesn't know a thing about love because she never loved Saqib, would be a bit too harsh because despite everything, Mehar did have genuine feelings for him. After her outburst, we saw karma striking again and Mehar too lost her consciousness and recalled all those times when she had been harsh with her mother. Ohkay, her mother was helpless, majboor and mazloom BUT I still hold her responsible for a lot of things that went wrong in Mehar's life. Firstly, the decisions she made for Mehar always lacked foresight and sensitivity. Before forcing her young daughter to marry someone as old as Saqib, she should have taken into consideration that in cases like these, usually the husband dies earlier and his wife has to deal with widowhood at a young age. And I didn't like the way she started seeking suitors for Mehar after Saqib's death. Once again, she didn't bother to put herself in Mehar's shoes.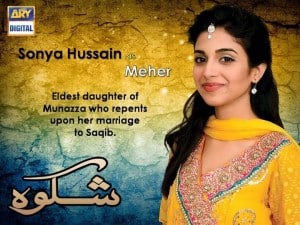 Coming back to the last episode, the unconvincing part was that in the end. it was Ali who managed to persuade Mehar to succumb to Maria's wishes?! I mean, to begin with, Ali's role wasn't even significant and I wasn't expecting him of all people, to change Mehar's mind and in turn, the course of the ending. And what happened following that was even more implausible: After Mehar's green signal, Maria went out (literally) in the search of her Professor Charming AND perhaps the worst aspect of the ending is the way she and Sir Feroz got together. This Feroz guy was NOT interested in Maria, remember?? Then why is it that he changed his mind at the eleventh hour? Matlab, this suddenX10 change, without any STRONG base or background is way beyond me, qasam say! Some of you may think that what made him change his mind was the way Maria took a stand in front of her mother but no, we are not talking about a 17-year old guy who can easily be blown away by a heart-felt speech. We are talking about an adult, educated, not to forget a 'divorced' professor who very well knows how impulsive and obsessive a young girl can get
So in the end, all I could scrape together was that Maria and Sir Feroz are together and Mehar has let go of her self-pity phase. You know, a teacher-student relationship is based on respect and dignity. It concerns the exchange of knowledge, but the light such tracks shed on this muqaddas relationship is not something the young generation should be introduced to. Therefore I believe that this play could have ended far earlier, at a much more pleasant note. The biggest draw-back of this play was the way it was stretched like a rubber band to the point where almost every character and track lost its charm.
Sonia Hussain totally outdid herself as Mehar and I will surely remember the impulsive, emotional yet sensitive Mehar because of Sonia Hussain's splendid performance. Irsa Ghazal was outstanding like always. Waseem Abbas did a commendable job, considering the fact that earlier on, he had been ultra-busy with mastering the role of a zalim and shukki shauhar/abba.
Did you watch the last episode? How disappointed or pleased you are with the ending?
Maryam Mehdi
P.S: Since it's the end of the 'Shikwa' journey, I would take this moment to thank all my regular readers who made this experience a memorable one, especially Sabahet, Amirza, Farah Ahmed, Ms Khan, Ms Asim, Silver Eyes, A, Tricksy, Aima and even if I haven't mentioned your name, don't forget you all have proven to be wonderful readers :D And yes, how can I forget my fellow awesome reviewers, Areeba Mohsen and Fatima Awan. Thanks a bunch, guys!