Tonight's episode of Shukk had it all; a very surprising twist (Sehrish decided to stay), a heartfelt confession (Ehtesham confessed that he only got close to Saniya because Sehrish's absence left a huge void in his life), an unexpected demand (Saniya asks Ehtesham to divorce Sehrish), a much awaited confrontation (between Sehrish and Saniya of course) and I must say some situations that actually made me laugh. There were times in tonight's episode when I thought I was watching an episode of one of those sitcoms which excel in making fun of second marriages, which I most often do not find funny! But since this is a (very) serious play I wasn't expecting to feel this way.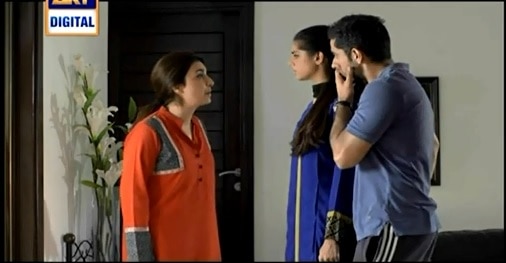 I have to say that I am beyond impressed with everyone's acting in this play. Adeel Hussein outdid himself in the scene in which he shares with Sehrish what she meant to  him and how lonely he was when she left. All these years Sehrish had been a very important part of Ehtesham's life, when she left he did not know how to move on with life and that is when he starting relying on Saniya for emotional support. Am I the only one who felt that Ehtesham still has feelings for Sehrish? Sehrish and Ehtesham have a very long history together and I always felt that it was impossible to fall out of love that easily (call it my wishful thinking). Saniya maybe a great person and a perfect wife but I felt that she was more of a good support for Ehtesham when he was very vulnerable emotionally than the love of his life. The moment that Ehtesham and Sehrish shared when he got the appointment letter was much more meaningful than anything that Ehtesham and Saniya have shared till now. In my opinion Ehtesham feels nothing but hamdardi for Saniya and he still loves Sehrish.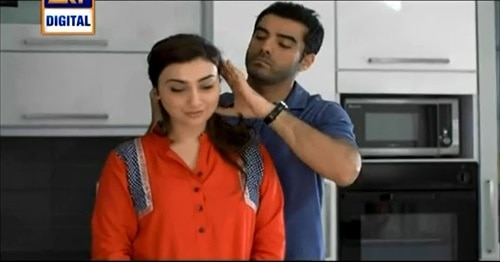 Saniya has taken an about turn, she is no longer willing to leave "her" house and "her" husband and asks Ehtesham to divorce Sehrish. Ehtesham may say that he will do just that but something tells me that it is not going to be that easy. I am actually glad that Saniya decided to put her foot down because the bechari facade did not suit her at all. She obviously got married to Ehtehsam because she loved him, therefore pretending that she would leave him so that he could be with Sehrish was very unbelievable.
Normally such a situation in a drama (when two women are fighting over a man like it is matter of life and death) would make me change channels but team Shukk deserves credit for presenting the most unimaginable situations in such a way that you can't help but look forward to it every week. All through this episode I was wondering, "Oh My God, what now"!!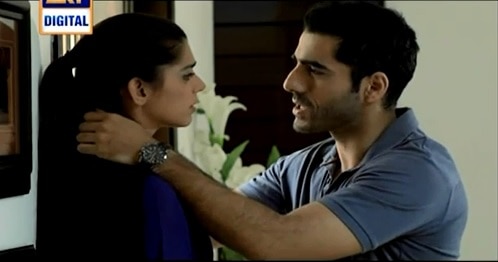 This was yet another brilliantly directed episode of Shukk. The performances were superb as usual but the best performance of this episode had to be by Adeel Hussein. His confession was so honest and heartfelt that for a moment I forgot everything that Ehtesham had done till now.
So, who do you think is going to "win" our heartthrob Ehtesham?? Will it be
a. Saniya or
b. Sehrish??
Yes, the story has actually come to that point where you have to ask such questions;). Honestly speaking, I think he is not worth fighting over!! In my opinion, the closeness that Saniya and Ehtesham shared could have been shown without all the physical contact. Same is true for Sehrish's attempts to get closer to her husband.
Feel free to share your thoughts.
Fatima Awan