Ohkay so, the writing of Sadia Akhtar, the direction of Syed Aabis Raza & the production of Momina Duraid Productions; Silah commenced tonight on HUM TV Network. The first episode of the drama seemed a little too straight forward & they didn't establish much, except the backgrounds of the main characters & the one sided love that is lingering between the couple-to-be. I actually expected a little more from the first episode but I am hoping that the next episode will impress me a bit more.
We got to meet Aleem (Shakil), whose family consists of his wife Razia (Ismat Zaidi) & 3 daughters; Farkhanda, Maryam (Ainy Jaffrey) & Sana. Aleem family has a middle class background, but Aleem makes enough to feed his family & give them a decent life style. Farkhanda being the eldest daughter works & is unmarried. Maryam is doing MBBS on scholarship & Sana has just completed her college. Farkhanda & Maryam are both quite responsible as they understand the responsibilities their father has on his shoulders by being a father of three daughters. Maryam is a bright student & she is focused on shaping up her future as she knows that her family, especially her parents depend a lot on her & for herself & also for her parents, she has to become a doctor. Maryam also gives tuition in the evening to earn some money to support herself & her parents a little as well. Sana, being the youngest hasn't garnered the sense of responsibility yet, that is why she gets lectured from both of her sisters when she demands a new suit for her farewell.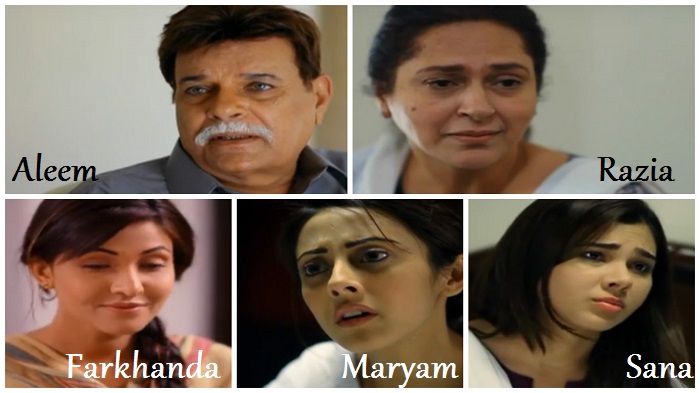 Then we were introduced to the family of Dr. Ehsan (Javed Sheikh), who's a heart surgeon & his family includes his wife (Farah Shah) & their only son Taimoor (Farhan Saeed). Taimoor is also doing an MBBS only to fulfill his father's dream as he does realize that being an only child, his parents have a lot of expectations attached to him. Taimoor is also into music & treats it as a hobby, which his father thinks is only costing him his precious time. However, we get to see that Taimoor's mother is quite supportive of her son as she knows that he is responsible therefore, he deserves a chance to explore & enjoy something that he loves as he is already fulfilling his father's wish by becoming a doctor too.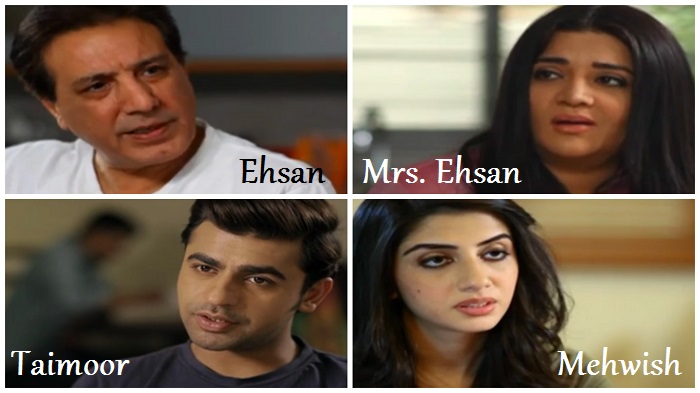 We are then taken to the Medical College, where Taimoor, Maryam & a couple of their friends are shown. It has been made clear that the entire college knows that Taimoor likes Maryam, that is why their mutual friend Mehwish keeps on telling Maryam about Taimoor's feelings for her. Mehwish assures Maryam time & again that Taimoor is not a flirt, he is not looking for a short-term relationship with her & he intends to marry her but Maryam always cuts short the entire conversation because she knows that her friend will never be able to understand the pressures & burdens Maryam has in her life. Even though Maryam spends her time with Mehwish, but she is well aware of the class difference between them, due to which she also knows that her friend Mehwish won't understand the fact that Maryam can't afford to get involved in such activities. Mehwish & her friend label Maryam's indifference to Taimoor as a tantrum & rudeness without even realizing that there must be a reason behind Maryam's focus on her studies only. Even though Mehwish feels for Taimoor as she understands his feelings, but her persistence & pressures on Maryam seemed a little off-putting.
We then get to see that Maryam ends up misunderstanding Taimoor's intention of helping & protecting her because she eavesdrops on her class fellows who assume that Taimoor must have paid some guys to bother Maryam, so that he could swoop in like a hero & score some brownie points in front of her. Based on a misunderstanding & an assumption, Maryam gives Taimoor a piece of her mind & that entire situation goes out of hand when Taimoor confronts those guys!
Overall, the first episode was decent but I definitely expected more from it. I liked Taimoor's character for the fact that even though he is shown as an only child with a financially sound background, he is not a spoiled brat & in stead, he seems quite responsible & mature for his age. Maryam's character is nice too but doesn't seem new. Honestly speaking, Maryam seemed like a mini version of Kashaf from Zindagi Gulzar Hai, minus the negativity & bitterness that Kashaf had in her before she became something. The direction of the first episode was good & the acting of all the actors was effortless too, however, in a few scenes, I did feel that Annie Jaffrey was struggling to the point that she looked expressionless & her acting seemed flat. I hope she gives me a chance to warm up to her character in the future episodes too. Also, I must say by the end of the episode, I completely turned the volume down because the background music was just so unnecessarily loud. I hope they cut down on the background music because no one watches a drama to get noise polluted. I will however say that going by the couple of promos that I have watched, the story of this drama does seem interesting, so I am definitely going to keep an eye on how things will unfold in this drama. Anyhow, please share your thoughts about the very first episode of Silah.
Keep Supporting,
Cheers,
Zahra Mirza.