Ohkay so, this was yet another fun & eventful episode of Sinf e Ahan. First & foremost, I must commend the magnitude with which this project has been executed. While watching this episode, I couldn't stop noticing how grand each & every frame of Sinf e Ahan was. One word that describes this drama for me is 'refreshing'. I absolutely loved how all the girls despite their inhibitions were trying to adjust to this new life. Some had dreams, some had fears but they only had one goal & that was to make it through the first round of examination.
Brilliantly Executed Drama
Now the girls were totally on their own. Pariwesh & Arzoo had immense support from their fathers & that particular moment where both the fathers sent them off with teary eyes was my absolute favorite. It has been beautifully established what this means to them – especially Pariwesh's father. Arzoo's father has been very supportive too but once again, I wish there was more interaction between him & Arzoo for us to have witnessed.
Although it is understandable that these girls will later form one big group but I liked how they kept it so organic & real. They became friends with whoever they felt comfortable with & despite the stark differences between their personalities & backgrounds, they found it really easy to form a connection. Rabia & Pariwesh became friends, Shaista & Mahjabeen ended up supporting each other. I do feel it was deliberate that they showed a practicing believer like Syeda Sidra (Dananeer) being friends with Arzoo – it just made their equation so sweet & showed that despite them belonging to different religions, they were nothing but respectful to each other. It was more like their passion & goal was bringing them together & was the only common factor that mattered to them. The one particular conversation where Sidra tells Arzoo about offering nafals & immediately reminds her to say her prayers too was really nice.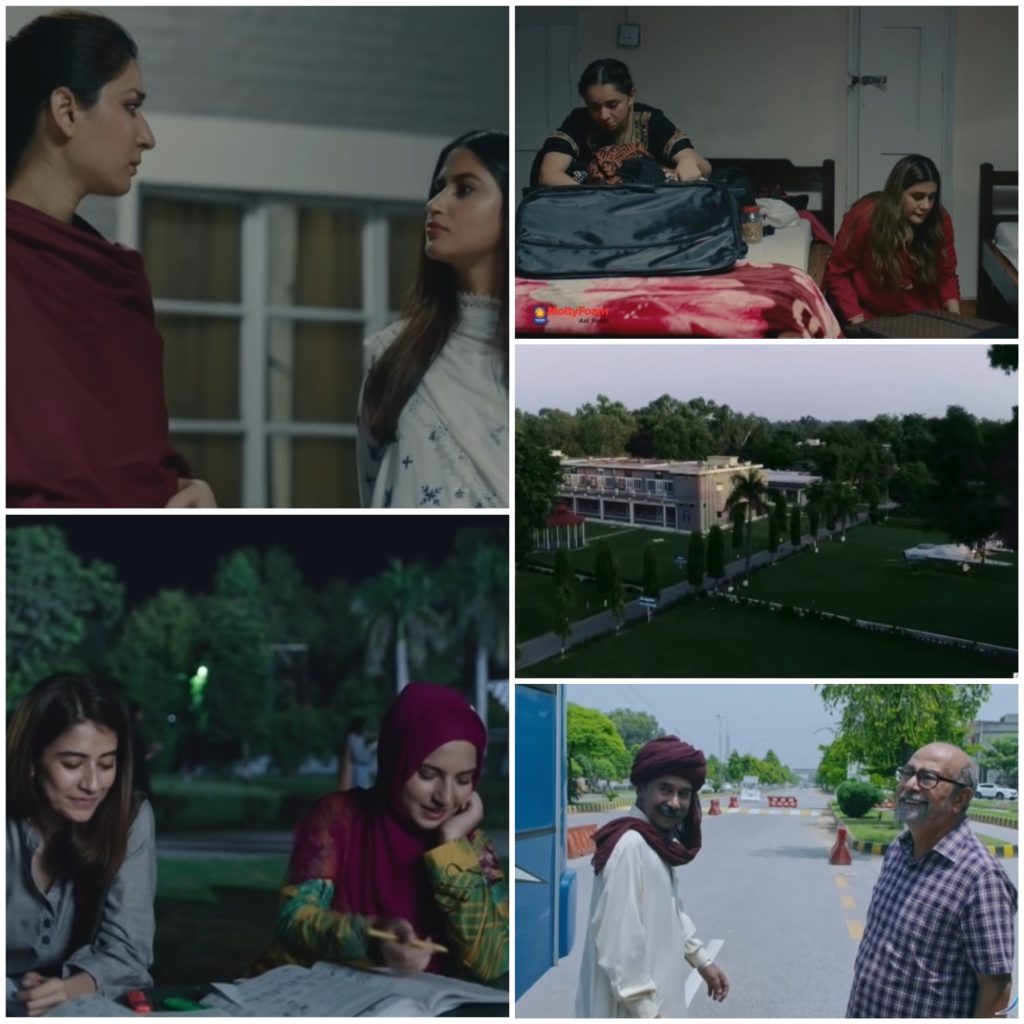 So, Rabia & Mahjabeen have been friends in the past & it seems Rabia was interested to get her brother Daniyal married to Mahjabeen but because of Kumail, they both drifted apart. At present, they both can't stand each other but it will definitely be nice to see them coming together in the latter part of the story. As much as I was introduced to this certain track between Rabia & Mahjabeen, I will honestly say that I didn't find it too convincing but yes, there is definitely more to the story, so I am eager to find out what pushed them to this point where they have so much anger in their hearts for one another. Rabia has found some support in Pariwesh & she continued to remind her that the Army background was just not going to help her in any way.
Shaista being Shaista didn't take much time in becoming cordial with Mahjabeen. I liked their friendship a lot where Shaista didn't believe in barriers, Mahjabeen was just playing along too without getting too bothered about it. Mahjabeen also decided to help Shaista because she could see how disturbed she was. I like how all of them started showing team spirit & formed connections with one another because they realized it was what they needed & was going to help them in the long run.
I do feel the body language of all the girls in the first selection round was deliberately kept raw & unrefined because they had regular routines & lifestyles. However, it will be interesting to see the difference in their body language & overall demeanor once they will start the official training & progress in their journey.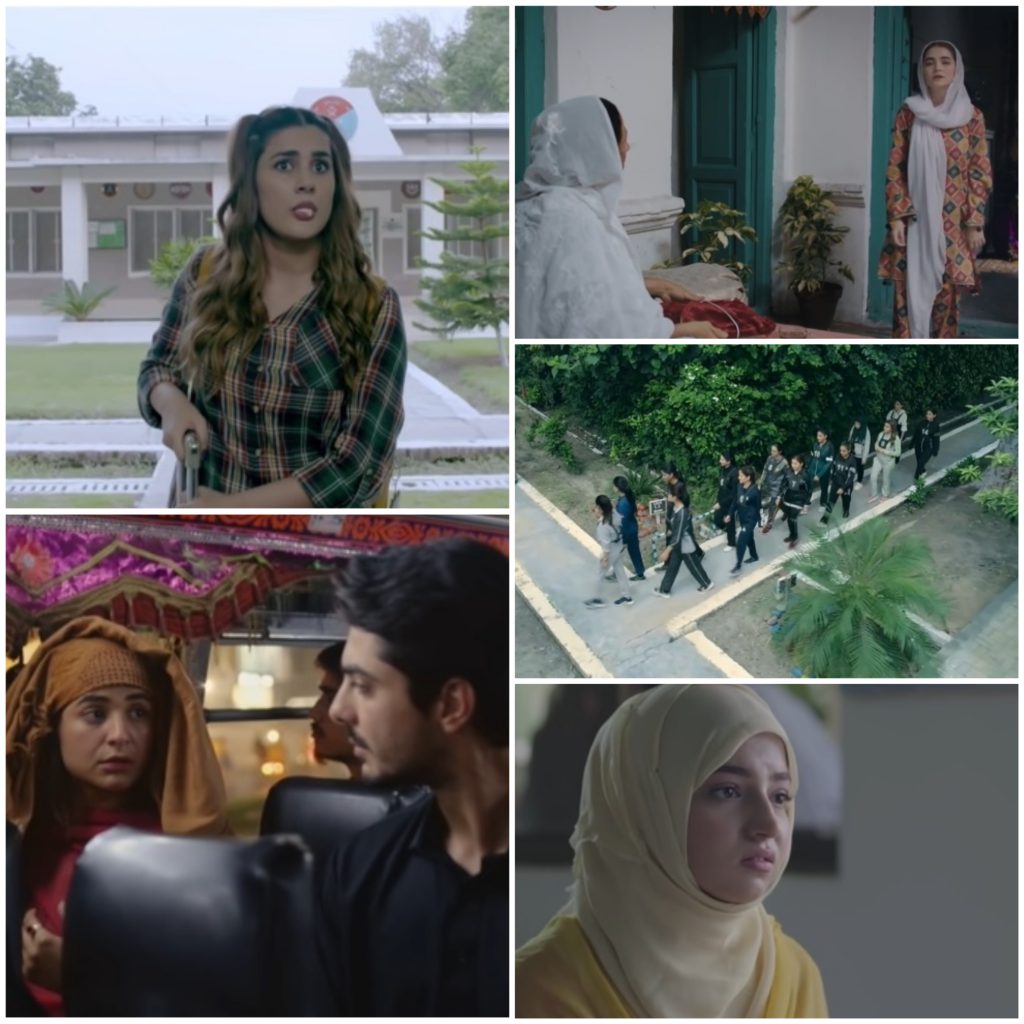 Convincing Performances
Sinf e Ahan is nothing short of a treat for all the Pakistani drama fans & viewers – especially because of the freshness of content. While watching this episode I couldn't stop enjoying the fact that I was getting to see so many young girls who had big dreams in their eyes. Where some had family support, there were others who were doing it completely because they chose it for themselves such as Mahjabeen & Shaista. I really like Gul's character & Merub Ali has proven to be a great choice for this role. The way she kept all of his family members guessing about Shaista was really cute. Shaista & Kamil's (Junaid Jamshed) interaction was really cute too. One thing is for sure that her fiance will support her all the way through & will never tell her to put her dreams on hold. The way he decided to drop her off was enough to show that for him Shaista's choices mattered a lot too.
I must say, Dananeer's performance was really convincing. The way she carried her scarf & didn't let go of the Punjabi accent showed the kind of effort she put in knowing that this was a big break that she was getting as her debut drama. She definitely brought in a comic relief to this episode & all of a sudden her character felt so realistic & connectable. Although the star cast of Sinf e Ahan has definitely been the major factor that has attracted the viewers but the supporting cast is also proving to be equally convincing & wonderful too. It actually shows how Army is accessible to those who are determined to become a part of it. The aerial shots & overall execution is brilliant. It is also amazing that they used actual locations to shoot the drama & didn't just create a set to suggest they were appearing for their ISSB tests. I really like how they have kept the interactions between all the characters so realistic – which once again is going to make it very easy for different viewers to relate to. Please share your thoughts about this episode of Sinf e Ahan.
Keep Supporting,
Cheers,
Zahra Mirza.