Ohkay so, the main takeaway so far from the episodes of Sinf e Aahan was mostly related to the dreams that these girls had related to joining the Army. However, the actual trial & tribulation begins now & what's left to be seen is how much of a passion will they have to pursue this dream. It has been established how important this position is to each one of them, that is why they were easily adapting to the new environment whereas the one who had a very different picture in mind was suffering the most. Each & every episode of Sinf e Aahan provides quality entertainment & although some of the scenarios may seem a bit too detailed, I am sure when the episodes will progress, all of this will count in showing how far all these female cadets have come.
First Impression
So, it was their very first day, very first encounter with the PMA. Their families left all of them on a positive note & surprisingly, each of their family members got the opportunity to say what they wanted to, in regards to their daughters & their personalities. It was cute & laughable at the same time where all the parents thought the officers were going to babysit their girls while keeping in mind what they like & what they don't. This portrayal to some extent made a lot of sense because civilians at times are a bit oblivious of what actually happens & how the training takes place in the PMA. This is the reason why only Rabia's family wasn't seen making these kinds of talks because belonging to the Army, they exactly knew how tough it was going to be & they knew the changes Rabia was going to go through in her personality.
Mahjabeen got a lot of coverage in this episode. From her overly packed bags to her car to her hair dye, everything was off-track & even before expected, she as well as her family got an idea of what was happening & how tough it was going to be for her. Kumail could only offer some level of support but he wanted to respect Mahjabeen's decision. The overall execution was really amusing & it did make me feel for Mahjabeen but after a certain point, it did feel a little stretched.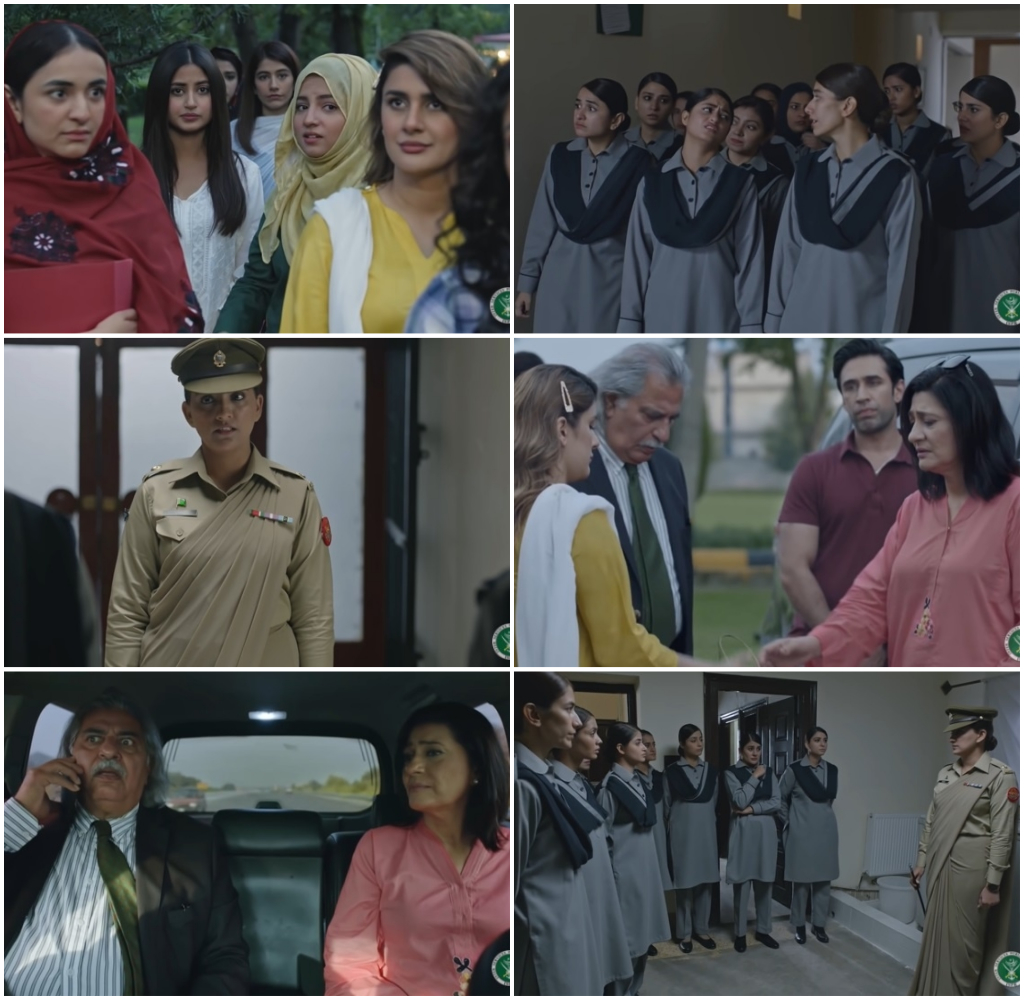 Syeda Sidra was also finding it hard to adjust because she had certain preferences & all of that was shown interestingly as well. I really enjoyed the interaction the girls had with the officer. She let them know immediately that she meant business & starting from now, their life was going to be changed completely. I really think each & every episode will be dedicated to how these girls will be trained & meanwhile, it will also showcase their personal & emotional growth.
Another interesting twist was how Rabia's friend was now Mahjabeen's roommate & vice versa. Shaista & Rabia's interaction was funny, whereas Pariwesh was already done with Mahjabeen. However, it was nice to see Pariwesh trying to console Mahjabeen. These girls will eventually become good friends but the start has definitely been shaky.
Refreshing
Sinf e Aahan is definitely a breath of fresh air. Yes, there are certain scenes that may look a bit stretched but overall the vibe is refreshing & it gives you enough reasons to tune to it & enjoy it to the fullest. The main strength of this drama is the 5 lead characters & the equal coverage that they get. Just because most of this episode was dedicated to Mahjabeen, it did start to look a little one-dimensional. Anyhow, I am definitely looking forward to the rest of the episodes in a hope that all the girls will get more & equal coverage, because it keeps the pace fast & the overall episode interesting too. I must say, they all looked lovely in the uniform. Please share your thoughts about this episode of Sinf e Aahan.
Keep Supporting,
Cheers,
Zahra Mirza.