Ohkay so, presented & produced by ISPR, Six Sigma Plus Production & Next Level Entertainment, written by Umera Ahmed & directed by Nadeem Baig; Sinf e Ahan premiered last night & is based on the story of 5 girls who dream of being a part of Pakistan Army. The first episode was definitely quite eventful & I liked that they decided to give coverage to all 5 leading characters equally, instead of making it about a few of them to cover the entire episode. The first episode set the tone of what is going to serve as the driving force for these 5 girls to make this life-changing decision for themselves. It is interesting to note that because the cast of Sinf e Ahan is so elaborate, it is going to offer something to everybody who is going to tune into this drama. One way or the other the audience is going to find such a character amongst these 5 girls with who they will easily resonate. It was interesting to see how they kept the story contemporary with references to the real-life dynamics of women belonging to this generation.
The opening scene of Sinf e Ahan beautifully elaborated the different walks of life the leading characters come from. The best aspect of this drama for me is the diversity they have decided to show because of which a wide range of audience is going to find it appealing & connect with it. The one thing that was established in the very first episode was that all these girls had one thing in common; such people who did not believe in them or their dreams. Those people who didn't see them worthy of achieving something big. Although they did show two such parents who are going to be supportive of their daughter's decisions even those girls had either a man or a woman in their lives dictating their future & letting them know that they are not worth it. All of this was shown in a non-preachy manner but somehow it all seemed very natural & realistic because this is the kind of reaction most women receive when they speak about their aspirations & dreams.
Cast & Characters
I am glad that because there are so many characters, most of the episodes are going to be quite eventful with perfect pacing. Rabia Safeer (Sajal Aly) comes from an Army background herself. A class topper & capable of doing so much on her own is being restrained because her parents think getting her married at this age is the best decision for her. She feels suffocated but because she respects her parents enough, she obliges. Mahjabeen Mastaan (Kubra Khan) comes from a privileged spectrum of the society where people from afar might see her life as completely perfect & normal but only she knows what she goes through by being a part of a dysfunctional family where her parents share a toxic relationship. Mahjabeen is too inspired by Gen. Nigar & despite being dictated by her mother, she at least has a clear goal in mind where she wants to enjoy the life of glory. Mahjabeen is a corporate lawyer & she decided to opt for it because her mother wanted to. Shaista Khanzada (Yumna Zaidi) comes from a Pathan background & her family is also in talks with a family to get her married. Shaista is shown to be a very intelligent & quick-witted girl & the best part about her is that she knows what she is capable of. She too has a grandmother & a general setting in her family where she will definitely not be supported initially, but she definitely is not a quitter.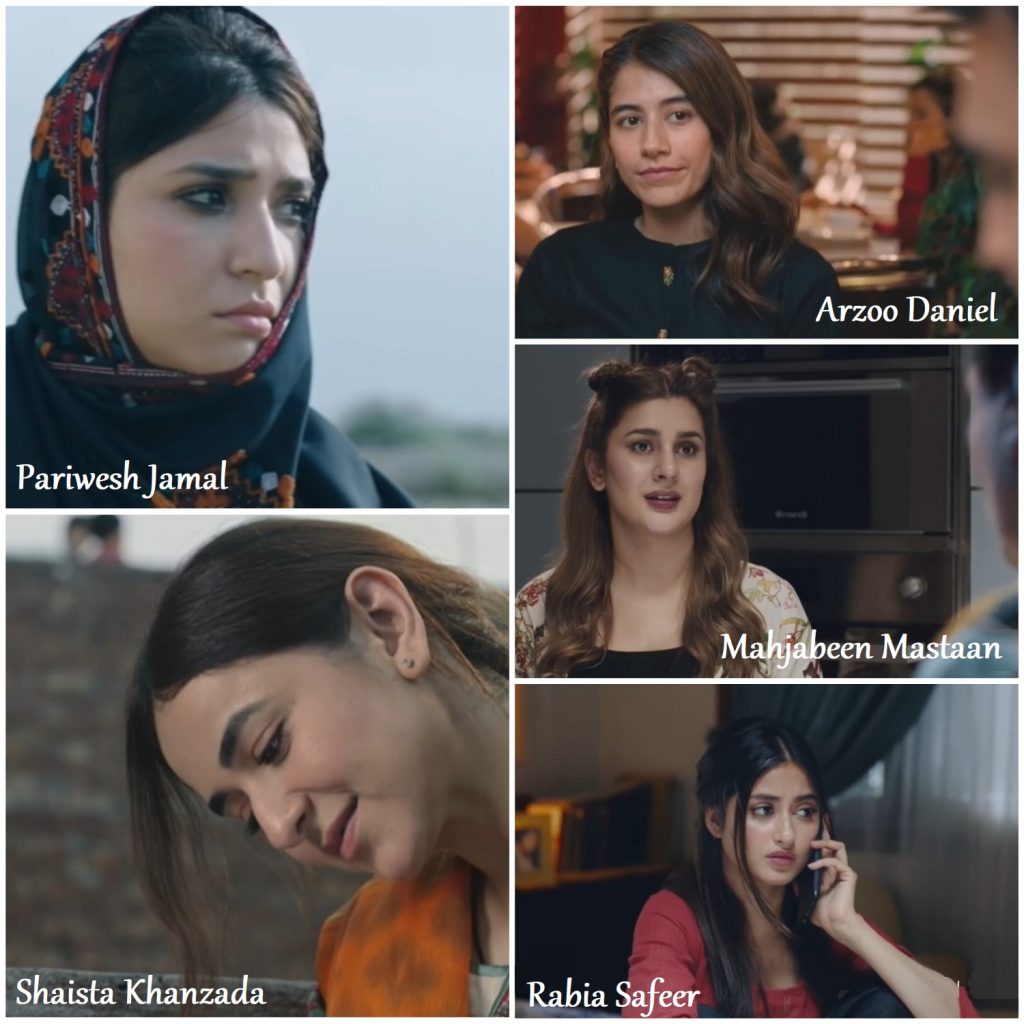 Then we have Arzoo Daniel (Syra Yousuf) a girl belonging to the Christian faith, with a loving & supportive father. She too faces demons but is quite mature & calm to deal with it all herself. She is involved in a relationship where Noraiz (Asad Siddique) does not really see her worthy enough of being his partner, nor achieving something on her own. Arzoo is subdued but that does not mean she can not be what she wants to be. She has been approached by ISSB for English teaching but once again, she is silenced by Noraiz. Then we have Pariwesh Jamal (Ramsha Khan), a young & fierce Balochi girl who has a supportive father but the kind of mother who does not have exposure where she would support her daughter in her endeavors. The Sardar of their tribe wants Pariwesh to get married to one of his servants but it looks like her father is not going to accept the proposal.
The leading ladies were introduced in a thorough manner & their lifestyles, the dynamic of their families was also presented in such a way where you immediately understand the kind of background they come from. I am glad they did not take a lot of time in establishing the plot & the next episode will most probably cover their entrance test & the things they will have to go through in order to convince their families. I wish Sajal Aly had gotten a bit more coverage in this episode. Kubra Khan played the role of Mahjabeen Mastaan convincingly & her expressions were on-point especially where she had to show her emotions when her parents were involved in an argument. Syra Yousuf fitted the role as if it was made for her. My two favorite characters were Pariwesh & Shaista, they are definitely going to bring in a lot of quirk, humor & sass in the story.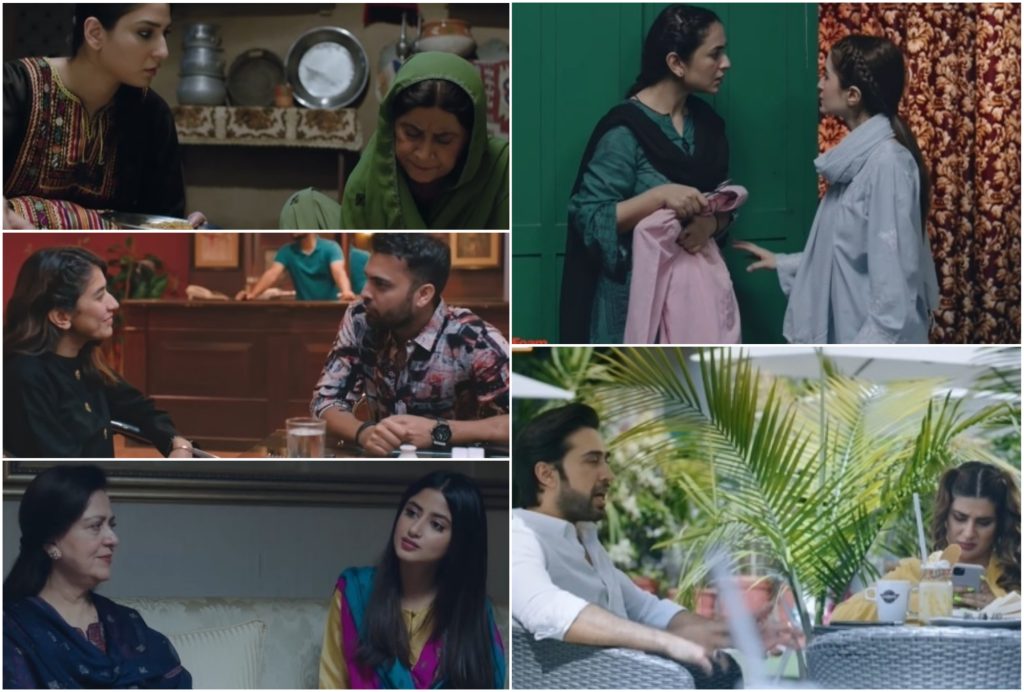 A Convincing Start
Overall the drama definitely has had a convincing start & what makes it more interesting is how they have so many stories that will be told. I just wish the picture quality & camera work were crisp because most of the scenes seemed a bit too dull & dark. Some of the frames felt as if they had some kind of gradient effect which was taking away from the drama-watching experience. For a drama as big as this one, the crisp picture quality is definitely needed, especially when the girls will step into Army & their training sequences will be covered. I really hope in the upcoming episodes, this doesn't turn out to be a persisting issue. I must commend the attention to detail given to bring forth the lifestyle & dynamic of these girls, each frame had a visual impact that added more depth to their story. It definitely had the old PTV drama vibe to it which definitely set it apart. The background music & the opening song were beautiful too. Definitely looking forward to the next episode. How did you find the very first episode of Sinf e Ahan? Please share your thoughts about it.
Keep Supporting,
Cheers,
Zahra Mirza.