2014 is just coming to an end so I thought to give a small tribute to super hit Drama of 2014 "Pyaray Afzal". This was not just the drama but an emotional attachment, a roller coaster ride and an unforgettable Journey. Every scene every episode was a visual treat to watch. This drama had truly expressed the meaning of love and the deep reality of human relationship.
Poor Afzal he was shot dead when Farah finally embraced his love and actually wrote letter to him but missing Pyaray Afzal doesn't mean that I am only missing Afzal, how can we forget bubbly Yasmeen, Responsible Aarfa, Stylish Lubna, Confused Farah, Tensed Ruqqaiya( Wife of Maulvi Subhanallah), Respected Maulvi Subhanallah and brave Babu Hameed.
Pyaray Afzal took us all by Storm and it was not only popular in Pakistan but all around the globe, I have to admit that it is the highest quality drama produced by Humayun Saeed's production and indeed it will took many years now for ARY or any other channel to telecast such Gem again.
Round of Applause for Khalil ur Rehman for penning down this amazing story and dialogues
So let's remember Pyaray Afzal through some great dialogues of this drama: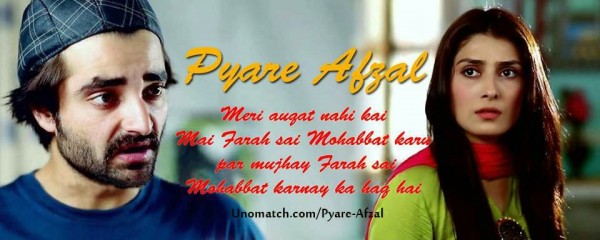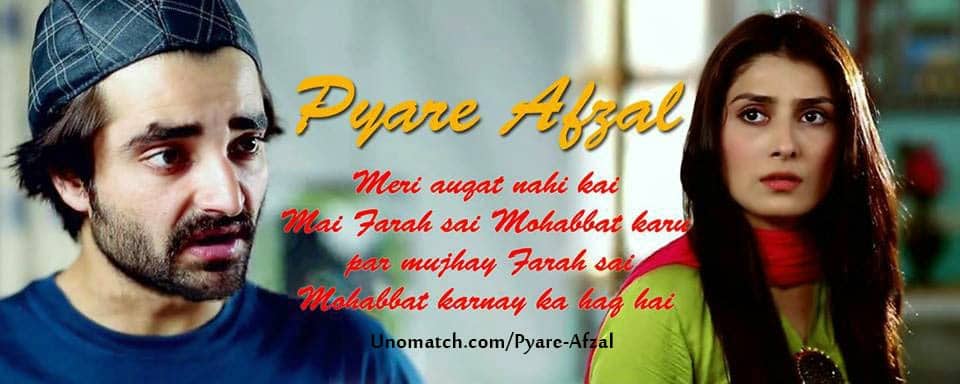 "Meri Auqaat nahi hai ke mein Farah se Muhabbat kar sakun lekin us se Muhabbat karne ka Haq hai mujhe"– Afzal
"Muhabbat ko ghussa ajaina Farah to tum jeson ko bhi hojaati hai"– Lubna
"Jab koi Naya Naya Musalman hota hai to kuch zayada hi Musalman hota hai"– Lubna
"Mere abba kaha karte thay ke mardon mein se asal mard ko phechaana aisa hai jese saare tarboozon mein se lal tarbooz phechaana"– Sheikh Ibrahim
"Dil ki Saari baatein dil walon ke pass amanat hoti hain aur who amanat mein khayanat nahi kya karte"– Afzal
"Mein Maulvi Subhanallah ka beta hun Wali aur who mujhe bataya karte that ke maut Zindagi ki hifazat karti hai is se mat darna zindagi se darna yeh wahan maarti hai jahan paani bhi nahi milta"– Afzal
"Pata hai yeh goli mujhe pheli baar nahi lagi aik goli mujhe Hyderabad mein bhi lagi thi dil ko cheerkar nikal gai thi mene khud operation kiya tha khud taanke lagai thay magar toota hua dil zayada solid nahi hota sirf zinda rakhne ke liye kaam ata hai"– Afzal
"Mera naam badal diya jai Abba mujhe nahi pata yahan Afzal kon hai jo begunhai mein maare jaate hain ya jinko mene maara hai"– Afzal
"Farah ke sirf moun per ghussa hota hai andar se to who bilkul mombatti hai zara si aanch dikhao pighal jai gi" – Lubna
"Muhabbat agar cricket hoti to mein jeet gaya hota"– "Afzal
"Is tarah milo jese bin bulaye gham se milte hain, pass bulaya dil mein rakha aur phir kaha tumhaari to aisi ki taisi"– Lubna
"Jaag jao Farah is keemat per ke tumne kayion ki neendein haram kardi hain"– Yasmeen
"Yeh akhri akhri badtameeziyan hain pyaray phir tum kahan aur mein kahan"– Yasmeen
"Marne se dar nahi lagta yaar magar jeene ka buhat dil karta hai"– Babu Hameed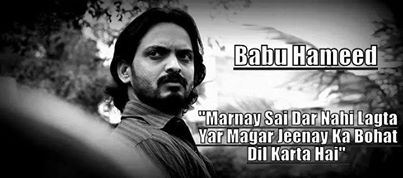 "Tumhaari Kasam Afzal chahe uske gham mein jalte rehna magar in khaton ko nahi jalana"– Yasmeen
"Apko kasam hai meri shadi hojai to dua nahi dijiyega mera naam le kar khaiyega jao Farah humne tumhe maaf kya"– Farah
"Main Afzal ban jaata lekin mujhe koi batai to sahi ke Afzal aisa hota hai"– Afzal
Now some funny Dialogues:
"Mein tumhaara baap hun Farah koi channe bechne wala nahi"– Sheikh Ibrahim
"Khat kyn likhongi phone mene mirchein peesne ke liye thori rakha hai"– Lubna
This is my favourite one
"Mehboob ke sar ke aagey behen ka sar tarbooz hota hai"– Lubna
Hence these are the only dialogues that I remember, so do you guys remember anymore amazing dialogues? if yes then please do share :-)