It's really funny how not only the house of Wajdan Shah is the same as Bashar Momin's, but the hero has specially grown a beard, just like Bashar did. Bas the FBI agent type people of Bashar's house have been replaced with these turban-wearing guys.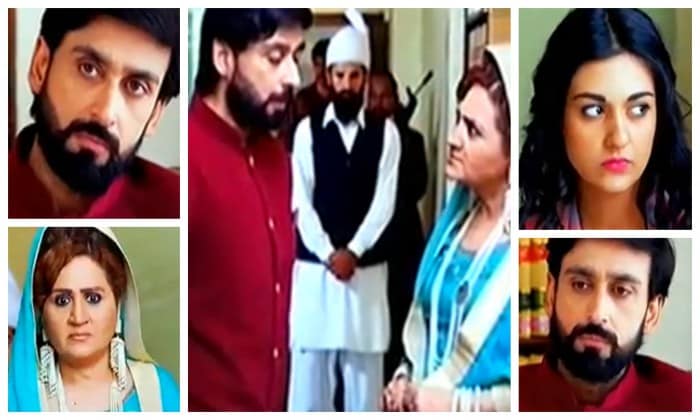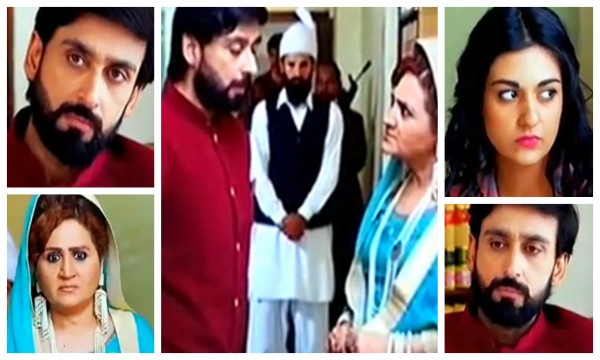 Wajdan Shah is desperate. His mother is hell bent on marrying him to his bhabhi and he wants to get married to Anoushey. Hmmmm…..kya kiya jaye? The perfect solution comes to his mind. Court marriage.
Anoushey tou tayyar betheen theen, magar Begum Nawab uss se bhi zyada tayyar. She stepped in the moment Wajdan and Anoushey were all set to tie the bond and ruined their attempt at a happy life. After that, when Wajdan tried to have a Nikkah at a mosque, she sent Anoushey's father, with a speech on how he had grew fond of Wajdan and would love to have him as his daamad. Mein khud tum donon ki shadi karwaun ga. I can't believe how Wajdan and Anoushey fell for this trap and decided to go back home!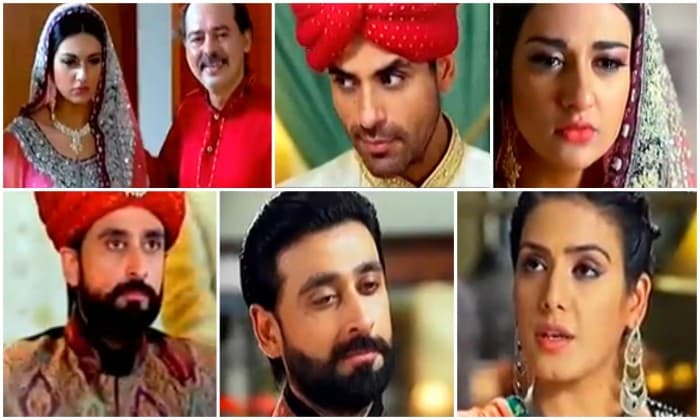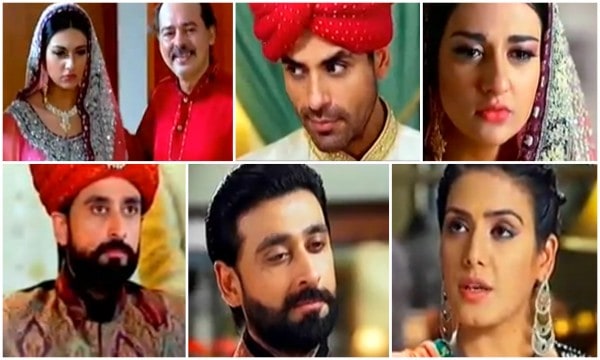 While Wajdan became the ruler of his riyasat, and put his official turban on his head, Anoushey got forcefully nikkah-fied to Yasir Mazhar's character. As Wajdan basked in the glory of the turban, thinking he had won at all, Rania told him the truth. She told him that he had been cheated by his own mother.
Wajdan rushed to Anoushey's house, only to hear a story of mazloomiat from her father. I totally understand his point. Being a father he has to protect his daughter from the dangers of the world and he did just that. The man she is now married to can give her a prosperous life, a life Wajdan could never give her, if he left his ameer family. Anoushey's father begs Wajdan to let his daughter go, and Wajdan listens to him. He knows that he can't ever have her in his life.
Begum Nawab tops the list of unreasonable mothers. I don't understand her character at all. She was widowed at a young age, and suffered a lot that's why she wants to give Rania and her child a peaceful life, but why make your own son suffer? She knows that Wajdan loves Rania like a sister and he would never let any harm come her way then why does she want to ruin both their lives?
Some negatives that I noticed today are, firstly, Asma Abbas's makeup is really annoying. It does not suit her at all. I was surprised that Rania started wearing jewelry a few days after Farhan's death!! Wajdan's sherwanis are totally disappointing. Being the hero, his wardrobe could have been much better.
The next episode promo was exciting and unpredictable. I am waiting to find out what happens. What did you think of the episode?
Areeba Mohsen