Shanakht is a new drama serial from Hum TV, written by Aamnah Nawaz Khan starring Maya Ali, Noor Hassan, Fahad Mirza, Sabahat Bukhari, Shamim Hilali, Mohsin Gillani. Its first episode was aired on last tuesday.
Like every drama, Hum TV has also released its synopsis which is shared below. Like most of times the synopsis reveals far many details then required, which might appear as a SPOILER ALERT, so please skip this post and read something else, to maintain the curiosity of what is coming next.
For those who are fine with this SPOILER ALERT type synopsis here are the details.
Shanakht is a story of a girl Quratulain or Ainny (Maya Ali) who hails from a modern/liberal family. Things take a new turn,when Ainny starts covering her head with head scarf commonly known as hijab. Ainny faces opposition from her family over this decision, but she is firm on it. Like a typical young girl, Ainnie has feelings for her first cousin Hashim (Noor Hassan).  Hashim (Noor Hassan) also likes her to be his life partner but is also allergic to new ideas and way of life of Ainny to an extent that he proposes Ainny's sister Kashaf instead of Ainny, but Kashaf rejects the proposal. With a broken heart Hashim leaves for England for higher studies where he befriends Rohaan (Fahad Mirza). Rohaan has a pleasant, fun loving personality, but despite this he also believes in adhering to relgious teachings in life. Friendship of Rohaan gradually changes the thinking of Hashim towards life and religion. To see what happens next, please follow the drama every Tuesday at 8:00 pm on Hum TV.
Full content from Urdu Daily Nai Baat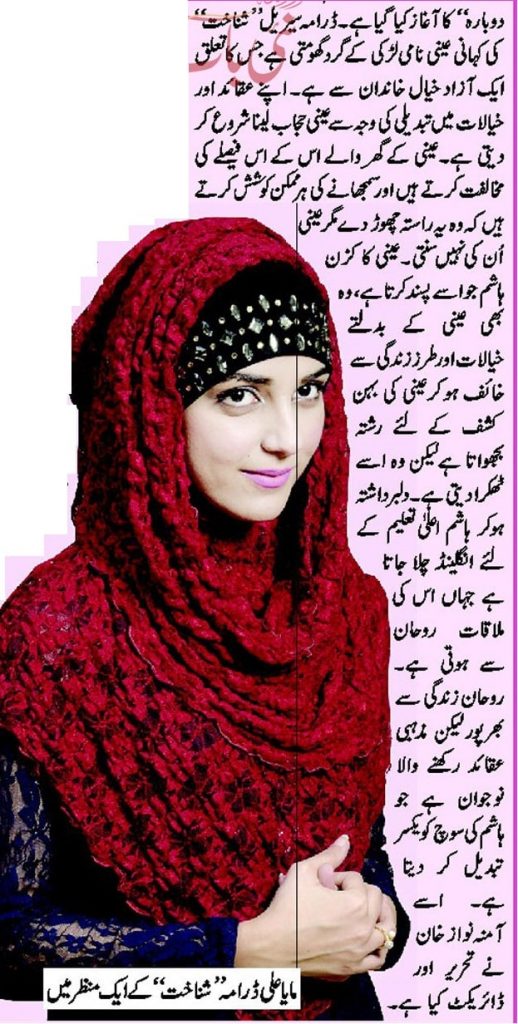 Rashid Nazir Ali