Dariya and Faris yet again stole the show tonight. Although they only had one scene together in this episode but that particular scene was the perfect example of sizzling on-screen chemistry and faultless dialogue delivery as well as flawless timing! That was the kind of scene which deserves be watched over and over again. The perfect camera work and background score added to the beauty of this entire episode. The director Shahid Shafat deserves an award for his creativity and impressive direction. This episode had some amazing dialogues to its credit as well. Faris and Dariya's dialogues in particular reflected their thought processes in a beautiful manner. However, I don't understand why there was mention of halala in this episode since the divorce isn't final just yet. This particular development reminded me of Zara Yaad Kar.
"Tumse jo mohabbat hei, vo tumhare jane ke baad mari nahi, vo apne zinda rehne ka jawaz dhoond rahi hei aur dhoondne mei waqt lagta hei." This episode opened with Faris telling Maya that going back to being husband and wife wasn't going to be as simple as Maya thought it would be. Ayeza Khan and Sami Khan's acting in this scene was absolutely brilliant. Ayeza Khan translated Maya's feelings impeccably on screen through her expressions and Sami Khan showed just how angry Faris was but that did not mean that he was not going to be a "gentleman"! This was the perfect opening to an episode which had tons of emotions and moments which made you wonder where the story was going to go from here. There were also many dialogues in tonight's episode which showed how keenly the writer had observed few aspects of relationships and falling in and out of love. Faris has been looking for closure since the time Maya walked out on him but every time he said that he was over Maya and was eager to move on with life, he was clearly lying. This time around too although he said that he was waiting for Maya to ask for forgiveness and now that she had done that he could finally move on, later on however he said that he wanted one final meeting with Maya. Every time he gets a call from Maya, he attends it and the fact that no meeting or conversation actually is the last one suggests that he can't just forget her and move on with life.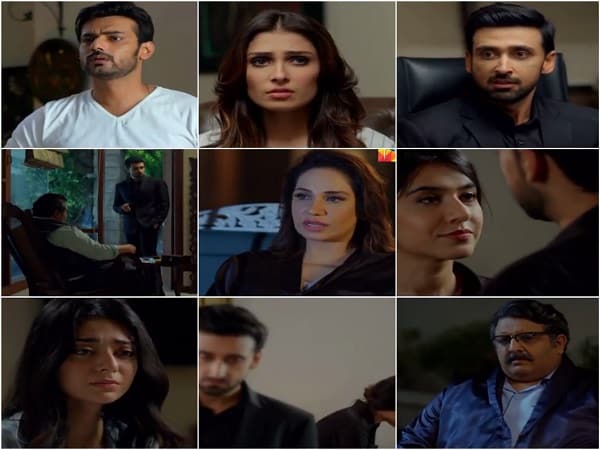 Dariya now is also agitated with Faris' state of mind especially because he isn't letting her leave therefore this short time frame given to him was an attempt to make him see that he wasn't ready for this. Mansha Pasha has been phenomenal as Dariya, the timing of her dialogue delivery was superb in this episode. The way the dialogue "tum bhi bilkul nahi badlay" was uttered was beyond amazing. Maya and Zoya once again talked about their relationship and for now it seemed like everything between them was alright. Ayeza Khan is playing the older sister who isn't perfect but tends to get sentimental every now and then quite well. Maya's mother finally decided to go and get her daughter and this time around Maya knew she had to go back home. Even now I am finding it really hard to keep my interest in Saif's character alive.
The preview of the next episode promised many more complications and I am hoping that things don't get too ugly. Will Faris be able to stop Dariya? If yes then how? What does Zoya feel for Faris and why was Tipu proposing to Maya? Could it be a joke or is he taking "revenge"? I am waiting to find out!
How many of you watched tonight's episode? Do share your thoughts about it.