The relationship between most of the characters got even more complicated in tonight's episode but the most interesting element of this play so far is that even after all these weeks some of the characters are still mysterious and all of them are extremely unpredictable. Although Tau Dil Ka Kya Hua is bold and unusual in more ways than one but the overall feel of this drama is such that it continues to hold my interest and every episode gives me a reason to look forward to more. After this episode, there is only one single woman in this play who hasn't shown her interest in Faris, all the other women including Maya's own sister have fallen for Faris one by one! Faris is a likeable man and has a charming personality but it would have been so much better if Lubna did not feel this attraction towards him. Although Siraj Uncle's conversation with Lubna last week laid down the foundation for the turn this relationship took in this episode but even then watching another woman feeling that way about Faris was more comical than anything else! Although I like Lubna's character and the manner in which it has been translated on screen a lot but if Faris also starts feeling something more for her, I would feel even more for Dariya since she deserved to be with Faris more than anyone else.
Zoya and Maya didn't have any scenes together in this episode, I was looking forward to a conversation of some sort between these two after the developments in the previous episode and whatever happened in this episode as well. I have to say that Tipu's character is turning out to be really interesting, the viewers have absolutely no idea what to expect from him. The way he insulted Zoya showed that he was more sure than ever now that Zoya loved Faris therefore there was no hope that she will ever feel that way about him therefore he showed his true colors. Tipu wants revenge now more than anything else, he clearly told Zoya that Maya will never be able to get married to Faris again but how will that help him? I am waiting to find out. Tipu had a new found confidence today, he has definitely thought everything through. It is however impossible to figure out what is going on in his mind.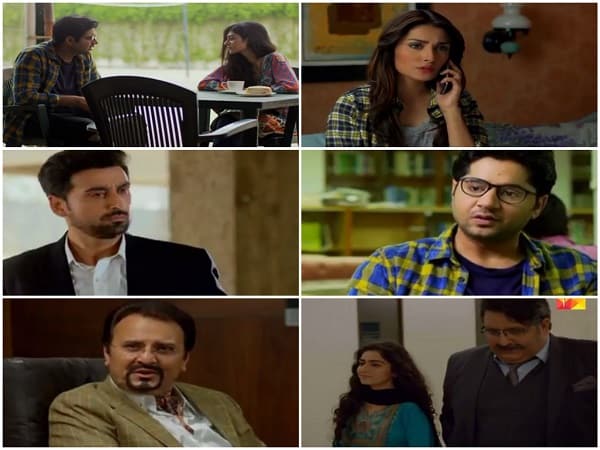 Lubna's interactions with Faris and Siraj Uncle's role in the entire situation reminds me of Dariya's track. The change in Lubna's personality in the past few episodes has been interesting and likeable. Although most of the characters in this play are unconventional but there are plenty of them which are likeable as well. Maya's conversation with Lubna once again showed that Maya still thinks that she has the right to feel possessive about Faris. The preview of the next episode showed that after the kind of reaction she got from Lubna, she will turn to Saif for help. Maya will do anything to get married to Faris again perhaps because she is sure that even though he did not invite her back in his life, he still loves her!
Overall, this was another episode of Tau Dil Ka Kya Hua which was brilliantly directed; every single scene of this drama has been executed flawlessly from the background score to the locations, everything is right on point. Some of the developments in this episode did not work for me but I truly appreciate the brilliant performances by Imran Ashraf, Hajra Yamin, Ayeza Khan, Rehan Sheikh and Sami Khan in tonight's episode. Their superb portrayals have definitely elevated the level of this drama.
How many of you watched tonight's episode? Do share your thoughts about it.