HUM finally decided to air a new episode of Tau Dil Ka Kya Hua after two weeks, the kind of treatment this drama has been given by the channel has been appalling and now I am seriously wondering what is the reason behind it. It is almost as if there is a conscious attempt to put the viewers off. I am not saying that this drama is a commercial hit but we have seen many dramas which were not commercial hits being treated with more professionalism than this one. Changing the time slot of the drama was bad enough but not airing it for two weeks in a row has to be some kind of a record especially because the time slot was given to award shows which could have gone on air any day of the week!!
This episode opened with Lubna and Siraj Uncle talking about how they felt about broken hearts and dreams. This conversation, like many other conversations tonight was interesting and meaningful. Rehan Sheikh is absolutely adorable as Siraj Uncle, I find his "obsession" with making sure that every person with a broken heart gets happiness or love in some form or the other extremely interesting. Rehan Sheikh shares on screen chemistry with all the actors he has shared screen space with in this drama. Hajra Yamin's acting style is natural as well and she makes Lubna's character likeable. It is refreshing watching a play with female characters which have different personalities and are nothing like the kind of characters we see in our dramas.
Tonight's episode mainly covered everyone's reaction to Tipu's attempt to "help" Zoya and Maya's attitude towards her family after they supported Tipu. Zoya was the only person who came to Maya's rescue ultimately even though Maya did not give her a warm welcome but Zoya wanted Maya to go back to Faris maybe to see if that is what Maya needed to satisfy her ego. Maya hasn't changed at all, everything that Tipu did made her even more stubborn. She has been shown as someone who never pauses to think about her own actions but is continuously pointing out how everyone around her has betrayed her. Maya and Baila's conversation was the highlight of this episode, Baila has always been honest and outspoken about everything Maya has done so far and this time around too she tried to make Maya realize that she also made some terrible decisions because of which she is in this situation. Most importantly she told Maya how wrong her assumptions about her family members were. Ayeza Khan's performance has been absolutely brilliant throughout and I really appreciate the fact that she is experimenting with new roles now. Imran Ashraf is another versatile actor who nails every single role he chooses to play.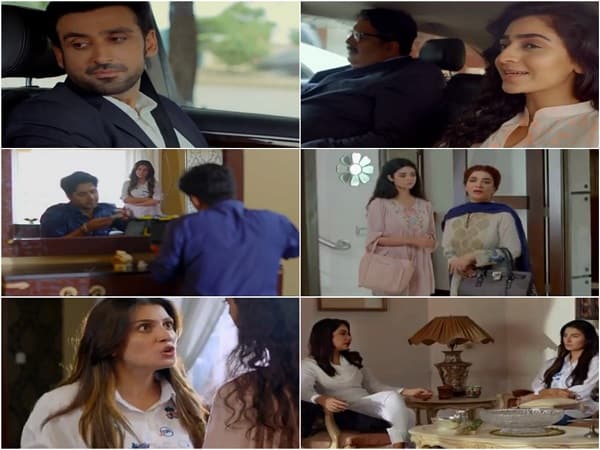 Maya and Zoya's confrontation could have been far more interesting and powerful if Noor Khan's performance wasn't so average. Her expressions and dialogue delivery can be really misleading most of the times. The last scene of this episode and the preview of the next one suggested that Faris might have fallen in love with Lubna now, I really hope that the viewers are being mislead into thinking that since at this point adding such a twist to the story would be unnecessary. Having said that, I have complete faith in the writer and the director since Tau Dil Ka Kya Hua has been appealing in its own unique manner so far  and it has never disappointed those of us who are enjoying watching these intricate relationships and complicated personalities on screen for more than 20 episodes now.
How many of you watched tonight's episode? Don't forget to share your thoughts about it.