Today's episode was undoubtedly the best one since Khamoshi has started. Things got cleared out and everything was out in the open, this is maybe the time when the drama will finally move towards Arsala's life transformation.
Shahram recognised his love for Arsala and tried to give her everything she "once" had desired. He, however, did not try to know what she wants now. But as his character has been from the start, it was an expected move on his part. He always does the deeds of kindness without becoming obvious. The change of heart by Sabir was a wow moment in today's episode. Yes he is greedy, he wants money and went to extreme lengths to get facilities in his life but at the end of the day, he was a father who didn't do partiality. When he was hating his family, he was hating everyone. He never put Naima before Arsala. But the realisation came very late to him, at a time when there is nothing left for Arsala.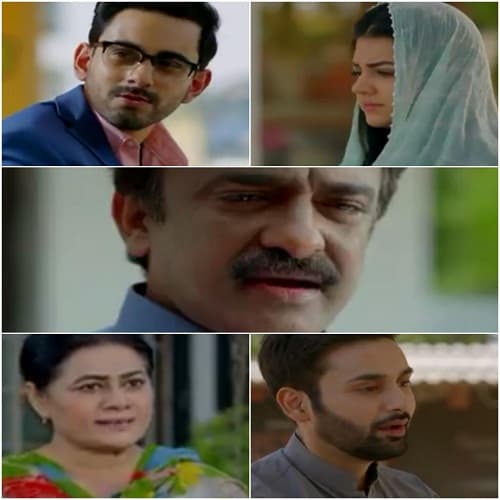 The mystery surrounding Naima's awful behaviour was also solved in today's episode. She actually is not doing anything unique. She is just walking in her mother's footsteps. Shehnaz's behaviour was extremely bad. She is the real culprit for everything happening to Arsala. This is a hard fact of society which is not often talked about in our dramas much but Khamoshi totally showed how the partiality by parents destroy households. She was blaming her sister for everything and was bad mouthing Arsala like she was her step-daughter and Naima became bechari in a second.
Atif-the confused was turning everything upside down in one second for marrying Arsala and in the next, he was slandering her for being involved with Shahram. The confrontation scene between Arsala and Atif was very weak. He was saying stuff about her character and she was standing there with mera peecha chorr do Atif. She is finally off to Karachi and Atif will be getting married to Naima now. Again Naima has neither manners nor self-respect. She will marry the man who is still after her sister.
Next episode will show Atif's pity party, looks like dragging will start again but this was a good episode with many situations finally getting cleared out!