Tau Dil Ka Kya Hua finally ended tonight and unfortunately this last episode wasn't as powerful or gratifying as I was hoping it would be. All the mysteries were solved and just like every other ending written by Khalil-ur-Rehman Qamar a death changed a great deal but there were certain changes in some of the characters which were sudden and some of the mysteries didn't interest me one bit. This ending could have been way better if it focused on the main characters alone.
Although I thoroughly enjoyed watching and reviewing this play but after watching this last episode, I am convinced that this ending and the drama as a whole could have been much more powerful if there weren't so many tracks and characters in it. Saif's character had an important role to play in the story yet he did not get a lot of screen time and Zahid Ahmed's performance left a lot to be desired. Another reason why this ending wasn't really satisfying was that I never really warmed up to Zoya and Faris' relationship with each other. Dariya and Faris on the other hand had made for each other written all over them. Dariya's character and Mansha Pasha's acting too was far more superior than that of Zoya and Noor Khan's acting was the weakest link in a play which had some amazing performances overall.
The change in Maya's personality was rather sudden therefore although it was good to see her doing something for someone else for a change but it wasn't relatable. The dialogues were well written and Ayeza Khan's performance just like every other episode was right on point but this entire development overall wasn't convincing. Dariya's phone call gave hope that she might come back but that didn't happen and it was sad watching her end up alone. Although, she was always shown as a strong woman who didn't need a man to save her but even then the fact that she never got married went to show that she loved Faris so much that she couldn't settle down with any other man. Tipu and Dariya had the most unhappy endings and these two were the best characters in this play.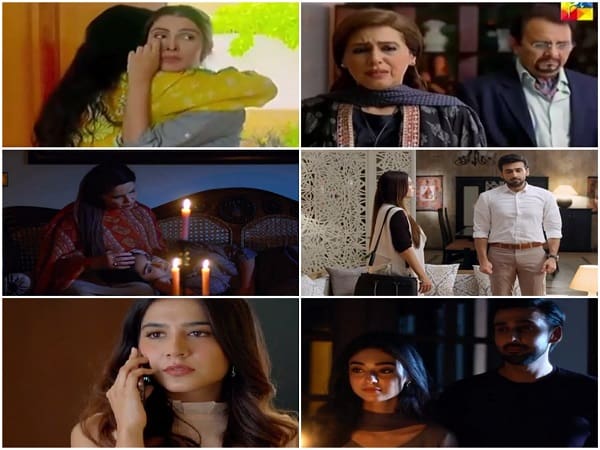 Tau Dil Ka Kya Hua as a whole was brilliantly executed. The director Shahid Shafat deserves all the credit for making me tune into this drama every week. He made this drama a visual treat. Sami Khan, Mansha Pasha, Rehan Sheikh, Ayeza Khan and Imran Ashraf's phenomenal performances were another reason why most of the episodes were brilliant even when the story got a little too complicated. This play also had tons of beautiful dialogues which explored the concept of love from a brand new perspective. The first 12 episodes or so had some of the most amazing conversations and kept me hooked. The background score throughout was remarkable and the overall feel of the play was quite unlike other Pakistani dramas yet quite appealing. The person incharge of the styling also deserves tons of appreciation for a job well done.
The channel did not do justice to this drama and it didn't bag any awards either but for me Tau Dil Ka Kya Hua overall was a winner. Had it been slightly less complicated it would have been even better. This last episode however didn't work for me overall.
A special thank you to all those wonderful people who read the reviews every week and shared their thoughts here. I really appreciate your feedback.
How many of you watched this last episode? Did it work for you? Do share your thoughts about it.