Ohkay so, I really think they need to move the story forward because it's been stagnant for quite some while now & the reactions & the situations that they're showing aren't really helping in keeping the interest alive in the show.
Hareem is bent on convincing her mother to agree to her Nikkah with Fahad without his parent's presence. Nighat was right in her own way that she wanted to meet his parents because that's how normally the proposals are put forth & accepted but Hareem chose to ignore what she was saying as she thinks her mother doesn't want her to marry Fahad. Hareem tried to seek help from Nadia & Ali but they also chose to side with Nighat & in all honesty, all three of them were making more sense than Hareem alone.
Hareem chose to blow things out of proportion which she is good at & called Fahad to her rescue. Fahad saw that things were slipping out of his hand, that's why he requested Hareem to be a bit more understanding. Fahad knows that Hareem is not on talking terms with her Uncle, that is why he doesn't want her to ruin her relations with her mother because Fahad can not afford that as later he will easily blackmail Hareem's mother for his personal gain.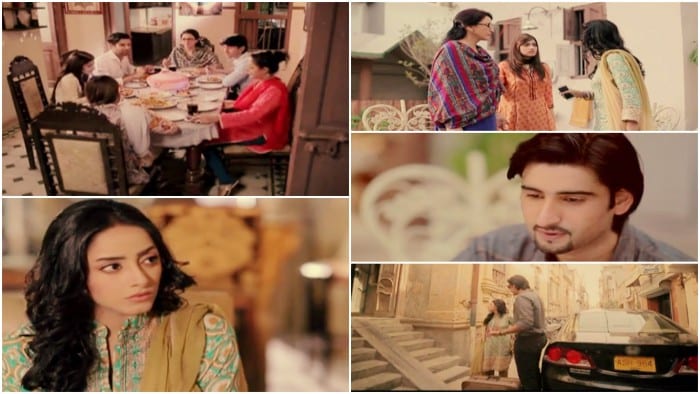 This episode marked the entry of a new character Asad, who happens to be Ali's younger brother. To be honest, I am not that impressed with his character & I don't think he will have much contribution in moving the story forward too. He happens to be that happy-go-lucky sort of a guy who got interested in Hareem the moment he saw her. I so wish to see them showing such guys who fall for girls after looking at their whole personality & not just the face because Hareem acted quite weirdly but Asad didn't seem to notice it at all. I liked that Ali drew the line immediately & told Asad to not cross it as far as Hareem was concerned because he could see that Nadia was becoming uneasy.
I must say, I am disappointed in Nadia once again because as the episodes are passing by, she is turning out to be quite selfish & insecure when it comes to Hareem. Just because she saw that Asad was kind of getting frank with Hareem in particular, she made a mountain out of molehill & called her mother right away warning her & literally requesting her to get rid of Hareem because her marriage is in danger? Talk about worst case of exaggeration & blowing things out of proportion that too for no solid reason!!! All this while, all these ladies have blamed Hareem for everything she has done thinking she is transpiring something against them but actually these mean girls are more selfish & self-centered than Hareem. Hareem is blunt, bold & straight forward but she still has a clean heart as she easily forgives & forgets but her sisters are the ones who have harbored grudges against her & make sure to keep her at a distance. The way Nadia reacted was completely absurd & ridiculous because it was only showcasing how insecure she is of Hareem. I want to know if Asad had shown interest in Sadia, then would Nadia have reacted the same way? I am sure the answer is no. Just because it was Hareem & not Sadia, Nadia requested her mother to take care of Hareem & send her off with Fahad without even bothering about what will happen to Hareem because if there's anyone who knows that everything about Fahad is fishy, it is Nadia & sadly, she chose to turn away from the reality because she doesn't want any obstacles in her life.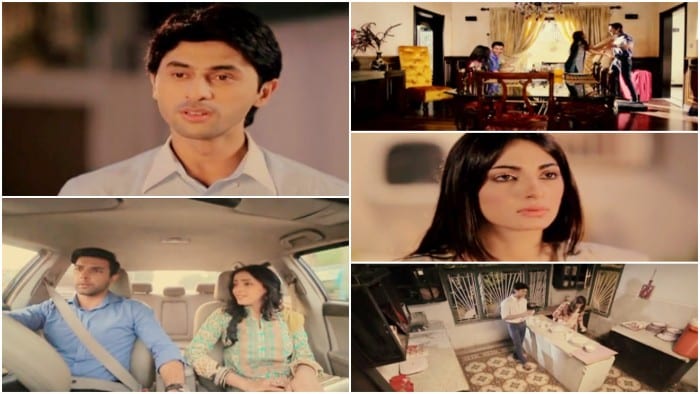 I found it very mean & selfish of Nadia where she actually demanded her mother to side with her this time because Nadia thinks her mother has always treated Hareem as a priority which is nothing but a lie because if that would've been the case, Nighat would've handed either Nadia or Sadia to Shabbir & Zahida. Also, I wasn't expecting anything positive from Nighat because just the moment she saw that Nadia was feeling anxious & restless, she chose to forget about her condition of meeting Fahad's parents & chose to get rid of Hareem as if she was nothing more than a fish-bone stuck in her throat.
Overall, this episode was strictly ohkay & I really think they need to move the story forward now. They need to get Hareem & Fahad married so that the story changes & we get to see more because we've had enough of the scenarios where supposedly Hareem is putting her family through a tough time, which still doesn't make me feel anything for them because they are actually being quite mean & rude to her. Also, I must say, the new trend of hair extensions is being exploited in our dramas because it looks like our actresses have untamed brittle hair & haven't gone for trimming in years. Also, the hair extensions are so evident & weirdly visible, so I am not sure what the actresses are achieving by wearing them. Maryam Ansari (Nadia) really needs to work on her hair, makeup & styling in general because despite having a pretty face, she looks unpleasant & unpolished, also sorry to say but she is turning out to be a case of lip augmentation gone wrong. Sanam Chaudhry has carried herself really really well, from her proper curls to perfect makeup, she looks more sheher wali as compared to the actual & supposed sheher walis like Nadia & Sadia. Anyways, share your thoughts about this episode of Tere Mere Beech please.
Keep Supporting,
Cheers,
Zahra Mirza.