Writer: Imran Nazeer
Director: Kashif Saleem
Cast: Junaid Khan, Hira Mani, Farah Shah and Nazish Jahangir
As the promos were showing and these two episodes have established, it is going to be a love triangle. But what made it enjoyable is that it is not just a love triangle, the sub-plots look interesting as well as enjoyable. Just talking about these two episodes since one never knows what might come ahead, the direction is phenomenal. In an effortless manner, the director has introduced all the characters and now we know where the story stands and what is the nature of lead characters. This particular point if executed correctly always helps the audience to connect easily with the drama.
We have Ashar(Junaid Khan) and Rubab(Hira Mani) in the lead roles who are cousins and live in the same house. Rubab is smitten by Asher who does not give her any time of his day. Asher wants to marry Zoya(Nazish Jahangir) and he is not interested in his cousin. But like every Pakistani family, Asher's family also does not care about his choice and are emotionally blackmailing him to marry Rubab.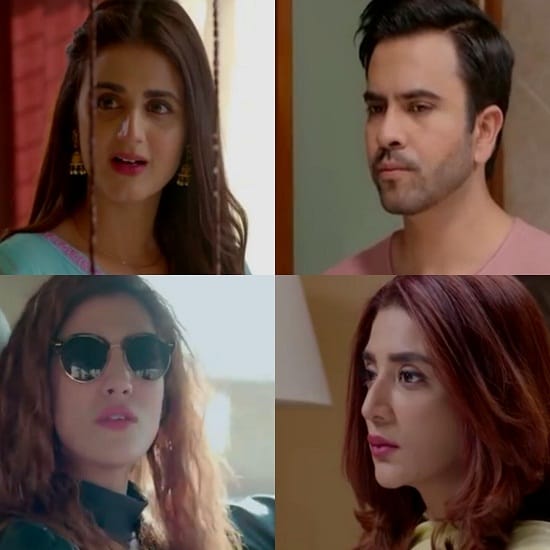 Rubab's character is not very likeable to me but it is relatable. Only children can either be very aggressive or they can be Rubab, so yeah Rubab is Rubab! She is a smitten teenager trapped in a grown woman's body. She actually has a fork wrapped in ribbons because Asher used it to eat his food. Also, the whole Mama aap sulayein na was very annoying. Yes, they have shown her mother babies her but still, it is too much to digest. I hope she gets better as the drama furthers.
The star of this show is hands down Farah Shah. Her character Zehra has so many dimensions that I have not yet figured out whether she is good or evil. There is some backstory going on which is not revealed yet. She is a strong woman who is facing many challenges and has raised a daughter alone. Her whole demeanour on the issue when she was uncomfortable around her co-worker was flawlessly acted out. She is super controlling and cannot get past things or people she hates. She cannot tolerate her nephew because he looks like her husband. We do not know yet whether she was wrong or she was wronged but it is easy to say that Farah will be keeping the audience hooked to Thays.
Thays is off to a good start overall. Let's see how the story progresses in the coming weeks!
P.S: I have special sympathy for this man.👇 Yes, I was also shocked to my core on finding out that she was Hira's mother!