What are the factors that contribute to the success of a drama?Many ofcourse,the script,the direction,the production values,the acting of cast but we as the viewers also tend to set eyes and find out first who the lead couple is.If all the above mentioned factors are at their place but the lead pair doesn't have that kind of magical chemistry then it can let down the whole drama really bad.Now there have been many such pairs that have mesmerized us by their great on-screen beauty.Some of them became extremely popular to the point that people want to see them together again and again.Just to name a few;Fawad Khan and Mahera Khan,although appeared in a single play,their popularity reached 7th sky.Similarly,Ayesha Khan and Humayun Saeed have done many serials together,their name will also be written in golden words.Fawad Khan and Sanam Baloch have also been great together,Ahsan Khan and Mehwish Hayat is also a successful on-screen couple together.Imran Abbass and Sanam Jhung were an instant click together in Dil e Muztar with the audience and now they are appearing together once again in another drama named "Alvida".Then it was Fawad Khan who won our hearts once again with Sanam Saeed in Zindagi Gulzar Hai.You have to admit,Fawad Khan and Adeel Hussain can create magic with almost any heroin.Some more recent couples were of Adeel Hussain and Sanam Saeed in Shukk and Of Shehryar Munawwar and Sajjal Ali in Aasmanon Pe Likha.These latter two are good examples of how a dragged to death drama can also become a hit with audience only if the lead pair has a sparkling chemistry. Don't you guys remember how we used to anxiously wait for a few scenes between Aaliyan and Qudsia (Shehryar and Sajjal) even though the rest of the drama had less to offer.Such is the importance of it. Now after talking about these more prominent ones,lets take a look at some other couples who had a blazing chemistry but are little less remembered.
1. Sami Khan-Ayeza Khan: To be honest,Ayeza Khan's flat facial expressions are very monotonous in most of her serials that is why she rarely clicks with the lead male.(Although she is doing a good job in Pyare Afzal) But with Sami thar happened. They complemented each other very well.One of Ayeza's earliest play was Tootay hue Par in which she was paired with him,then in Do Qadam Door The,and most lately in Bikhra Mera Naseeb. All three are Geo tv dramas.They surely make quite a nice looking couple.


2. Faisal Shah-Tooba Siddiqui: These two brilliant actors have been absent from the screen for quite some time now but they looked so good together.In "Dil he chota sa" which had Mikaeel and Faisal Qureshi too, Faisal was an antagonist but even then they had something extremely charming about then. They were present as a proper lead in "Ae Ishq hamain barbaad na Kar" on Ary,in which they were nothing short of extremely good looking.


3)Faizan Khwaja-Maya Ali: Now this would seem to some people like pairing Bella with Jacon instead of Edward but the fact is that all three of them look good as cast. Maya rocks with Osman Khalid Butt,we all know that but the highlight of "Aik Naye Cindrealla" was the innocent friendship between these two poor souls which eventually blossomed into love.First of all,Faizan's role as "Rooman" was extremely loveable,his character had soo much depth,faithfulness,courage and honesty about it that we didn't care if he was as rich or as good looking as the "Prince Charming".Both their scenes together were a treat to watch.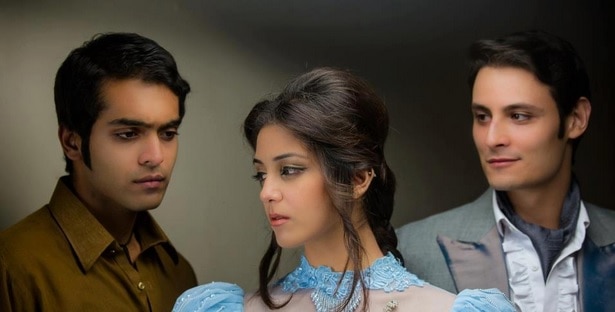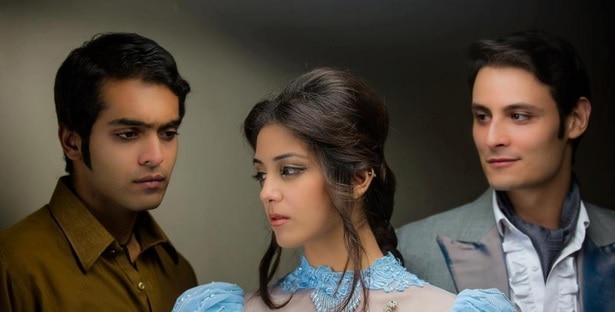 4)Mikaeel Zulfiqar-Mehwish Hayat: Yes,you read it right.Mikaeel,a regular bad husband in dramas who has no interest in his wife and his character in "Manjali" was no less different.Only difference was that it had Mehwish in it.The best part about this drama were the dialogues and the cast;Saba Hameed,Sohai Ali Abro,Shehryar Zaidi.Something sounds fimiliar?Plus it had Sajid Hasan and Shamim Hilali.Could it get any better.The dialogues,for which the drama got fame were comparable to the ones in Pyare Afzal.The lead pair was odd in the sense that it was never in love.Instead there was just hatred and obligations between them but still the chemistry was there. Their scenes were too enjoyable along with those witty dialogues and obviously when two actors have such deep gaze in their eyes,who can resist? He was not even the hero by the end and ended up in jail but that doesn't matter.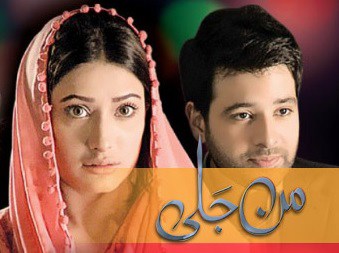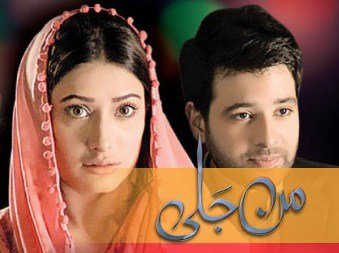 5) Sana Javed-Muhammad Ali: The drama was a recent one "Ranjish hi Sahi".Sana is a very talented actress. In this drama,their were actually two heros for her,and there was a time when her character was in love with of them! But the wat the serial was conducted,we could not have any objections on that.Muhammad Ali made his debut with it,and he managed to do a decent job at it. His character was also a very good person,who was deeply in love with Tooba ,there came many obstacles in his path but he helped her out in all the bad times,acted as a support for her and never let her down even once in all those years. Just when Tooba was on the verge of expressing her love to Rohail,she realized that she had loved Arsal for all this while and he is the one with whom she wants to spend her life with. It was because Rohail was comparatively newer while Arsal had been tested again and again in this path and ultimately his love had won.It was simply heart-warming to see their scenes together.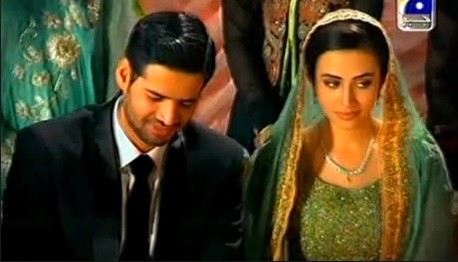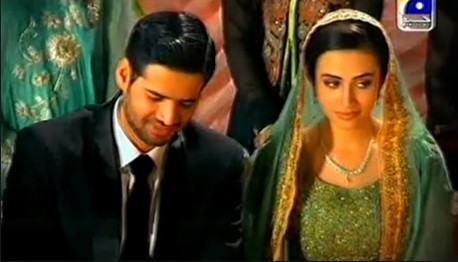 These were just a few that I highlighted.Do you agree with me?Also don't forget to share any couple whom you saw and liked in a drama but somehow they went unnoticed.
Thanks for reading.
Samar Sajid