Thora Sa Aasman – Episode 04!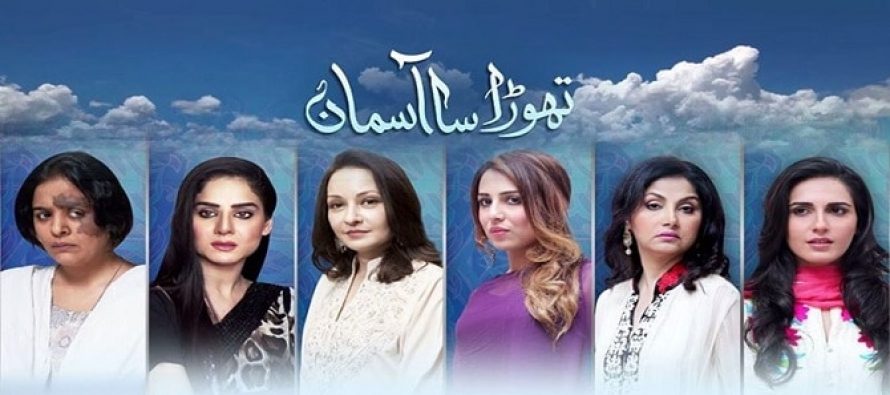 Ohkay so, this episode of Thora Sa Aasman was quite interesting. I am glad that the director is taking the story forward at a decent pace, as there's a lot left to be conveyed & that's why all the tracks are developing swiftly & all the questions are being answered without leaving viewers wondering about things on their own. Also, I must say, I really liked how this episode in particular juxtaposed between the mentality of an elite & the lower class of the society & that has to be my favorite aspect of this entire episode.
Haroon is ruthlessly practical, that is why he knew that his wife could easily achieve what he couldn't in the matters concerning Baqir Shirazi, that is why even after Baqir's indirect yet direct insult, Haroon didn't mind sending Shahista to meet him again because he was confident that Baqir would never refuse Shahista's request. It is actually unfortunate that despite having a wife, Baqir has his sights on Shahista & he has gotten this edge only because he knows that her husband Haroon is shameless when it comes to his personal benefits, so Baqir is making the most of the dependency Haroon has on him regarding his business.
Baqir ended up informing Shahista about Haroon's reputation & seems like this was for the first time when Shahista not only confronted her husband, but threatened to leave him in case she ever spots him with another woman. I felt that this threat came a bit late & didn't even leave much of an impact because it's not like Shahista hasn't seen that scenario till date. Shahista did spot Haroon with Zarka in a shopping mall & he brushed all her concerns under the carpet. If only Shahista had taken a stand back then, may be Haroon wouldn't have done what he just did with Zarka. Just like Haroon got married to her out of the blue, he decided to throw her out of his life just like that too, but what's sadder is that he doesn't want to own his child that Zarka is carrying now. Zarka has lost everything & she is paying a huge price for trusting such an emotionally absent businessman. Sadly, Zarka was just a flavor of the month & just when Haroon felt that he was benefiting nothing out of this relationship, she decided to call it quits!
Saiqa, who's trying hard to make the ends meet, falls in a deep pit when her husband, who has pretty much disowned her creates a scene accusing her of infidelity. Zafar, in stead of giving a shut-up call to his friend, makes a point to drag Saiqa in front of everyone to let them & her know that he is still the supreme authority in her life. Zafar is a depiction of those hypocrite men of the society, who find no shame in leaving their wives & their daughters in the lurch, but when they hear the rumors, they are the first ones to make a commotion about how their wives are disloyal & unfaithful & how their dignity means everything to them. Saiqa comes from such a background where men are considered supreme, despite them never proving themselves to be, but still their verdict is taken to be a final word & then, a woman is forced to face the brunt for the things she might never have even thought of doing. Saiqa's parents made sure that she doesn't leave their house but when they realized that feeding Saiqa & her three daughters was not something that they could afford, they allowed her to resume her job. This was another mind-set that was unveiled that those who are poor can only afford the luxury of 'dignity' for a short span of time & when they are forced to wake up & smell the coffee, they go against their word & curb their values.
Who would've thought that the same Fatima, who was always accused of being ill-mannered & loud would get the label of being polite? Fatima's politeness surprised people around her & may be it is the addition of Shaheer in her life that has forced her to do some thinking & reflect on the fact that now she has a child to take care of & more than that she has to be a positive influence on the child that she is raising. Shaheer has brought drastic changes in Fatima's personality & she might not be his biological mother, but she sure is taking her status as a mother a bit too seriously, which is quite heart-warming. The way Fatima cried for Shaheer was actually quite overwhelming, which proved Fatima's perspective that you don't have to give birth to a child to be called his mother, you can become one if you think of yourself as one.
So, it was Shahista Kamal who sent Aliya to the orphanage to check on Shaheer. I am sure there's a lot to this track that will unravel in the episodes to come. It was a blessing for Fatima that Rabeea ended up being Shahista's friend, that is why Shahista stepped forward to bail Fatima out of the prison as she couldn't resist seeing the sight of a child like Shaheer without his mother.
The note at which the episode ended actually came as a surprise to me. Saiqa of today ended up listening to the advice that was given to her by the Saiqa of tomorrow (referring to the conversation she had with the woman in the previous episode). Saiqa ended up succumbing to the pressures that the future of her daughters inflicted on her mind. Sadly, she was a girl who was trying hard to make a decent & honest living for her daughters but the society pushed to a limit where it made her realize that no matter how hard she protects herself or no matter how much she'll sacrifice, it will only take one lie & just one rumor for them to tear her into pieces & assassinate her character mercilessly. Sadly, what Saiqa did shed a light on all such women who give men the edge & allow those men to exploit them because of lost faith in people surrounding them which unfortunately include their families too. It was the betrayal of Zafar & the lack of confidence that her parents showed in her, which drove Saiqa to take a short cut in life which she at one point didn't even want to think about. This is why in the beginning I said that this episode highlighted the contrast between the mind set that the people from two different social classes endorse, where in elite class it was the husband who was shamelessly making the most of the affection that another man had towards his wife only because it guaranteed him a monetary gain that he was after & in the lower class of the society, just a sight of a woman standing with a man was enough to ignite the fire & assassinate her character to a point where she herself didn't mind compromising it for the sake of her children & forced herself to do which was most certainly not right. Beautifully written & executed I must say!
Overall, this episode was really interesting. I know the theme of the drama is a bit on the serious & mature side but this entire story & all the characters have a meaning attached to them. The preview seemed interesting too, I am sure Baqir is not going to stop & looks like Zarka will end up becoming a fish-bone stuck in Haroon's throat, which he most certainly won't be expecting. Even though I have liked all the actors & their acting but only in this episode, I repeat only this time around I found Zeba Bakhtiyar's dialogue delivery a bit weak & Alyy Khan's expressions a bit too flat, which I am sure will improve in the episodes that are yet to come. The direction, as always was on-point. Please share your thoughts about this interesting episode of Thora Sa Aasman.
Keep Supporting,
Cheers,
Zahra Mirza.
Zahra Mirza
The one who starts her reviews with 'Ohkay so'. ;)
---