Thora Sa Aasman Episode 09 – A Selfless Friendship!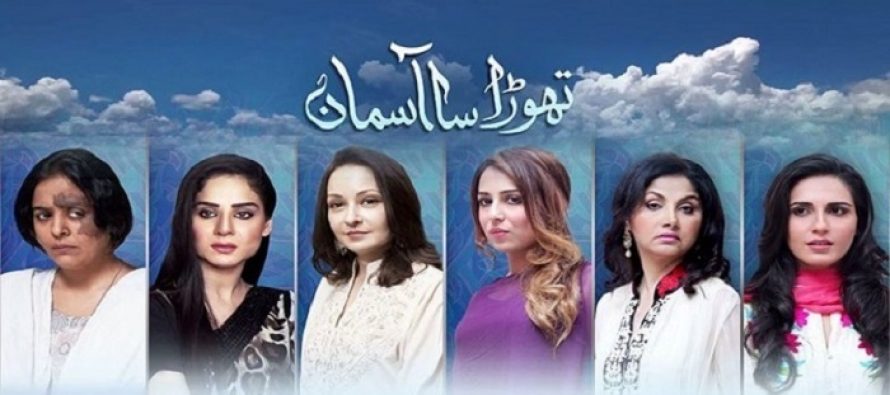 Ohkay so, I thoroughly enjoyed watching this episode of Thora Sa Aasman as well. I must say, for a change, I am liking this drama because even though it is focusing on showcasing the realities, it has got nothing to do with the realities of 'marital life' that our writers these days are obsessed with. Even though I know that the dramas that are based on the novels rarely do justice to the essence of it but I feel that our novel writers explore more options & cover different stories in their work, without making the marital problems the focal point of their writings. So, for that reason I think the drama-makers should explore more such novels & base their dramas on them as it shows a very different perspective on life & the real life issues in a very different light too. I enjoy watching Thora Sa Aasman for the main reason that even though everything that they are showing is based on reality, it still seems refreshing because it is different to what we all are used to watching.
Ambar went out of the way to help her friend Rakshi because this is who she is & she doesn't put much thought into what everyone else says if she makes up her mind regarding something. Ambar met Rakshi & found out all the problems that her friend was facing but just when she realized that Saiqa was in no mood for a legal fight to bring justice to her dead daughter, Ambar suggested that Rakshi, along with her mother & sister should move to a new apartment because their lives were at stake in that area. Even though Muneeza, Talha & Shabana, everyone opposed Ambar, she knew she had to do something for her friend & that is why she asked for Mansoor's help because she knew that her father will never say no to her.
Rakhsi not only got a new place to live because of Ambar's help, but because of her referral, Rakhsi scored a job as Mansoor's secretary. Mansoor has started doing everything that Haroon Kamal tells him to do. Haroon Kamal is trying to turn Mansoor into someone exactly like himself, that is why he is not only teaching him how to be independent but slowly & steadily, Haroon intends to turn Mansoor into a ruthless & practical businessman. Seems like Haroon's influence has started to affect Mansoor & Masood's lives, but at the moment it is Masood who can see what is happening whereas Mansoor is unaware of the difficulties he will end up facing by letting go of his brother & nephew's hand on Haroon Kamal's suggestion.
Talha has taken his friendship with Aneela a notch higher, that is why he has started to meet her & her mother, without any good reason. It seems that Talha has started taking Aneela's company as an escape from Ambar's tantrums & dictatorship & he has started finding solace in Aneela. Even though Talha might not say it, but deep down he has started to see how dominating Ambar is & how spoiled she is to some extent too. Talha loves Ambar but it is so obvious that he is tired of keeping up with her orders. Even though Ambar & Talha always believed in trusting each other completely, the way Talha hid the fact that he was at Aneela's place was the first step that he took in breaking Ambar's trust. I like Ambar's nature for the fact that she is just the way she is, she is not conniving or manipulative or she doesn't believe in hurting other people whereas all the people around her are exactly like that & to some extent Talha as well because he is not being honest about his & Aneela's friendship. People find easy to judge someone like Ambar whereas she is far better than those who believe in ruining people's lives or who strive to achieve something that belongs to someone else!
Haroon Kamal still seems interested in Ambar but I loved the way she didn't sugarcoat her feelings & let him know what she thought of him. I am sure this won't stop Haroon Kamal from making advances at her because he believes in getting what he likes. It seems that Rakshi has made quite an impression on Mansoor, due to her hard-work & sincerity towards the job. I like the fact that even though Rakshi knows that by having Ambar by her side, things will never go wrong but she is not exploiting the kindness & generosity of her friend or her father. Rakshi didn't share her emotional baggage with Mansoor until he asked & that's when she saw that even he walked an extra mile to help her & make her feel secure.
Things are going pretty smooth in this drama & even though I see a little tweaking in the original story, I am definitely liking what I am watching. I must say that the girl who has played the character of Ambar has done a brilliant job in terms of acting. Even though the rest of the cast has done an amazing job too but I feel that Ambar's character had to be portrayed a certain way & it feels that the actress has owned this character a 100% & has done justice to it every step of the way. I feel that the way Ambar's character has been projected so far, you can't dislike her for who she is because you understand her honesty & her loyalty towards the people she loves, which is commendable. I must also add that I am liking the director's approach in unfolding the story, it seems that he knows what needs to be shown at what time & he is doing just exactly that. I like that they have so many stories & tracks in this drama because with every change in the scene, the entire story changes which keeps your interest alive while watching the episode. I thoroughly enjoyed watching this episode & I am sure you guys did too, so please don't forget to share your thoughts about this episode of Thora Sa Aasman.
Keep Supporting,
Cheers,
Zahra Mirza.
Zahra Mirza
The one who starts her reviews with 'Ohkay so'. ;)
---