Titli is not only engaging but it is also quite relevant considering the fact that we live in a country in which most people are obsessed with gori rangat. When parents go looking for their son's rishta, one of the primary requirements is fair complexion. This drama shows that a person's personality is way more important than their outward appearance. I would say that the director/producers made the perfect choice by choosing Hania Amir to play this role. Although I have said this many times before but I feel the need to appreciate Hania Amir once again for choosing to play a role which is flawed instead of starting her career with a stereotypical role which would have been easier to play and viewers would have loved her instead of hating her. The story of this drama revolves around Nayla more than anyone else but Ahmed too plays a central role in the story. Ahmed is a perfect husband but Nayla continuously keeps on reminding him that he is not good enough. It is true that a spouse can play a major role in either flaring someone's insecurities or giving them the confidence they need.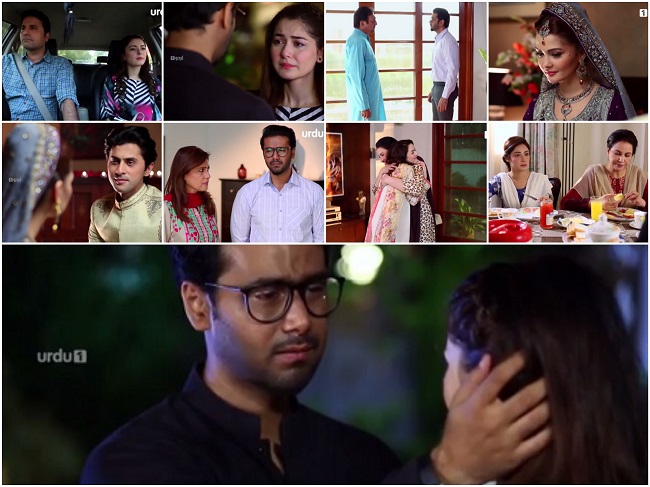 This episode opened with Nayla getting rejected and that is when she decided that it was wise to ask her husband for an apology. I am glad this particular track ended tonight and now the focus will be on Nayla and Ahmed's track entirely. This latest development proved that Nayla is vain, selfish, impulsive and heartless but she isn't stupid! She always looks out for her own interests and this time around too, she did just that! Aamir's wife's holier-than-thou character is anything but appealing! Although Nayla is a negative person but her character is far more appealing. The actress playing Kiran is also a misfit in the role. Also, the character overall comes across more as nosy and over smart than "perfect".
The biggest flaw of this drama serial so far is that the characters are black and white but despite this it gives me a reason to look forward to more. Just like Tum Kon Piya, there are times when it has some nice surprises in store for the viewers. Like for example class difference has never been an issue in Ahmed's family and now their family friends too are more than willing to marry their son off with a girl who comes from a middle class family. Nayla and Ahmed's track keeps my interest in the drama alive. Zara refused to accept the proposal and I am waiting to find out what her reasons her. It is probably because she does not want her api controlling her life!
I must say that the most interesting aspect of Nayla's personality is that she has no idea just how wrong she is! Hania Amir and Ali Abbas yet again were the stars of the show tonight. They are doing complete justice to their characters which makes it easier for the viewers to connect to them. The preview of the next episode suggested that Ahmed will finally put his foot down. I am waiting to see how Nayla reacts to that.
How many of you watched this latest episode? Don't forget to share your thoughts about it.