Yes! This drama is clichéd to the core since it covers nothing but gherulu politics yet it continues to hold my interest. The fact that Naila is so full of flaws and everyone else around her has been extremely compromising till now is funny and interesting at the same time. Even with her twisted and controlling personality, Naila is undeniably the best thing about this play. Kiran's character is turning out to be an interesting addition to the play as well. She balances the over-niceness of rest of the family members and Amir's reaction tonight was the perfect development in the story. It was about time that someone confronted Naila and unlike the last time, this time around Naila's egoistic nature did not allow her to stay in Ahmed's house after everything that happened. Ahmed's reaction however came out of nowhere and I must say that while this drama shows how a wife and daughter-in-law who is not willing to compromise cannot have a healthy relationship with her husband or her in laws, it also shows how important it is for the husbands to keep a balance. Had Ahmed not compromised this much Naila would have known better.
I must say that Naila's character is perfectly etched-out, she knows how to get her way just because she is stubborn and spoiled! The writer should have focused more on Ahmed's character and what was going through his mind when Naila was misbehaving with his parents in tonight's episode before he finally lost his cool completely. Ahmed has been shown as someone who was completely smitten right from the day he laid his eyes on Naila and while it is easy to understand why he could not allow his wife to treat his parents badly but even then it is impossible to imagine someone like him putting his foot down like this. I am waiting to see how his track is handled from here on.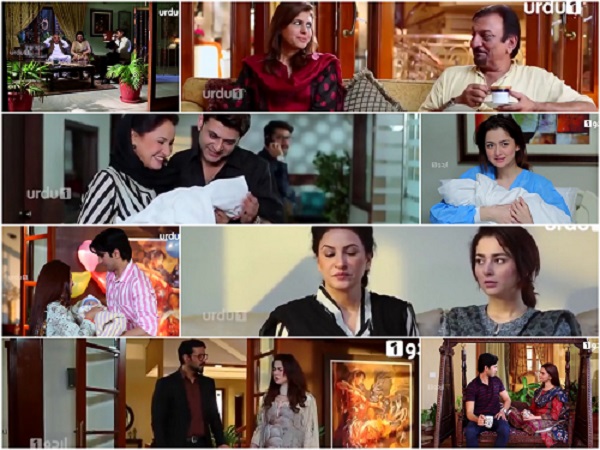 This drama reminds me of the old PTV drama Aanch in which Shagufta Ijaz played the role of a woman who felt like she deserved better when she was married to Shafi Muhammad's character because he was much older than her and was a widower. The only difference is that the circumstances are different and also that Ahmed's character so far isn't as impactful as Shafi Muhammad's character in that play. Otherwise, I hope that this drama also shows Naila regretting her decision and finally understanding that sometimes compromising is far more important than having your own way. Right now, I am waiting to see how this recent development brings about a gradual change in Naila's personality.
Hania Amir yet again was the star of the show tonight. I absolutely love the fact that she pays very little attention to her outfits and make-up and her main focus is her performance although this character could have been very glamorous but she has kept glamour to the minimum. She owns her character right from the start and I am pretty sure she will deliver even when Naila's character changes in the future. The fast pace of the drama is another reason why it keeps you looking forward to more. Titli continues to be an entertaining play and the ultimate guilty pleasure even after all these weeks.
How many of you watched this latest episode? Don't forget to share your thoughts about it.