Once you see it, you cant unsee it. That's exactly what happened to me after watching last week's episode where the uber talented Hamza Ali Abbassi was mimicking HSY. Now every time I see HSY, I can't help but think out loud "Fabulous"! Moving on, the guests this week were Maria Wasti and Ayesha Omer. Before anything else, I have a bone to pick with whoever is in charge of the wardrobe. You'd think on a talk-show hosted by one of the greatest designers in Pakistan, the guests would make a conscientious effort to look (dare I say it) fashionable? In walks Maria Wasti sporting the most unkempt bangs and a tacky looking top that's screaming for attention. Fortunately for her, her confidence more than made up for her lack of presentation. Together with her home mate (for a moment I thought he said home-maid), both Maria and Ayesha Omer were engaging, confident and fairly unabashed. Maria admitted having a special man in her life- although she felt she's still discovering if he's the one. Ayesha was relieved that for once in her life, she was a free bird and enjoying every bit of her life. These two ladies have been friends for the longest time and living together for over 10 years.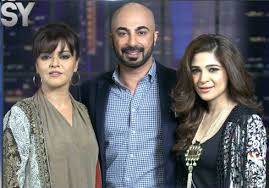 HSY stated he was way out of his league as he felt a little inundated by their strong presence. The questions seem to be more or less the same in every episode and I think it's time for a little experimentation. Nevertheless, both ladies kept the conversation flowing and there was not a dull moment which took me by surprise since I've never seen Maria Wasti before and I was skeptical of her being on the show. They even had a Meera moment!  Ayesha Omer spoke about her upcoming movies- Yalgaar ans Waar 2. She sure seems to be going places and is committed to breaking free from the image of Khoobsurat from her sitcome "Bulbulay". She spoke about how critics drive her and all those mean tweets about her music inspired her to do better. Deep down, her passion is painting over anything else- music is simply her hobby and acting is something she enjoys doing. Maria Wasti is contemplating direction since she feels she has plenty of experience under her belt and it's time to move forward. Speaking of regrets, Ayesha spoke about how she is quick to trust people and a few years ago they became the subject of controversy. As far as I can recall, there were some leaked photos of Maria Wasti and Ayesha Omer holidaying in Thailand. They attribute this incident to their lack of awareness of how popular they were. Since then, they've learnt to be cautious and don't use social media much- Maria admitted she hates selfies and Ayesha added that if you're too busy capturing the moment, you fail to enjoy the moment.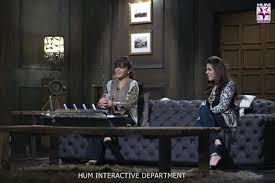 Coming to the challenges, I think someone is paying close attention to what the viewers are saying. The sound quality has definitely improved and it made the round Ajnabee Kaun Ho Tum a little more interesting since the callers (Angeline Malik and Ijaz) were loud and clear without any background noise. However, the Love or Don't Love round fails to strike a chord with me till date. The guests made this episode a fairly good watch. I am curious to know who else HSY has lined up for the upcoming episodes and I hope the show keeps me interested. What did you think about Sheru and his guests? Are you looking forward to more episodes?
Yours in watching,
Kanwal Murtaza