Hassan Sheheryar Yasin, known by his initials, HSY, returned with a brand new season of his show, 'Tonite with HSY'. I must confess that I was never an avid follower of the first season probably because a couple of segments were more or less pointless and most (not all) of the guests weren't exactly the ones I enjoy watching on-screen. But as far as the second season is concerned, seven episodes down and I'm hooked!
First things first, the impressive line-up of guests is one of the best things about the second season. If I talk about myself, I personally like to know more about celebrities I see on screen every now and then as compared to the ones who rarely make an appearance. Many of the guests are actually the ones we haven't seen in any other talk show so that's more of a reason why the second season is worth a shot.
I must say that HSY deserves to be praised for the pre-interview research which becomes evident in each episode. The guy has done his homework tremendously well and he knows exactly what his guests have been up to.
While there are no noticeable changes in the set, which is perfectly fine with me because I have always enjoyed the mysterious aura of the show, some new segments have been introduced. There comes this 'Shuffle Round' in which the guests are shown a bunch of numbers- they have to select at least two numbers and then they are required to do whatever the card of the particular number asks them to do. After that, there comes this round where both the celebrities ask each other a few questions to check how well the two know each other. Then there's one fun segment in which HSY switches seats with each of his guests. Then there comes this guessing the movie segment and lastly, HSY asks each guest one question on the request of the fans- 'Djuice Connect' as he calls it! HSY doesn't include all the segments in one episode and to be honest, I think the segments still lack creativity and I would like to see some improvement. Shuffle Round is interesting as long as it doesn't involve guessing a drama from an audio clip (and of course, that play is always a popular HUM drama serial).
While the segments are yet to impress, the normal questions he asks during the course of the show actually have a pretty good standard. In the earlier season, I thought of HSY as a weak host because for me, he lacked the spontaneity a talented host should have but now that I'm following this season, I admit my views about him have changed for the better and I find him very decent and composed.
What I don't like about HUM is how they try extremely & noticeably hard to highlight their sponsors every chance they get. Okay bhai, we get it, Djuice is sponsoring the show. Each and every guest is bound to say it once: 'Hi, this is me _________ (name) and you're watching Djuice presents Tonite with HSY'.
Here you go with an overview:
• Imran Abbas and Sanam Jung
HSY decided to start the second season with a duo that's known for its sizzling on screen chemistry. Yep, it's Imran Abbas and Sanam Jung!
HSY mentioned that he first met Imran Abbas when the latter was working as a model. Imran Abbas gradually climbed the ladder to success & earned quite a name for himself in the showbiz industry. HSY asked Imran about the pressure to look good that naturally comes when you join showbiz because for a large part of the audience, looks are somehow more important than talent but Imran made it clear that he's never been overly cautious about his looks and has focused on giving his best to the projects he works in.
It's amazing how soo many people from our industry like Ali Zafar, Ayesha Omer, Misha Shafi etc have graduated from the National College of Arts (NCA), and Imran Abbas joins the list too. There's a lot about Imran Abbas that caught me by surprise. He is passionate about poetry and comes from a rich & refined family background where he got to participate in mushairas attended by people like Ahmed Faraz, Parveen Shakir and Josh Maleeh Abadi.
When questioned about his work in Bollywood, Imran Abbas stressed the point that he was never desperate for a chance to Bollywood and I for one didn't know that the roles of Sidhart Malhotra & Ranveer Singh in Ek Villain and Ram Leela respectively were first offered to Imran Abbas but due to workload, he had no choice but to refuse. He chose to work in Creature 3D on the advice of Bushra Ansari.
The episode took an interesting turn when Sanam Jung made an entry. Sanam Jung looked absolutely beautiful and her soft hairstyle did complete justice to her cute face cut. Vivacious and jolly, Sanam changed the somewhat serious aura of the show. Sanam Jung is…wait for it…about to get married to a pilot!! Haha, not that I'd be invited but that's a wedding I'm looking forward to;)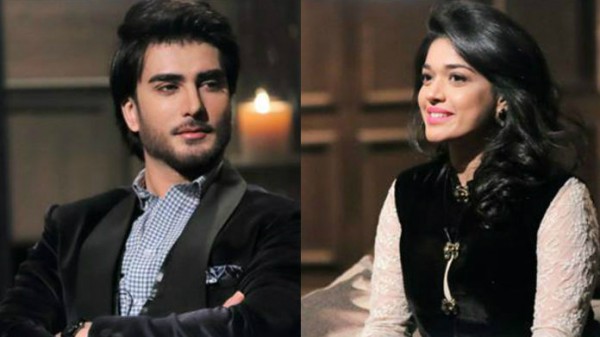 I was actually shocked when Imran Abbas confessed that earlier on, he had refused to work with Sanam Jung because she had an accent problem and the former needed to work with someone more 'experienced'. As the shooting began, Imran Abbas and Sanam Jung started to get along with each other pretty well and that's how we got Sila & Adeel of Dil-e-Muztar  Sanam Jung graduated from College of Business Management and the transition from banking to hosting/acting was not exactly on the cards. She went to Nabila's for a make-over and after a day or so, she got a call, asking her to work in a commercial. Sanam loves to mimic and it was nice, for a change, to see her NOT hosting a show.
It was revealed that Sanam's closest friends from the industry are Adnan Siddiqui and Imran Abbas. I laughed out loud when Sanam Jung clarified the rumour about her being in a relationship with Waqar Zakra: meri Waqar Zaka say kabhi mulaqaat bhi nahe ho, mein nay sirf un ka show dekha hai aur wohi kafi hai!
There was this fun segment in which HSY and his guests switched seats and both Imran Abbas and Sanam Jung got to ask him a few questions. HSY talked about a terrible accident he had when he was about eighteen, because of which he had to undergo quite a few surgeries and lost his hair and this is explains his baldness. It's his 21st year in the fashion industry and marriage is not on the cards- his first and foremost priority is the well-being of his mother & sister.
I am very happy with the selection of guests for the first episode because the whole episode was a full fledged entertainment package, free of controversies or heavy duty talks.
• Ayeza Khan and Danish Taimoor
Hands down, I loved this episode! I had been waiting for it since ages and I was not the least bit disappointed, like, I had this constant smile on my face while watching these two together because this is the first time they made an appearance in a quality talk show after their marriage. These two are like, made for each other!! Ayeza Khan looked absolutely ravishing and she was actually glowing :D
I like how they both were comfortably honest about their relationship- it's been six years since the two first met each other but during this period of time, their relationship saw many ups and downs and they were somewhere in the middle, uncertain about their future and like Aiza puts it,"Mein nay in say kaha kay hosakta hai aap kay paas koi better option ho" and forgive me for sounding melodramatic but love always finds its way :P. Khair, Danish mentioned that a project came up and that's probably what rekindled their feelings for each other- that's when the sparks flew and they decided: ab humain shadi karlaini chahye! I think the play he was referring to was Saari Bhool Humari Thi but I am not so sure.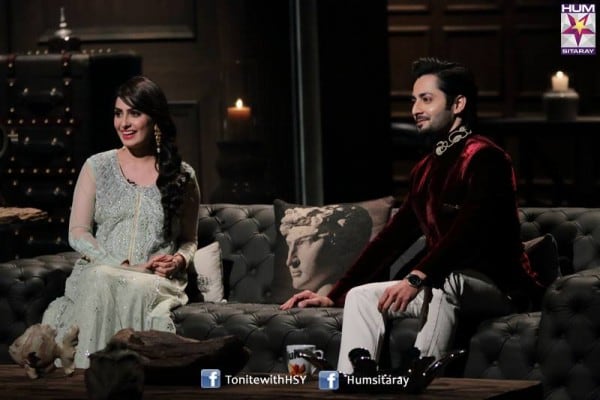 Another thing I found extremely sweet and genuine was how they both mentioned that the best thing about their bond is the fact that neither of them has to 'pretend' to make the relationship work. When they are with each other, they are themselves and marriages work the best when your life partner is also your best friend & confidant. When questioned about the one thing they'd like to change about one another, they both declared that they've accepted each other with their strengths & weaknesses both so there's nothing they'd want to change about each other. However, they did speak of their own weaknesses and Ayeza talked about her talkative nature; mein khud hi sawaal karti hun, khud hi jawaab deti hun. She finds herself over chatty but Danish, on the other hand, keeps to himself because according to him, the best way to stay out of politics & gossips is to stay reserved. He doesn't make many friends but when he does, he makes it sure that its 'yaari wali dosti- I'll be there for you and you HAVE to be there for me.' Then it was revealed that Danish is the sort of person who divides his time between his work, friends and family but yes, he has some anger management issues.
Danish talked about his earlier passion for mimicry and trust me when I say this- he does an awesome job when it comes to mimicry. The way he mimicked Humayun Saeed had me in stitches!
Ayeza spoke about her 'live for today' approach towards life and doesn't believe in making long-term plans. She is down to earth and believes that her costars are loads better than her when it comes to acting. When questioned about her plans for making it to the big screen, Ayeza revealed that she has a liking for commercial films, jis mein dance ho, songs hon, lehenga pehnay huay heroine entry day, but she believes she wouldn't find herself comfortable in playing such roles in front of her Pakistani audience and Bollywood movies are definitely not included in her to do list- jo kaam apnay logon kay saamnay nahe karsakti woh bahir kaisay karsakti hun? So in this regard, I find her approach extremely decent & likeable. When questioned about her favourite costar, she named Saba Hameed.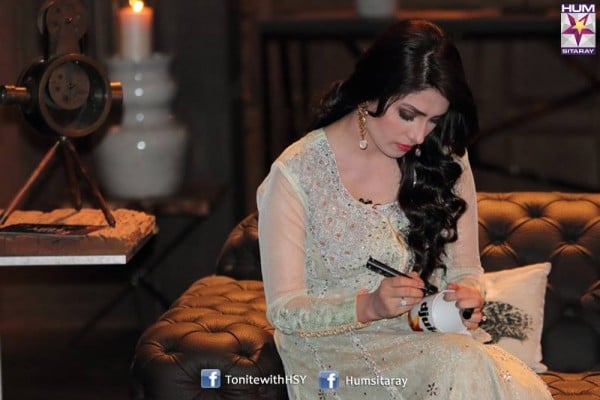 I think that the segments for this episode could have been a whole lot more interesting but apart from guessing a bunch of movies, some mimicry & a few how-well-do-you-know-each-other questions, there was nothing the segments could offer.
• Juggan Kazim and Moammar Rana
Oh boy, this episode was umm, loud!! Juggan Kazim could've and should've toned it down, like, she was all over the place! I mean, falling off the sofa, screaming to her heart's content and the whole I'll-say-what-I-want-to-say-and-that's-that attitude of hers made the show quite entertaining but I really felt that she got carried away in the process . I don't know why she couldn't speak in her 'normal' volume or tone.
It was evident from the intro that Juggan is one of HSY's closest friends and he has quite a high opinion of her.
Naam bhi mardana hogya aur awaaz bhi– Juggan talked about her name- she was originally named, Syeda Mehrbano Kazim, but then she became Jugnu and lastly, Juggan.
She also talked about how she always used to drive away the rishta people, aap ko cake pastry say shadi karni hai tou bakery jaye. Needless to say, Juggan is spontaneous, vivacious & jolly.
Juggan revealed that at the point she got married for the first time, she didn't know the difference between love & infatuation- love ki bhi kayi definitions hoti hain!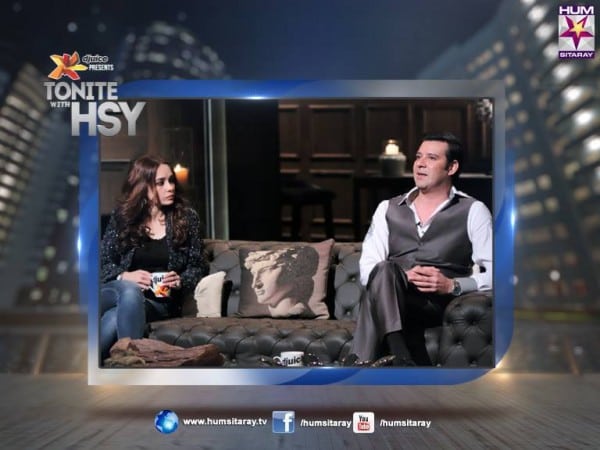 She spoke fondly of Hamza, her son, who gave her a reason to struggle & live. The whole Punjabi style panga lenay wali Juggan, like she puts it, was lost somewhere else and an entirely different and person surfaced.
Then came Moammar Rana and I must say that he comes across as someone very decent & down to earth. He revealed that he was 21 when he was offered his first film and the first person he consulted was his father, who has always been his biggest support system. He was dedicated to his work and worked hard to learn about his field. He used to go to Shaan's sets to gain expertise in camera angles & shots. He talked about Javaid Sheikh being there with him through thick and thin; he once had a terrible accident and there was no one left to give him a chance in their films but that's when he found Javaid Sheikh by his side. Another person who means the world to him is his wife and he mentioned that once he even danced in the middle of the street to cheer his wife up when she was angry with him. There were times when Moammar Rana was more or less overshadowed by ultra-hyper Juggan but overall, HSY tried to maintain a balance.
We saw the 'switching seats' segment this time around too and HSY ignored Juggan's question: aap shadi kyun nahe kartay?
What do you think of these episodes? Share your thoughts, please!
Maryam Mehdi