In the previous review, I talked about the first three episodes of Tonite with HSY's second season so here you have the remaining episodes:
 Sanam Saeed and Junaid Khan
Since a long time I was waiting for Sanam Saeed to appear in a talk show because even though we saw her in Mahira's talk show, we couldn't get to know her much. After quite a 'loud' episode, this one was considerably decent but I did have an issue with Sanam Saeed and Junaid Khan being called together because yes, I know they've worked together in three serials (Mata-e-Jaan Hai Tu, Kadoorat & Firaaq) but they have never had a good on screen chemistry so I was expecting someone else with Sanam Saeed, perhaps Sarwat Gillani?
I must confess that I like the way Sanam Saeed interacts with people – she thinks more, speaks less and even though I haven't been a diehard fan of hers, I think she is definitely a woman of substance because I love what she had to say about the characters she chooses to portray. She considers it her responsibility to reach out to the headstrong women out there who know what it's like being a woman in a man's world and she feels that her non-glamorous roles of an aam si make-up free larki have actually been a ray of hope for the female audiences, "This woman comes to me and says kay mein nay aap ki wajah say apni studies continue ki.'' Kashaf from Zindage Gulzar Hai, Bibi from Talkhiyan and Shazia from Mera Naseeb- all these character driven roles promote female empowerment and for Sanam, that's exactly where her success lies. But yes, she mentioned that she will be appearing in a happy-go-lucky role in her next film, 'Bachana'.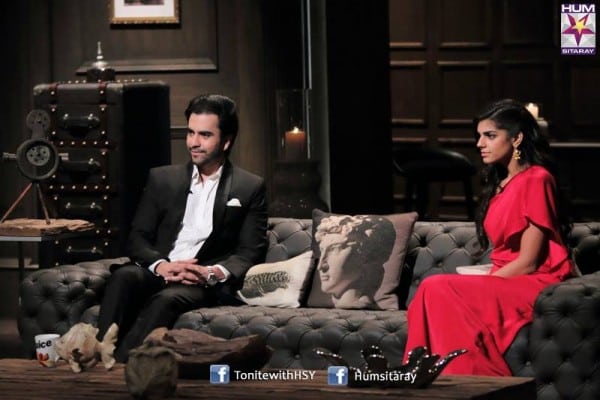 Sanam is much of a private person and most of her close friends are not her costars. Instead, her childhood friends have always been there with her and I was surprised when HSY disclosed that he too is one of Sanam's childhood friends. Sanam also mentioned that she was a tomboy and she has never been much conscious about her looks and that's exactly why she gave up on modeling altogether because, jis din mujhay laga kay mein apnay aap kay baray mein conscious horahi hun, uss din mujhay realize hua kay yeh kaam meray liye nahe hai.
Fans of Sanam-Fawad chemistry in ZGH will be surprised to know that Sanam barely even knows Fawad as a person and you may find them setting the screen on fire but off set, Sanam and Fawad are extremely private people- they keep to themselves and share zero off screen chemistry and according to Sanam, the reason why people found her onscreen chemistry with Fawad so impressive is that it was strictly professional. Talking about Bollywood stars, she said she would like to work with Tabu.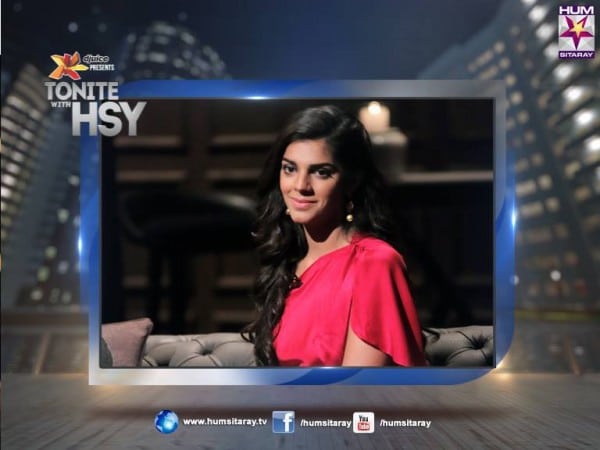 Then came Junaid Khan- to be honest, I was waiting for HSY to ask Junaid to sing a song because even though his acting hasn't been impressive, I really like some of his songs but to my disappointment, that didn't happen. Junaid talked about his inability to say, 'no' and there were some plays he wouldn't have opted for in his right frame of mind but he had to simply because he couldn't say, 'no'. Junaid considers music to be his first love and he is still very passionate about music, "music is my expression.''
Junaid mentioned that he had a hard time learning his lines when he just entered the industry but he is improving with time. When HSY asked how hard it is to handle female fans especially when his wife is around, Junaid mentioned that his wife has always been very supportive of him- jab fans aatay hain tou woh tasweerain le rahi hoti hai!
The segments were pretty much okay but I think the 'how well do you know the other person' questions definitely need some improvement.
Urwa Hocane and Farhan Saeed
And another youthful duo! I would have to admit that yet again, HSY proved to be a very decent host. Even though Urwa-Farhan rumours have spread like wildfire, HSY chose not to pry into their personal lives. Farhan is working on a song, 'Tu Thori Dair Aur Teher Ja' and in its video, Farhan appears as a soldier and Urwa is playing his wife so HSY was like, "yeh kia scene hai?" But the duo played it safe and only talked about the video and HSY didn't force them to reveal anything about their relationship status which is something I am thankful for.
Urwa talked about her career- she became a VJ at the age of 18 and with the passage of time, she became a small screen actress and now with Na Maloom Afraad, she has made it to the silver screen.
Speaking about the bond between the siblings, Urwah declared that she's the bossy one, owing to the fact that she is the eldest sibling. Even though both the sisters started their respective careers at the same time, they have never felt like they're competing, in fact, they prove to be each others' critics and this positive criticism helps them improve.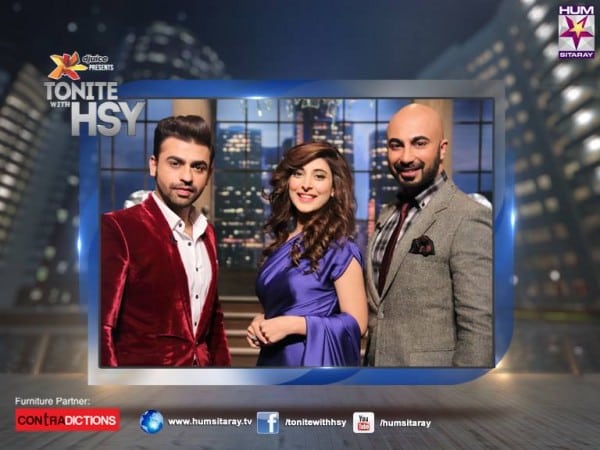 Urwa chose to give politically correct answers and had a diplomatic approach towards answering HSY's questions because the way she puts it, she is already the 'bad girl of the industry' probably owing to the fact that she has anger management issues. She talked about a recent fight she had with a director on the set of a commercial. "If he's watching, I hate him''– this was a bit too harsh for someone trying to stay politically correct :P.
Urwa talked fondly of her experience of working in NMA and she mentioned that she worked tirelessly because she was very excited about appearing on the big screen for the first time.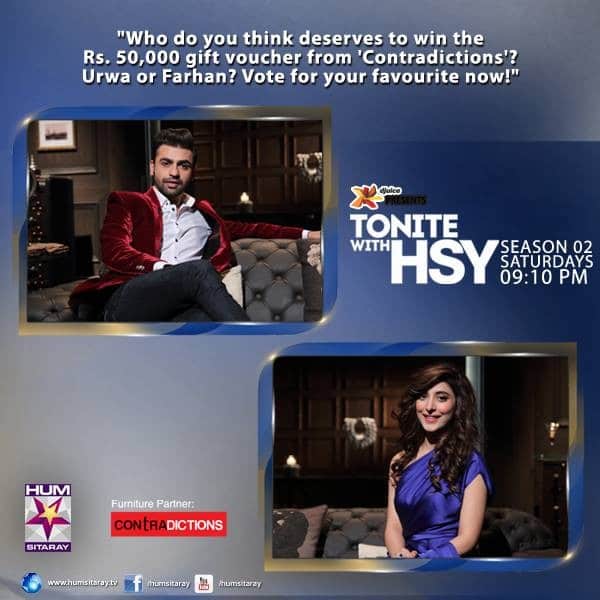 Before proceeding to Farhan Saeed, I must confess that I have been a huge fan of his songs and I really wanted HSY to request Farhan Saeed to sing a song but he didn't! Khair, HSY questioned him about his decision to leave Jal and without disclosing much, he said that there were some coordination issues and things couldn't work out anymore. HSY brought up the topic of Atif Aslam and Farhan made it clear that he believes in competing with himself and has never viewed Atif Aslam as his competitor.
Farhan Seed also shared an incident about one of his fans trying to set him up by giving him a pen that turned out to be a pistol. Things got serious as he was stopped at the airport and therefore, he warned all people not to accept anything that comes from a stranger just like that.
All in all, it was a decent episode but as compared to the previous installments, it was a little dull and 'who should win the gift voucher' campaign was seriously absurd!
Fahad Mustafa and Sarwat Gillani
Hayee, just so you know, I wasn't exactly jumping with joy when Fahad Mustafa appeared in HSY's show because, well, I am watching Dusri Biwi and that pretty much explains it, right?
But khair, since it's not fair to judge an actor just because he played a despicable role so I started watching the episode with quite a positive mindset but my my, a very different side of Fahad Mustafa was revealed this time.
Fahad Mustafa studied in Baqai Medical University but he is a university dropout by choice and the only good thing about studying in Baqai was him meeting Sana. Initially, the people he knew didn't quite believe in him and underestimated his potential but now that he's a star, he would like to enjoy an I-told-you-so-moment and call these people, 'Losers!' Fahad Mustafa talked about fame and declared that if he goes out to buy some bhutta, even the bhuttay wala knows and loves him. He sees himself as a chalti phirti misaal because he struggled and strived to earn a name for himself. He also takes pleasure in the fact that a small city like Larkana is known by the name of Fahad Mustafa and the bottom line is: this man's a STAR! But when HSY questioned whether this fame has gone to his head, Fahad answered that no, it has actually humbled him. Umm okay, we really need to redefine 'humble' now!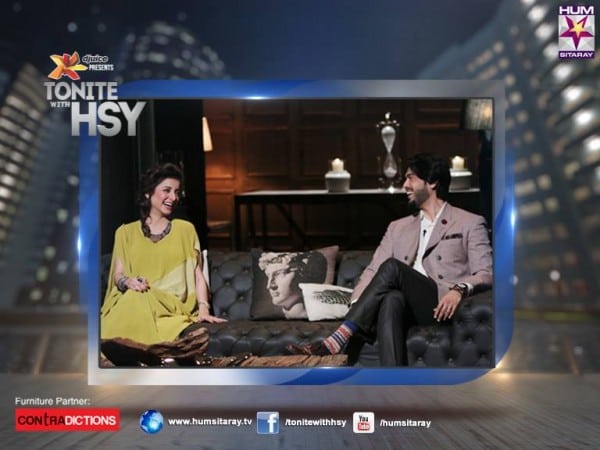 He spoke fondly of his relationship with Sana because she has been his best friend and when she's around, he doesn't have to pretend at all. He admits he's quite romantic and shows unique gestures to make her feel special. "Paisay saaray begum kay paas hotay hain.'' Then he talked about the birth of his daughter and he admitted that his daughter has changed him in more than ways than one and he even gave up on smoking after her arrival.
Some of the questions from 'Djuice Connect' round are actually well-chosen and this time around, a fan asked Fahad Mustafa why he did he start a game show when what he really should be doing is acting. According to Fahad Mustafa, all big TV stars shouldn't confine themselves to acting and he believes in trying out different things so ghar say nikla tha acting kay liye, but hosting has been a blessing.
Even though he praised both Mehwish Hayat and Iman Ali, he has quite a high opinion of Mehwish Hayat. Since he is a great actor and all, I for one wasn't expecting him to compare two actresses who are like polar opposites (one is relatively new to the film industry while the other has been doing films for quite some time) but he was like, 'Mehwish is far more energetic and talented that Iman Ali.'
Then came Sarwat Gillani and I must say, she was glowing! I was soo looking forward to seeing her on the show.
Before talking about anything else, HSY talked about her love for Biryani and seems like Sarwat is a big foodie- she cooks maghaz really well and Biryani is the love of her life.
Sarwat mentioned how organized she is, like she can't stand something unclean and out of place. She loves giving nicknames to her husband, Fahad Mirza- faddi, faddu, fadhum and what not! I really liked her response to HSY's question, ''are you bossy?'' & she was like, "Not bossy but opinionated!''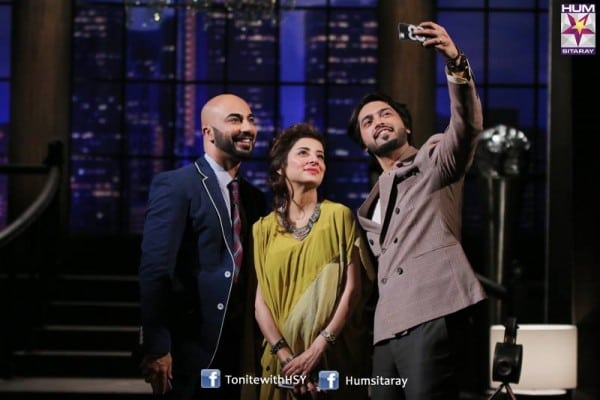 I was a little disappointed by Fahad and Sarwat's views on plastic surgeries, injections and fair complexion. According to Sarwat Gillani, actors should go for plastic surgery if they feel like they are not satisfied with their facial features but yes, excess of everything produces negative results. "Aap din ba din goray hotay jarahay hain!'' Fahad Mustafa was honest enough to admit that he sees a doctor who gives him sun blocks and stuff for fair complexion but he made it clear that he doesn't go for injections. I was taken aback by Fahad's comment, ''I don't look as horrible as I used to look before.'' I mean, being light-skinned makes you look less horrible? Shouldn't a great actor like him only be proud of his talent and acting skills?
I must say that he has a really good voice. When asked about their favourite actors, Fahad Mustafa revealed that he is fond of Morgan Freeman and Denzel Washington's acting while Sarwat Gillan has a high opinion of Meryl Streep- good to know that we all have something in common ;)
Oh, and there came the infamous age issue. Fahad remained persistent that he is 31 while Sarwat Gillani refused to buy that! I laughed out loud when HSY was like, ''Fahad apnay doctor ko call karo aur saray paisay waapis lo.''
When questioned about their future plans, Fahad Mustafa expressed his desire to extend his family whereas Sarwat talked about a really inspirational programme relating to Special Olympics in which a team sets out to search for special children who wish to unleash their potential and talent and Sarwat is a part of the team that sends these children to international Olympics.
Vasay Chaudhry and Hadiqa Kiani
Throughout the episode, I was wondering how it's pretty ironic that a guy known for his comedy scripts is so serious and stern because I was actually expecting Vasay Chaudhry to crack some jokes every now and then but this was actually the most serious episode of all. By the end of the episode, HSY echoed my thoughts and Vasay explained that there are some clichéd, stereotypic and preconceived notions of people regarding comedy writers or artists and according to him, writing a good comedy is quite a serious profession and therefore, it's absurd to expect comedy writers to crack jokes just like that.
Vasay Chaudhry grew up watching Pakistani films in cinemas and he has witnessed the era during which there was mass following of Pakistani films and the public went gagas over legends like Sultan Rahi. He declared that he's never had a crush on any film actress because when it comes to films, it's never a particular actor or element of the film that attracts him but it's the movie on the whole that mesmerizes him. Vasay believes that in sub-continent, bald or guys with curly hair can never play chocolate heroes.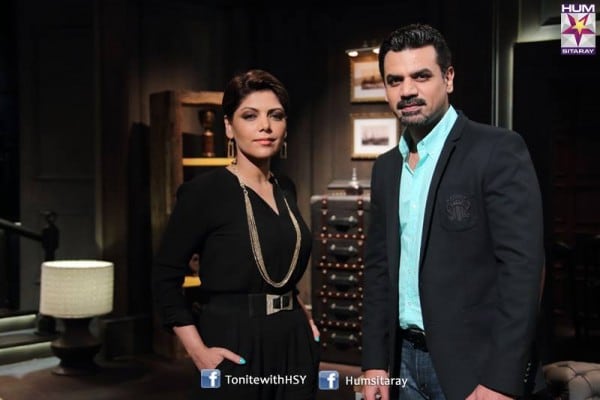 HSY asked Vasay if fatherhood has changed him as a person or affected his scripts in some way and Vasay believes that even though parenthood changes the way you view the world, it hasn't influenced his writing in any way.
HSY and Vasay have been to the same college and also shared some subjects but they don't come across as close friends.
Hadiqa Kiani stepped in and my my, she has changed a lot because when I recall Pakistan Idol, all I can remember are her eccentric hairdos and funky dressing sense but this woman doesn't cease to surprise you. She has chopped off her hair and she was dressed in black from tip to toe. I think she looked nice and decent.
HSY seems to remember a lot about their first encounter. As a child, Hadiqa Kiana was a student of Sohail Rana. She was first introduced as a playback singer by Adnan Sami. People may call her pop princess but she hasn't confined herself to any one genre. Be it pop, folk, multi-linguistic- Hadiqa has done it all! "Pop's not my thing- music is my thing!''
HSY brought up the topic of social media and Hadiqa Kiani told him straight off that she has this who-cares approach towards negative & destructive criticism on social media because she believes that you can't please everyone around you and instead of worrying about hate clubs, she chooses to focus on people who love and respect her for who she is.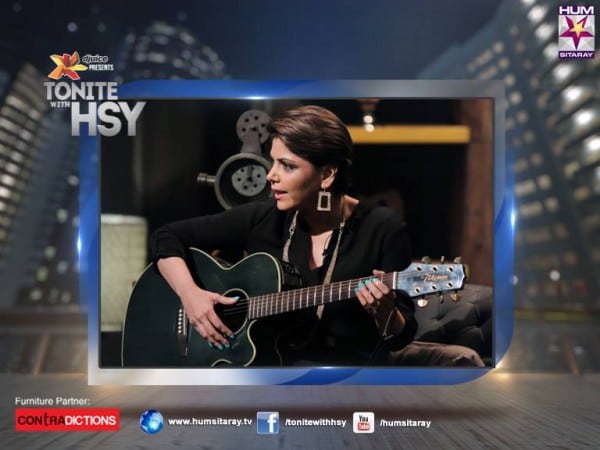 Speaking about Pakistan Idol and the panel of judges, Hadiqa Kiana said that none of them were arrogant or deliberately rude- they criticized the contestants to help them grow. She is still in contact with some of the contestants including Kashif and Shoaib. She specifically talked about Shoaib and said that he was one of those contestants who took her somewhat harsh criticism very positively and this actually helped him grow as a singer and as an individual.
The highlight of the episode was definitely Hadiqa Kiani singing 'Zindagi Khaak Na Thi'.
In the Djuice Connect round, a fan asked Hadiqa why she gave up on wearing a dupatta after her song, 'Dupatta'. Hadiqa's response was that wearing a dupatta is really decent thing to do but she chooses to do what she's comfortable in because everyone has a right to follow their style.
I really feel that the movie guessing round can be improved, I mean, guessing movies like Titanic, Waar and Main Hoon Shahid Afridi is easy as pie!
This is it from Tonite with HSY S2 for now. I don't know what guests HSY has in store for us but I am definitely excited for what's to come  Are you enjoying the show? Share your thoughts about it!
Maryam Mehdi